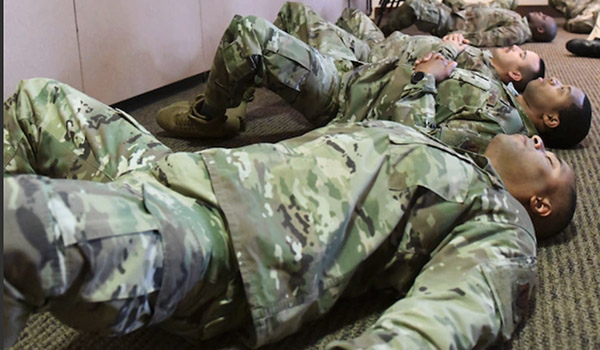 The Department of Defense launched a new mobile app designed to help the military community manage stress. The free Chill Drills by Military OneSource mobile app is now available for download on Google Play and Apple's App Store.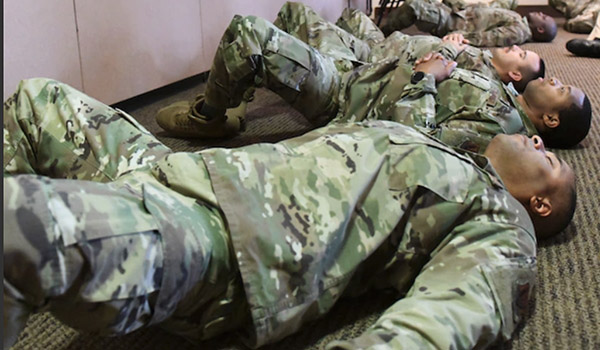 EvenPulse Builds Resiliency in Airmen / Photo by Airman Luis Ruiz-Vazquez
The Chill Drills app includes a collection of mindfulness audio exercises that give service members and military families access to expert stress-relieving techniques, which can help:
Slow heart rate
Lower blood pressure
Reduce the levels of stress hormones in the body
Improve sleep quality and the ability to fall asleep
Encourage muscle relaxation
"Life in the military comes with many opportunities and also unique challenges, so managing stress is critical," said Deputy Assistant Secretary of Defense for Military Community and Family Policy Patricia "Patty" Montes Barron. "The Department of Defense is thrilled to deliver one of our most popular and highly-requested web products in the form of a new mobile application, so the military community can regenerate and be well anytime and anywhere."
To ensure the Chill Drills app continues to meet the needs of the military community, the department will review and evaluate the new app to help inform ongoing updates and enhancements.
Chill Drills is one of two apps recently launched by the department. The My Military OneSource mobile app, launched in 2020, offers a fast, 24/7 gateway to personalized military benefits, access to experts, guides for the military community and much more.
To learn more about the Chill Drills app or to download the app, visit www.MilitaryOneSource.mil/ChillDrills. Users can also stream Chill Drills from the Military OneSource website with an internet connection.
About Military Community and Family Policy
Military Community and Family Policy is directly responsible for establishing and overseeing quality-of-life policies and programs that help our guardians of country, their families and survivors be well and mission-ready. Military OneSource is the gateway to programs and services that support the everyday needs of the 5.2 million service members and immediate family members of the military community. These Department of Defense services can be accessed 24/7/365 around the world.
About Military OneSource
Military OneSource is a DOD-funded program that is both a call center and a website providing comprehensive information, resources and assistance on every aspect of military life. Service members and the families of active duty, National Guard, and reserve (regardless of activation status), Coast Guard members when activated for the Navy, DOD expeditionary civilians, and survivors are eligible for Military OneSource services, which are available worldwide 24 hours a day, seven days a week, at no cost to the user.
About the My Military OneSource app
The My Military OneSource app is helping to transform the military community's access to quality of life programs and services – better connecting people to the resources they need to regenerate, connect, be well, and thrive. DOD designed the app to offer users a more personalized experience with Military OneSource, based on their profile selections, search activity, and the ability to mark favorite content within the app environment. Download the My Military OneSource mobile app for free on Google Play or Apple's App Store.