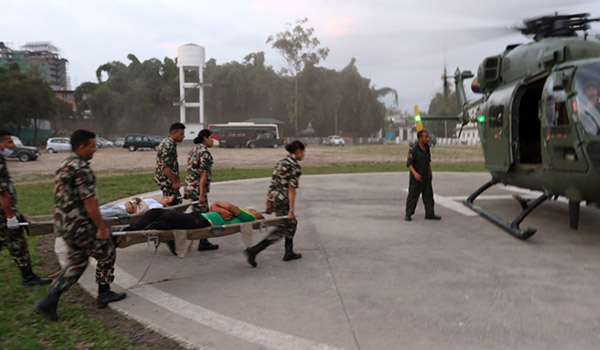 Ask the Flight Surgeon / By CPT Gurdeep Buttar, MD: In this article, let's reflect on some of the significant weather events and emergencies of 2018 and what we can learn from them in order to prepare for the upcoming year.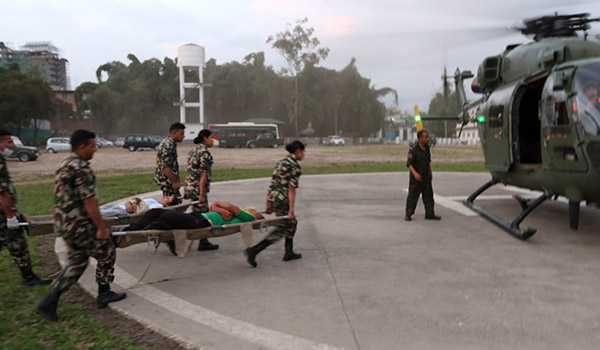 Photo: army.mil
As Hurricane Michael pushed through the Gulf Coast and Florida Panhandle, it left devastation in its wake and displaced hundreds of families. Thousands of homes and businesses were destroyed with the effects of coastal flooding and damaged infrastructure predicted to take years to repair.
At Tyndall Air Force Base near Panama City Beach, Florida, more than 11,000 airmen and their family members will undergo a permanent change of station during the time it will take the base to recover from the catastrophic damage of Hurricane Michael. Many of them have been evacuated to the Army's Hurlburt Field, Eglin Air Force Base, and Randolph Air Force Base in Texas. Some have even spent hotel stays at Ft. Rucker, Alabama. Military societies have raised well over $2 million for financial assistance associated with these displaced families. In addition, in early October 2018, Hurricane Florence displaced over 800 Army and Marine Corps families at Ft. Bragg, North Carolina and Camp Lejeune, South Carolina, respectively.
Minimizing the Risk
Despite the effects of damaging weather and other emergencies, you can minimize the risk to you and your family with appropriate disaster preparedness. Disaster preparedness can not only save your life, but also that of your family and maintain the health and safety of the public. The Centers for Disease Control & Prevention have produced an All-Hazards Prevention Guide that can be found at https://www.cdc.gov/cpr/documents/ahpg_final_march_2013.pdf. It identifies three steps to disaster preparedness: Get A Kit, Make A Plan, and Be Informed.
When you Get A Kit, you will be gathering supplies needed for survival to include but not limited to: water (at least one gallon per person, per day; non-perishable food; flashlight with batteries; first aid supplies; seven-day supply of medications; sanitation/personal hygiene products; copies of personal documents; cell phone with chargers; extra cash, and an emergency disaster plan (containing emergency contact information).
To Make A Plan, gather all of your family members' contact information and discuss how to contact one another in the event of an emergency. It is important to discuss with your loved ones the types of emergencies that are most likely to happen in your area. Pick at least two meeting places during a disaster and plan your evacuation route. Remember to include the needs of your pets or service animals in the plan. Most importantly, rehearse and refine your plan. It is wise to review and update your plan at least once a month. A copy of the plan should be placed in your emergency kit and every member of the family should have a copy of the plan with them. For military families, it is important to know your installation's plan for emergency management. This is called the Comprehensive Emergency Management Plan (CEMP) 10-2.
Finally, Be Informed means staying up-to-date on the most current information available; knowing what emergencies are occurring in your area and how to contact local authorities. It also entails understanding the difference between various types of weather alerts such as watches and warnings and what actions to take. Be sure to teach each family member how to contact 911 or local emergency medical services.
Another major decision to make is whether to evacuate or shelter-in-place. Being informed of the emergency in your area will determine whether you should evacuate. If local officials tell you to "stay put," act quickly. Get inside, find a safe location within your shelter, and shelter-in-place until you have been given the all-clear by officials. Once you and your family are safe, let an emergency contact know what is happening. Use your phone only as necessary to conserve power and continue to listen for updates through radio, television, or your mobile device. Also, consider sheltering your pets until the danger has passed. If you are required to evacuate, then do so efficiently and calmly. Do not attempt to save property or life mementos if the threat is imminent. Over 88 people lost their lives to the 2018 California wildfires and more than 10,321 structures were destroyed. Houses can be rebuilt and new memories made, but lives cannot. Act wisely and responsibly.
Finally, in the Department of Defense, there are an abundance of resources for assistance following the aftermath of a major disaster; the following website has more information: https://www.pdhealth.mil/news/blog/resources-military-members-following-hurricane. Keep your families safe and healthy with disaster preparedness.
Question for the Flight Surgeon?
If you have a question you would like addressed, email it to This email address is being protected from spambots. You need JavaScript enabled to view it.; we'll try to address it in the future. See your unit flight surgeon for your personal health issues.
The views and opinions offered are those of the author and researchers and should not be construed as an official Department of the Army position unless otherwise stated
CPT (Dr.) Gurdeep Buttar is a flight surgeon at the U.S. Army School of Aviation Medicine, Fort Rucker, AL.