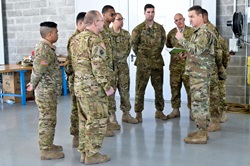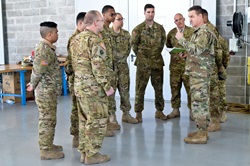 May 12, 2017
Photos by Staff Sgt. Charlene Moler
Maj. Gen. Erik C. Peterson, the Director of Army Aviation visits with Soldiers from 2nd and 3rd Battalions, 10th Aviation Regiment, 10th Combat Aviation Brigade, out of Fort Drum, N.Y., to see what U.S. Soldiers and units are doing in their part of Operation Atlantic Resolve, May 12. Peterson was given a tour of the operations tower at Lielvārde Air Base, he then met with some Soldiers to talk with them about how they thought the mission was going. The 10th CAB is prepared to lead and provide aviation support to regional and global military forces at a moment's notice. The 10th CAB ensures mission success through joint and combined training exercises focused on interoperability and conducting unified land operations with the national response forces of our Allies and partners. Operation Atlantic Resolve, a U.S. led effort in Eastern Europe that demonstrates U.S. commitment to the collective security of NATO and dedication to enduring peace and stability in the region.
These photos were originally found here.