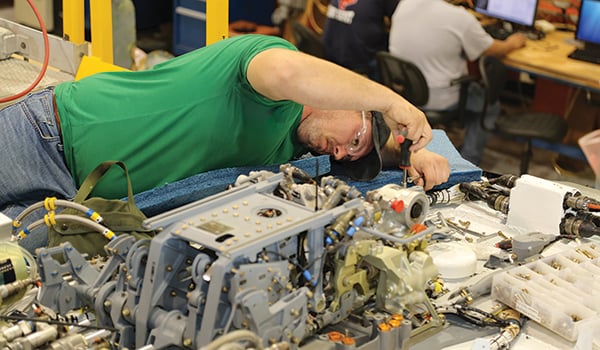 Aviation Maintenance / By COL Allan H. Lanceta and Brigitte Rox: I am honored to begin my tenure as the Commander of Corpus Christi Army Depot. As a career Army Aviator, I am proud to lead the greatest team of aircraft support professionals in the Army's organic industrial base. Each change of command ceremony evokes a new era for the Depot. This twenty-fifth change in leadership coincides with a year of significant shifts in Army Aviation as CCAD sets the course for an unpredictable future with reduced resources and increasing challenges.
As CCAD's commander, I will focus the Depot on these strategic initiatives:
Providing a best value solution for our customers
Ensuring we make high quality products in a safe working environment
Reducing repair cycle time to return assets to the customer faster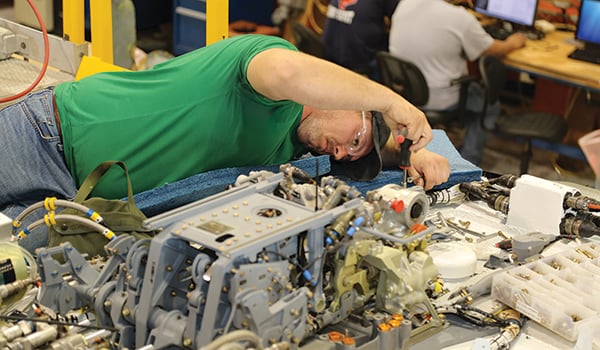 CCAD mechanic Kenneth Baucom installs the yaw torque shaft on an HH-60 Pave Hawk. / PHOTOS U.S. ARMY PHOTO BY SFC MICHAEL R. ZUK
The Depot faced challenges in the last five years due to the impacts of sequester, reduced funding, scaled back orders, personnel reductions, and postponed or cancelled modernization programs; all jeopardized our viability as a platform for Army readiness. Rising operational costs and unpredictable parts availability made it increasingly difficult to meet customer demands. The constraints on resources limit our ability to ensure helicopter sustainment readiness and capabilities for combat and rescue aviation missions in 2017 and beyond.
Modernization
Aviation modernization is a priority, albeit an expensive one. The Army's goal to provide greater combat capability at a lower cost meant the divestment of the OH-58 Kiowa. Reduced funding also pushed back modernizing our helicopter fleets with fewer UH-60 Black Hawk and AH-64 Apache procurements for 2017. The Army is pushing forward with upgrades to the UH-60 Black Hawk fleet and investing in the AH-64 Apache.
Remaining unresponsive to today's complex local and global transformations is not an option. The Army cannot put America's protection and success as a global force at risk by compromising its resources and training. Instead, CCAD is joining with other depots, installations and Armed Services to win in this convoluted and evolving world. Along with those efforts, we are also looking to private industry to incorporate the best business practices into our daily operations.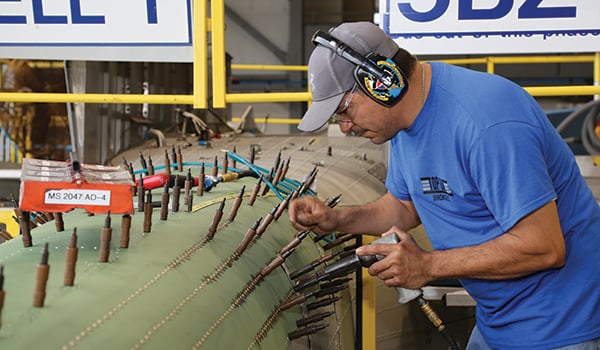 A CCAD sheet metal mechanic inserts rivets to the skin of a UH-60 Black Hawk.
Change
One of the biggest signs of change is the difference in the Depot's workforce size. The number of Department of Army Civilians and contractors reduced incrementally from a high of 6,226 to 4,024 in the last five years as funded workload diminished. America expects the Army to deliver maximum readiness and protection in today's environment with the same resources it had at the end of World War II. It will take further diligence to revitalize the Depot to an optimal overhead structure and cost effective post-war organization. Fortunately, we aren't working with World War II technology.
Technology
Technological advances in the industry, along with Enterprise Resource Planning (ERP) give CCAD an edge over today's challenges. These assets improve ability to manage workload and capitalize changes with minimal impact to Army readiness.
CCAD deployed the second phase of our ERP software, Complex Assembly Manufacturing Solution (CAMS) last year. Every employee was trained by the Depot's in-house CAMS Cadre, who were instrumental in developing the training course. The workforce is adapting to the technology as the proficiency and accuracy with the system increases. The CAMS Cadre assists other military installations with lessons learned as they incorporate the ERP into their industrial framework.
We're making helicopter maintenance more than a business. We're making it a science. For the first time, we can rapidly track the time it takes to move a transmission from point A to point B, which process it's in, who's working on it, where it's going next, and what's its schedule. CCAD can focus on analyzing process flow, machining capabilities and how each action fits logistically within the program. What's more, we will achieve this within the budgeted scope, while enabling readiness for our globally engaged combatant commands and our Nation's protectors at home.
Improvement
Continuous improvement is built into every step of this process. The robust lean culture embedded at CCAD engages the workforce to improve daily operations that guarantees a safe and valuable product. With careful hiring practices and investments in professional development and training, the CCAD workforce is improving program management every day. The workforce is setting new standards that can be tracked, recorded, monitored, and analyzed to make our work more predictable, which helps us plan better. The Army needs continuous improvement for its industrial base to rapidly respond to emerging threats. The combatant leaders and strategists will look to those they can trust when they search for their strongest weapon systems. CCAD will be on the front line of support.
Ensuring Army Readiness
Army readiness is more than a vision. Our plan will fine-tune Depot operations to rapidly respond to the growing complexities of global security. For decades, we have equipped the Army with modernized helicopters designed specifically for their missions. Regular Army, Army National Guard, and the Army Reserve rely on CCAD as a training opportunity to improve their aircraft repair skills. As the Army's organic industrial base for helicopter maintenance repair, we will achieve excellence to ensure every victory.
CCAD's Greatest Asset
The Depot continues to develop an infrastructure of employee empowerment by investing in the education of our workforce and leaders. Coupled with careful hiring practices and professional development, CCAD will retain a more disciplined, flexible, and proficient multi-skilled professional workforce. Our workforce transformed depot-level helicopter maintenance to advance functionality, reduce cost and turnaround time, and improve safety. New technology provides this talented workforce even more opportunities to find in-house solutions which make CCAD an adaptable and responsive strategic asset for the Army.
Infrastructure Built to Last
In the event that CCAD operations may assume untraditional or surges in workload, infrastructure upgrades implemented by a forward-thinking workforce add depth and flexibility capable of meeting Department of Defense's growing demands.
The Art of the Possible
CCAD is now focusing on a future state that requires a change in management philosophy. Our skilled artisans will embrace standard work and critical path management with diligent execution within our ERP system. This approach will improve processes and allow us to leverage the enterprise to achieve success as we reduce repair cycle time and return aircraft to the customers faster and according to promise. The leadership at CCAD will implement this system based on the Theory of Constraints and will utilize specific rules to ensure that we create efficiencies in order to reduce repair turn-around time and deliver world-class aircraft to the Warfighter. The Art of the Possible is a synchronized effort across the depot to properly manage and orchestrate a system of rules, procedures and methods to reduce non-value added time, bottlenecks and inefficiencies. The result will be an increase in capacity and greater capability to Army Aviation. For a change of this magnitude to be successful, it takes the commitment of every single stakeholder – from forecasting through provisioning and execution. CCAD is committed to making this approach – The Art of the Possible – a reality.
I expect my time at CCAD to be challenging, and I am confident that the skilled, professional men and women who make up our workforce are poised for change and willing to meet any obstacle. CCAD is on a path to provide our Nation the best helicopters, components, and support our Army needs. The Depot team's minds and hearts are in the right place, our tools and equipment are in the right place, and when a unit needs a helicopter component or a damaged aircraft repaired, they know to call CCAD. We will continue to deliver.
COL Allan H. Lanceta is the commander of Corpus Christi Army Depot and Brigitte Rox is a CCAD public affairs specialist; both are located at Corpus Christi, TX.