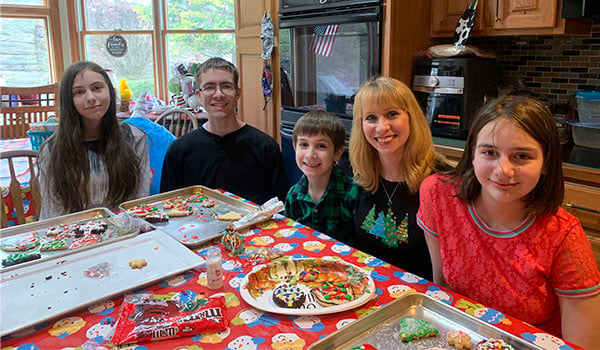 Family Forum / By Judy Konitzer: Soldiers from National Guard units have gained national attention as we watched their mobilization to D.C. in January, but what about those who are currently deployed? The 28th Expeditionary Combat Aviation Brigade deployed to Kuwait and outposts in Syria in September and won't return until late spring in support of Operation Inherent Resolve designed to defeat DAESH (ISIS).
I acquired a greater and genuine appreciation for the service of their spouses and how they are coping with this separation after interviewing a few of them.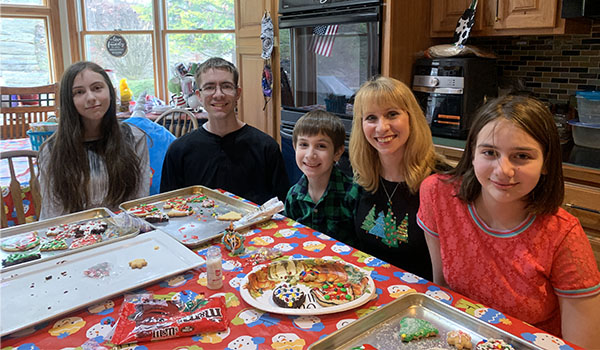 Members of Susan Girvin's church family provided cookies for her family to decorate for Christmas. This is just one of their many weekly activities along with meals showing support for families enduring deployments. / PERSONAL PHOTO BY STACEY HANDY
Alicia Rudnik (2-104th GSAB-JST): acknowledged having regular visits with a counselor working with military families who helped identify and work through differences in their personalities and subsequently helped to set up a plan to establish expectations related to the deployment and homecoming. I admired Alicia's willingness to discuss this, as it is a positive step anyone can take when the stresses of life could become overwhelming. Alicia with 2 children (1 and 3) moved shortly after the deployment with a great amount of help and support from their close friends. She is grateful for their Soldier and Family Readiness Staff, and while there are a few NG families close by, although none from their unit, it is still helpful knowing them as they appreciate the challenges facing NG families. She receives help from her mother-in-law 2twodays a week when she needs office time, while being able to work from home the other three days.
Susan Girvin (HHC 28th ECAB): spoke highly of the support (outside of her parents) during the deployment from members of her church. Their Pastor (prior military) asked the ladies' Bible study group if they would like to assist 6 families on deployment. Twelve in the group adopted Susan's family (22 and Autistic, and 8, 11, 13 whom she home schools). "I get weekly visits from at least 2-3 ladies and they bring a meal and spend time with us. Over the holiday they took my girls shopping which got them out of the house, and they have also entertained the kids so I could go out and get a break too". The spouses all shared that some in their local communities reached out, but on a sporadic basis sometimes not being sure how to help. This support from Susan's church sounds like a wonderful opportunity for churches to expand their Outreach programs and maybe our readers will adopt it in their own communities.
Kristen Cassidy (2-104th GSAB-FTIG): Although it was their 2nd deployment, it was the first with children (9 and 6) and worse yet during a pandemic. "It just felt cruel at first, and I definitely went through the cycle of emotions" and still finds it heartbreaking seeing the children's reactions while missing their Dad. Kristen volunteers with her FRG and communicated with other spouses with children so had knowledge of many resources but had to figure out which were best for them. With an education degree and loving children's literature, she used different books to walk through the deployment. Having 'Daddy Dolls', video chats with Dad, and a supportive school has also helped. To help feeling more confident and prepared, she and her husband created a Deployment Binder with Power of Attorney, passwords, and any paperwork to help her through the year with household information.
Sandy Facer (A Co, 628thASB): This deployment is different from that of 2009 when the Facers had only been married six months, with a nine-year-old adjusting to a new stepdad. Sandy was new to the military and felt alone but feels she has grown since then. She is active in the FRG, even though planned events such as an Easter Egg Hunt, Knoebel's picnic, and the Christmas party had to be cancelled due to COVID. She keeps in touch with unit members through phone calls, texts, and the unit Facebook page to maintain some type of normalcy with being available to help families and Soldiers throughout the deployment no matter the time. The 28th ECAB also holds monthly Zoom meetings. Before her husband left, they organized all the household responsibilities in hopes that all would run smoothly. "But we all learn that deployment is a journey, and there are bumps in the road. So, while it is easy to help others, sometimes we need to ask for help ourselves, and that's where there is still room to grow". She is genuinely thankful for her family, especially her Mom for always being there.
Gwen Pavasco (HHC 28th ECAB): This is also their 2nd Deployment, but she is "taking it one day at a time" as it can be emotional and much harder because of COVID. Gwen and her husband planned what would be the best times to talk because he has a VPN with a phone there. They also identified some friends, family, and church members to help if a need arose and added the Red Cross App to her phone. Most FRG meetings are virtual but some were drive through like the Holiday Toy Drive which was enjoyable. She finds resources like Military One Source and Our Military Kids helpful and shares them with her Facebook group.
Collectively these spouses' biggest hurdle is the isolation experienced while being scattered throughout the state of Pennsylvania. Yellow Ribbon gatherings for deployment briefs were curtailed with virtual briefings being held instead, thus limiting opportunities for establishing camaraderie. Currently, many of the FRGs have private Facebook groups that are monitored for OPSEC and where they receive information from the Command and NG Family program and each other. It is something but not like having face to face encounters. One plus for all, however, is the almost daily encrypted communication they can experience over secure lines with their Soldiers.
Judy Konitzer is the family forum editor for ARMY AVIATION; questions and suggestions can be directed to her at This email address is being protected from spambots. You need JavaScript enabled to view it..">This email address is being protected from spambots. You need JavaScript enabled to view it..