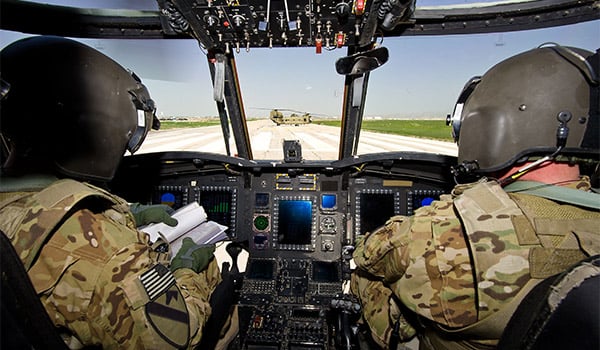 Branch Chief's Corner / By MG David J. Francis: Operating effectively in the space domain is a top Department of Defense (DOD) priority. Since Operation Desert Storm, the reliance on space-enabled equipment has expanded exponentially.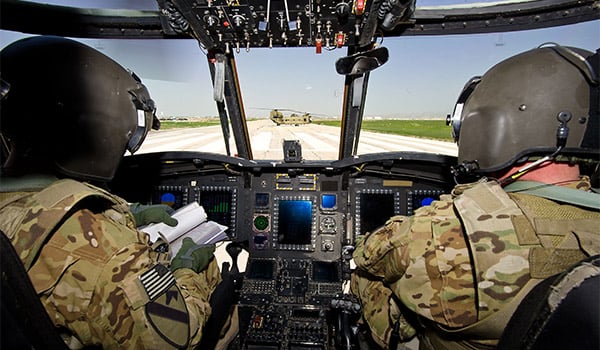 Pilots from Company B, Task Force Lobos, 1st Air Cavalry Brigade, 1st Cavalry Division, conduct pre-flight checks from the cockpit of a CH-47 Chinook helicopter April 6. / U.S. ARMY PHOTO BY SGT FELIX ACEVEDO, 1ST ACB, 1ST CAV. DIV. PUBLIC AFFAIRS
This equipment not only enables detailed planning and preparation for a full range of operations from dispersed and remote locations, but it is also a central element for the effective employment of tailored forces that are agile, responsive, precise and capable of convergence across significant depth.
Within the DOD, the Army is the largest consumer of space-enhanced capabilities. For example, there are more than 2,500 pieces of space-enabled equipment in a single Stryker brigade combat team (SBCT), and a combat aviation brigade (CAB) is just as dependent on space-enabled equipment as the SBCT.
Why is this an issue? Because the adversaries we fought over the last two decades had little to no capability to influence our access to space. The adversaries that we may face tomorrow have numerous capabilities designed to deny assured access to space-enabled capabilities. They are developing, improving, training, and – in some cases – employing in combat, their own systems capable of affecting our assured access.
In some cases, the technology is not difficult to acquire and the training to operate this equipment is relatively unsophisticated. This allows non-state actors to operate systems like Global Positioning Systems (GPS) jammers.
Denied, Degraded, and Disrupted Space Operational Environment (D3SOE) is a composite of the conditions, circumstances, and influences which affect the employment of space effects and capabilities. D3SOE applies to both actions taken within the electromagnetic spectrum and actions taken against physical assets that facilitate our use of space. Impacts to either may seriously influence the flexibility of all the warfighting functions. Collective examples of the threat include signal jamming, signal spoofing, physically or virtually disabling or destroying space assets such as ground control stations and satellites and disabling or deceiving user equipment.
Understanding Composition of the Threat Environment
With the sober realization that there is a re-emergence of a serious threat which we have not dealt with in quite some time, the Army's training centers have reinstituted some of the aspects of D3SOE at their facilities to reflect the realities of Large-Scale Combat Operations (LSCO).
The preliminary findings from the rotational units at the training centers reflect a poor understanding of the threat's capabilities – and how/where they would be employed. Additionally, aircrews did not understand the effects the threat had on their aircraft systems, and therefore did not recognize the indicators on the instruments within the cockpit (or on the UAS ground control station) that pointed to the fact that they were in a D3SOE environment.
The Acquisition Enterprise is intensely focused on finding ways to ensuring our Positioning, Navigation, and Timing (PNT) in a D3SOE environment and stood up a dedicated PNT Modernization Office in 2020. In addition, the Army established an Assured Positioning, Navigation and Timing (APNT) Cross-Functional Team (CFT). These are both essential steps to addressing D3SOE, but doctrine, education and training remain the keys to successfully operating in a denied environment in both the near and long term.
We have to understand the composition of that environment as we work our way through the five Multi-Domain Problems of competition, penetration, dis-integration, exploitation, and even re-competition. We have to recognize the systems our adversaries have that can affect us, the capabilities of each type of system, and where they will be located in relation to each problem we have to solve.
Begin with the Staff
The first people that should be asking these questions are not the aircrews, but the staff. They are the ones who do the planning and advise the commander and must be able to conduct a cross domain intelligence preparation of the battlefield. Staffs must be educated and trained to integrate D3SOE considerations into the Military Decision Making Process (MDMP) and operations. They must also have the necessary tools available to assist with the planning process.
It is critical for the staff to understand what they are seeing and hearing during the planning process and the operation to help shape the fight. It is also imperative for the aircrews to understand what they are seeing and hearing during the mission, not only to take the appropriate actions in flight, but they are often the most valuable and current source of information to the staff. Therefore, it is critical that the aircrews can distinguish and document any D3SOE events.
The ability for Army Aviation formations to recognize, react and operate proficiently in a D3SOE does not happen overnight; it takes time and training. However, the resources for training D3SOE are probably more readily available than you think. Doctrinally it is addressed in CALL Handbook 18-28, D3SOE, FM 3-0 and ADP 3-0, FM 3-04, Army Aviation, ATP 3-04.1, Aviation Tactical Employment, Army Aviation Training Strategy, and FM 3-14, Army Space Operations. Additionally, USAACE NCOA, AVC3, CGSC P947, AMSOC, and PCC provide D3SOE related instruction.
As mentioned earlier, D3SOE is also exercised and trained at the combat training centers (CTCs). In addition, events such as NAVFEST, an annual event hosted by 746th Test Squadron (Holloman AFB,) provides users with an opportunity to operate in a D3SO environment at White Sands Missile Range (WSMR). The 746th can employ virtually any combination of INS, GPS and/or integrated GPS/INS navigation and guidance systems using multiple jamming techniques and jammer capabilities to meet user training objectives.
Over the years we built a network that allows us to maneuver and have good situational awareness. This network is now at risk and is showing some vulnerabilities. Army Aviation has a history of some pretty impressive and precise combat operations long before we had GPS in the cockpit, because of the well-trained leaders and well-trained Soldiers who were also skilled aviators.
Army leaders and Soldiers will be able to initiate and maintain access to space capabilities and mitigate most attempts to deny, degrade, and disrupt that access. But more importantly, I know that Aviation leaders and Soldiers will become capable of executing combat operations when space-enabled capabilities are not available, so that they can continue to support our troops on the ground and win – because winning matters.
Above the Best!
MG David J. Francis is the Army Aviation branch chief and commander of the U.S. Army Aviation Center of Excellence and Fort Rucker, AL.