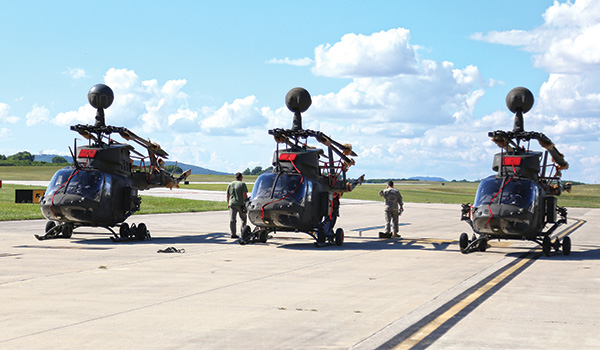 Non-Standard Rotary Wing Aircraft / By COL Steven B. Clark: The mission of the Non-Standard Rotary Wing Aircraft (NSRWA) Project Management Office (PMO) is to procure, field and sustain non-standard rotorcraft for the Department of Defense (DoD), allied countries or as directed by the Office of the Secretary of Defense in support of Overseas Contingency Operations. Initially established in 2010 to procure and lifecycle sustain the fleet of Mi-17 helicopters in support of the Combined Security Transition Command-Afghanistan (CSTC-A), the portfolio has expanded to 315 aircraft representing a diverse fleet of Mi-17, MD-530, AH-6i, OH-58D, UH-1, Huey II, AH-1, Bell 412 and AW-139 aircraft as demand for rotary wing via foreign military sales programs continues to proliferate. Equipping, modernizing and empowering partner nations with rotary wing capabilities is a tenet of U.S. Security Force Assistance strategy. Recently, NSRWA PMO executed several high visibility 2282 Global Train & Equip and Excess Defense Article (EDA) programs. The purpose of the 2282 and EDA programs are to build the capability of a foreign country's national military forces that benefits the national security interests of the United States and transfers excess defense equipment to assist modernization efforts of partner forces.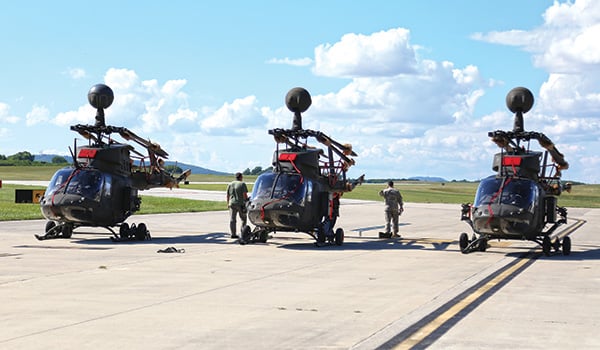 OH-58D helicopters for delivery to Croatia on the ramp at Redstone Army Airfield, Alabama.
2282 Huey II Program
On September 26, 2016, the Army Contracting Command-Redstone announced the award of two firm fixed price contracts to Bell Helicopter Textron, Inc. for both Uganda and Kenya. These contract awards support the procurement of five (5) Huey II aircraft for Uganda and eight (8) Huey II aircraft for Kenya, as well as commercial spares/special tools/peculiar ground support equipment and maintainer training. During the week of November 14, 2016 members from the NSRWA PMO working with AMCOM Security Assistance Management Division and Bell Helicopter delivered six of the eight Huey IIs to Kenya. These six aircraft will ultimately be deployed by the Kenyan Air Force to the Laikipia Air Base in Nanyuki; the remaining two aircraft are to be delivered by May 2017. These Huey IIs will add to the Kenyan Air Forces rotary wing fleet comprised of Mi-17s, SA 330 Pumas, Harbin Z-9s and MD-500s. Additionally, four Kenyan Air Force pilots completed their training on October 21, 2016 and an additional four (4) pilots completed their training on Nov. 4. The Maintainer training for eight Kenyan Air Force mechanics began on 24 October 2016 and was complete by 11 November 2016. As for Uganda, all five aircraft are scheduled for delivery September 2017 while pilot and maintainer training is to be conducted during July or August 2017.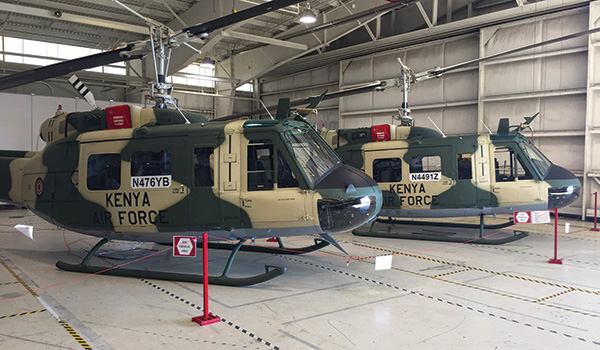 Kenyan Air Force Huey II aircraft.E
The Kenyan Air Force will operate the helicopter in general support and search and rescue (SAR) missions. The Huey IIs are remanufactured aircraft that combine commercial Bell 212 dynamic components with the 1,800 shaft horsepower Honeywell T53-L-703 engine (replacing the original Lycoming), leading to an increase in hover performance in hot conditions and increasing the maximum gross weight to 10,500 lbs. Along with the Bell Huey II kit installation, Bell Helicopter refurbishes the Bell UH-1H basic airframe to OEM standards (zero timing the airframe), provides a complete rewire, updates the avionics (including an optional glass cockpit) and offers a comprehensive selection of mission specific kits and customization. Other features include rollover bulkheads, rupture-resistant fuel cells, wire strike protection and jettison-able crew doors.
Excess Defense Article OH-58D Program
On December 2, 2016 the NSRWA PMO successfully delivered the second and final shipment of 11 OH-58D aircraft and mission equipment support package to Zadar, Croatia. The delivery was accomplished via a U.S. Air Force C5 Galaxy from Redstone Arsenal, Alabama. At Zadar, NSRWA representatives and Croatian military leadership conducted joint inspections and inventories to formally transfer ownership from the United States to Croatia. In conjunction with the transfer, maintenance actions were performed by U.S. Soldiers from the Korean Peninsula (1-17 Cavalry Squadron and 602d Aviation Support Battalion). The Soldiers conducted scheduled maintenance and ground-runs on the five aircraft delivered in July 2016 in addition to completing administrative entries on the newly arrived 11 aircraft in preparation of upcoming Croatia ground and flight training.
Following the Croatia delivery, NSRWA deployed representatives to Fort Hood, Texas, to conduct the initial delivery of six OH-58D aircraft to the Tunisian Air Force at Gabes, Tunisia. At Ft. Hood, the NSRWA team coordinated and consolidated shipments from various CONUS locations and prepared for onward movement of the aircraft for delivery. On Dec. 13, two Air Force C-17 Globemaster transports departed for Tunisia with six OH-58D aircraft and mission essential equipment. Simultaneously, the Security Assistance Training Management Organization (SATMO) has been training Tunisian pilots and maintainers at Roswell, New Mexico, using 12 aircraft and a second mission equipment support package. All remaining pilots and maintainers, with the second training support package, will depart for Tunisia in March 2017.
Whether EDA, 2282 or traditional FMS cases, the NSRWA PMO remains engaged in resolving complex fielding, safety, sustainment, airworthiness and training issues facing soldiers operating non-standard rotary wing aircraft. The need for rotary wing capability is essential to ensure our partner nations have the resources available to meet their internal defense and security requirements.
COL Steven Clark is the project manager for Non-Standard Rotary Wing Aircraft, Program Executive Office for Aviation, Redstone Arsenal, AL.