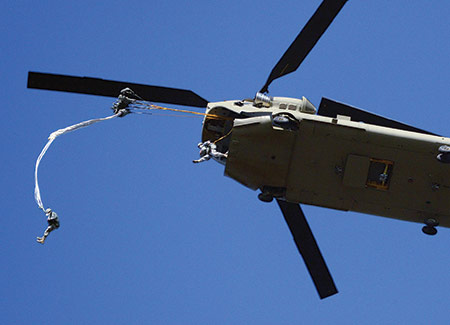 From the Aviation Branch Chief -MG Kevin W. Mangum

Many of you have likely heard some of the alternatives being considered for both the composition and disposition of our Branch in the years to come. There are many tough choices pending decision as the Army Aviation Enterprise diligently works to field the very best, most capable capability we can afford.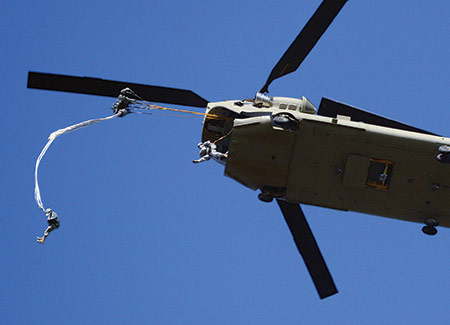 U.S. Army paratroopers assigned to the 173rd Infantry Brigade Combat Team conduct a training jump from a CH-47 Chinook helicopter into the Bunker Drop Zone at the 7th Army Joint Multinational Training Command's Grafenwoehr Training Area in Bavaria, Germany, Nov. 12, 2013, during exercise Combined Resolve.
While we work these issues with a more immediate impact, we must maintain the spirit of innovation and imagination which allowed us to build the indispensable capability we enjoy today, allowing us to build the sacred trust with those we are charged to support – commanders and Soldiers on the ground. The Army's Campaign of Learning informs us of future challenges and opportunities we will likely face and gives us a glimpse of those capability gaps we must close with a combination of innovation, materiel, doctrine, tactics and organization. 
The most recent Army Campaign of Learning Deep Futures Wargame, in September 2013, focused on, "how the intersection of dangerous trends in 2030-2040 will require the Army to rapidly respond with an operationally decisive force in time to arrest cascading events that threaten national security interests." This effort exposed and, in some cases, reinforces expeditionary capabilities we lack to be relevant and decisive in future conflict facing complex threats. We must be able to "move and act" quickly enough to provide "speed and mass that matters" to be decisive. 
Maintaining the Edge
Maintaining the edge that we have leveraged against enemies with limited capabilities in mature theaters requires more than simply upgrading current systems. Although tremendously successful over the past decade, limited range and speed coupled with extensive sustainment and maintenance requirements make us especially predictable in forced entry operations against foes with more capability and capacity than those we have recently faced. These limitations also increase risk from distributed basing, force protection and costs in combined arms maneuver and wide area security. 
Two current programs help address these limitations. The Improved Turbine Engine Program is an intermediate step in reducing the fuel and maintenance requirements for our current fleet to extend our edge and; the Future Vertical Lift Program is essential to improve the performance, speed and range required to revolutionize our ability to support the Army.  These efforts must also continue to improve reliability and effectiveness in austere, degraded environments while simplifying supply chains. 
Capable and Relevant
We must remain capable and relevant in the near term while not losing sight of our future capabilities. I encourage you to read the full report on the outcomes of the Unified Quest Deep Future Exercise. 
For the great Soldiers currently manning our formations, the game has not changed. You can't win without basic blocking, tackling and playing through the last second. Making the most of every training dollar, efficient and effective maintenance operations, validated load plans and deployment rehearsals will ensure we remain ready to respond whenever and wherever our Nation may call.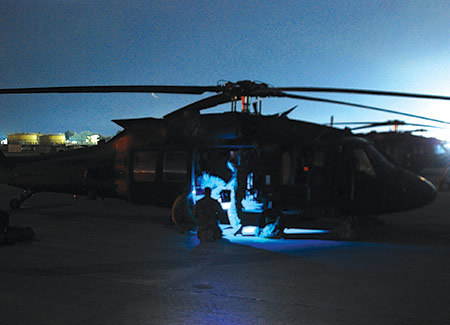 A UH-60M Black Hawk helicopter crew from Company B, "Lycans," 2nd Battalion (Assault), Task Force Tigershark, 10th Combat Aviation Brigade receive a brief from their air mission commander prior to launching on a personnel movement mission Dec. 8, at Forward Operating Base Fenty, Afghanistan.
We must also train, educate and develop leaders who can overcome the friction, ambiguity and uncertainty inherent in expeditionary operations and can develop the mindset to rapidly deploy, close, consolidate and employ. It is tough work. But practice and demanding training will allow us to perfect this critical skill set across the force. 
As we continue our endeavor to maintain the TRUST we've established with those we support, I want to again thank all of you for your dedication and contributions to Army Aviation. 
Happy New Year and best wishes to you and your Families.
Above the Best!
MG Kevin W. Mangum is the Army
Aviation branch chief and commander
of the U.S. Army Aviation Center of
Excellence and Fort Rucker, AL.