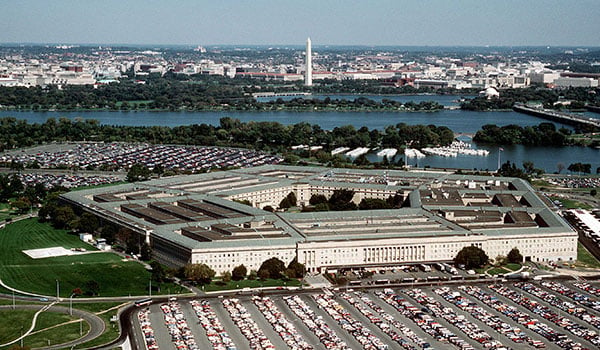 Aviation Leadership / By COL John J. Lindsay and MAJ Stephen T. Schmidt: Due to a series of efficiency initiatives and budget-driven headquarters reductions, Department of the Army G-3/5/7 Aviation (DAMO-AV) began FY15 with its back against the wall. As of 1 October 2015, the TDA had been cut to zero and the directorate was kept afloat through a G1-signed memorandum authorizing 16 directed military over-strength positions. From the outside, the Directorate of Army Aviation appeared to be "business as usual" but the future was far from certain.
The Pentagon / U.S. ARMY PHOTO; Below: General Hamilton H. Howze, the first director of Army Aviation. / U.S. ARMY PHOTO
As we considered the innumerable initiatives, processes and functions that would have to be assumed by another Army Staff Directorate or Commands within the Army, the Directorate took stock of the 60 year history of the HQDA G3 Aviation office. In 1955, the Army determined that a centralized office dedicated to coordinating disparate Aviation activities should be established on the Army Staff. And in 1956, then BG Hamilton Howze was appointed as the first Director of Army Aviation with the task of both supervising and coordinating the Army's aviation program. Under his leadership, the Army Aviation Division oversaw continued expansion and modernization of the Army aviation fleet, the establishment of Ft. Rucker and the development of new tactical principles of Army Aviation.
In subsequent years, to include the explosive growth of rotary wing aviation during the Vietnam era, the post-war drawdown, the Reagan build-up, Desert Storm and the 1990s drawdown, the Army always maintained either an Aviation office within HQDA G3 or a responsible senior Aviation officer. When the Aviation office was in place, its manning levels ranged from a handful to more than 30 uniformed and civilian personnel. When senior aviation officer responsibilities fell on the shoulders of a single individual, he was usually "dual-hatted" in another role (e.g. Director of Force Management).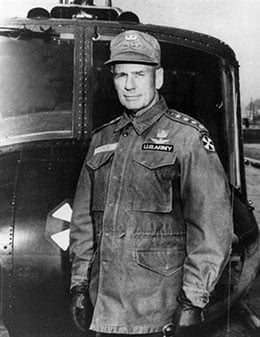 Regardless of the precise composition of the office or scope of responsibilities, over the past 60 years the Army has recognized the continuous need to maintain Aviation expertise at its headquarters and virtually every subordinate level headquarters down to and including brigade combat teams. Within the G3/5/7, 34 officers ranging in rank from colonel to major general have assumed the duties of Director of Army Aviation and in total, nine former directors subsequently went on to command the Aviation Center and School at Ft. Rucker.
It is no surprise then, in these very pages, the AAAA leadership has forcefully argued in support of retaining a small group of uniformed experts at the Department-level with the ability to synchronize myriad complex aviation challenges facing the Army, the Joint Force and the Department of Defense. Many senior AAAA members and leaders served in or led the Aviation Directorate with distinction. Perhaps in recognition of past accomplishments and the value which the Army ascribes to Army Aviation in general, the HQDA G3/5/7 office will be officially reestablished with a general officer assigned in the summer of 2016.
We are proud members of the Aviation Enterprise and have been fortunate to contribute to several important initiatives over the past year. A brief selection of highlights include:
The Aviation Restructure Initiative (ARI): Activated the first attack reconnaissance battalion (ARB) in Alaska; transferred 24 x AH-64D aircraft from the Army National Guard to 1st Squadron, 6th Cavalry Regiment Heavy Attack Reconnaissance Squadron (HARS) at Fort Riley, Kansas; converted three active component (AC) air cavalry squadrons to heavy attack reconnaissance squadrons; inactivated/reorganized two AC combat aviation brigades (CABs), converted four AC CABs, and inactivated five attack reconnaissance squadrons; divested 273 OH-58s; transferred 32 UH-72s to USAACE and initiated first Initial Entry Rotary Wing class training in the aircraft; coordinated with U.S. Army Europe (USAREUR) and U.S. Army Forces Command (FORSCOM) to adjust the re-stationing decision for 1-3 Attack Reconnaissance Battalion to 1QTR FY17 based on USAREUR's enduring aviation demand; synchronized the MYII CH-47F fielding and subsequent cascade of MYI CH-47Fs to the USAR and ARNG.
The National Commission of the Future of the Army (NCFA): Provided full time support to the congressionally directed Commission; provided fact-based assessments on all aspects of ARI to include first-hand assessments of three external reviews (GAO, CAPE, and RAND); synchronized all HQDA aviation related correspondence with the NCFA on ARI related issues.
Fixed Wing and Operational Support Airlift Reorganization: Developed and implemented a fixed wing restructure plan that reduced the total size of the OSA fleet by 15 aircraft, decreased the OSA force structure by 200 spaces, and increased aerial ISR pilot capacity by 30 positions.
Unmanned Aircraft Systems: Coordinated across the Future Years Defense Program for $904 million in funding to increase the number of Gray Eagle companies; coordinated, through a Training Resources Arbitration Panel, to increase the number of training seats for Unmanned Aircraft Systems Repairers (MOS 15E) from 48 in FY15 to 277 in FY16 as a result of total force shortfalls; implemented Government Contract solutions to alleviate near-term Unmanned Aircraft Systems Repairer and Unmanned Aircraft Systems Operator shortfalls in FY15 and FY16 to meet current demand; synchronized the fielding of one Divisional Gray Eagle company and two INSCOM companies; synchronized the fielding of Shadow V2s to 23 units.
USAREUR Aviation Reorganization:    Reorganized the 12th CAB to reduce Army aviation force structure as a result of the BCA and in coordination with the ARI plan; converted the CAB to a Mission Command TDA HQ, reflagged the ARB to 3rd CAB, and maintained a Theater Organized 1st Battalion, 214th Aviation Regiment.
Installation Medevac: Established an installation aeromedical evacuation plan using MTOE assets that reduced contract MEDEVAC costs by $10 – 30 million annually. Additionally, established TDA aeromedical evacuation detachments at Fort Benning, Georgia and Yakima Training Center, WA.
FY15 Army Studies: Proposed and approved studies to inform future organizational decisions:
Army Science Board Study: Army Aviation 2025-2040. Designed to identify science and technology enhancements capable of being fielded that will increase expeditionary capabilities and reduce sustainment and logistics footprint.
Manned-Unmanned Teaming (MUM-T) Study: Completed a MUM-T study with the TRADOC Analysis Center focused on the Combat Aviation Brigade Reconnaissance and Attack mission sets to inform decisions regarding capabilities and materiel solutions for 2030 and beyond.
Air Traffic Control Study: Initiated a RAND study on Army fixed base and tactical Air Traffic Control/Airfield Management.
Fixed Wing and UH-72A Contractor Life Support Study: Initiated a RAND study on Aviation contract life support for the Army's fixed wing and UH-72 Lakota fleets. The purpose was to provide a framework for Army cost savings and efficiencies through CLS reduction.
Maritime Aviation Operations Study: Initiated a RAND study on Maritime Aviation Operations to determine the best utilization of Army aviation in support of joint forces in a maritime environment. Focused assessment of existing combatant commander (COCOM) demand and a cost benefit analysis of Army sourcing versus alternative means of providing capability.
Fixed Wing requirements AAA Audit. Initiated Army Audit Agency audit of Army fixed wing examining requirements versus utilization.
Holistic Aviation Assessment Task Force: In a short-notice, 60-day effort, provided full time support in key leadership positions to study and assess what was necessary to train and sustain Aviation as an integral combined arms maneuver capability.
It has been a historic year of important, foundational work. Today, as always, the multi-component HQDA Directorate of Army Aviation remains committed to providing support to our commanders, Soldiers, warfighters and aviators deployed around the world. We look forward to working within the Enterprise to meet the many challenges ahead.
Army Strong!
COL John J. Lindsay is the director of aviation at Headquarters, Department of the Army G-3/5/7 (DAMO-AV); and MAJ Stephen Schmidt is the DAMO-AV executive officer.