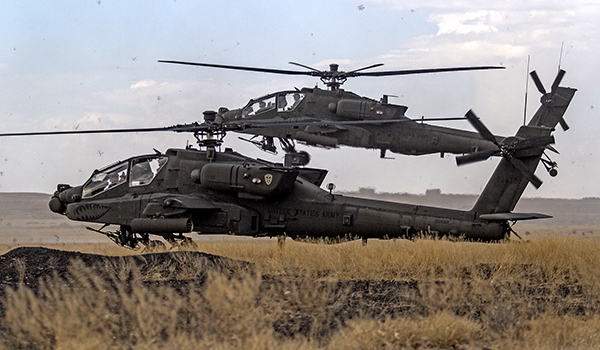 Chief Warrant Officer of the Branch / By CW5 Joseph B. Roland: To effectively support unified land warfare forces in the future, Aviation elements will require innovative organizations with multi-function capabilities. Our adversaries continue to adapt and introduce multiple Decisive Action challenges for the Army Aviation enterprise.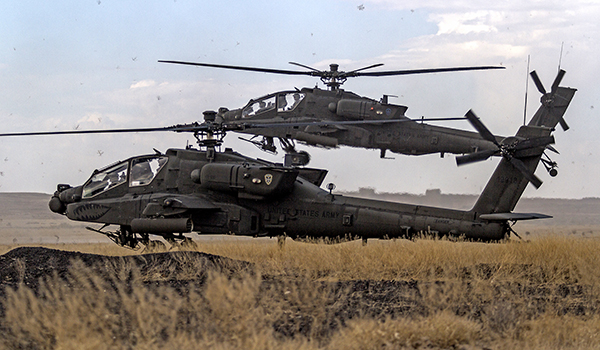 U.S. Army AH-64E Apache helicopter pilots assigned to 1st Battalion, 229th Aviation Regiment, 16th Combat Aviation Brigade, 7th Infantry Division, land at Orchard Combat Training Center, Idaho, Sept. 29, 2016. The aircraft will be part of Raptor Fury, a month-long exercise to validate 16th CAB's mission readiness with the support of nearly 1,500 7th ID Soldiers. / U.S. ARMY PHOTO BY CPT BRIAN HARRIS, 16TH CAB
We must maintain multi-mission superiority and readiness in several key areas, including all-weather/environment operations, long-range mission capability, denied area penetration, advanced targeting, and aircraft survivability. Innovation and transformation are key to maintaining our asymmetric advantage.
Human Capital
Talent Management is critical to the design and conduct of any long duration campaigns required to succeed in the Decisive Action operating environment. Combat Aviation elements must recruit, assess, select, train, educate, and retain only those soldiers with the knowledge, skills, and attributes that will thrive in the most demanding conditions. One crucial area to develop is the Aviation Mission Survivability (AMS) track and associated unit programs.
Developmental Education
Army Aviation requires critical thinkers, competent problem solvers, and highly skilled mission survivability officers to retain a decisive advantage over our adversaries. These competencies take time to develop; they cannot be rapidly created and employed in response to a crisis. Currently the Aviation Center of Excellence provides two levels for AMS development – the Tactical Operations (TACOPS) Officer Course for building specialized technical skills and expertise, and the Warrant Officer advanced track education for further emphasis on battalion and brigade roles and responsibilities.
TACOPS officers must seek access to advanced training programs to cultivate expertise to implement joint and advanced capabilities in Decisive Action to advise decision makers on risk levels associated with mission execution in a complex environment.
Several institutions across the services provide advanced schooling – the Joint Firepower Course, Personnel Recovery-301, the USAF Electronic Warfare Coordinator Course (EWCC), and the USMC Weapons Tactics Instructor Course (WTI), and Cyber Planner's Course.
End State
To meet future challenges, the TACOPS track focus is on advanced AMS Training, tactics development, personnel recovery, and advanced mission planning to provide units with unprecedented mission capabilities against near peer or peer adversaries. The Aviation branch has to transform TACOPS Officers into highly qualified unit instructors, institute a weapons and tactics course to master advanced aviation skills, and implement proven kinetic and non-kinetic fires integration programs to support and sustain Decisive Action.
Army Aviation continues to support the ground commander with responsive no-fail support anywhere, anytime. To do this effectively requires us to assess mission requirements, modify doctrine and tactics, and train relentlessly.
"Above the Best"
CW5 Joseph B. Roland is the chief warrant officer of the Aviation Branch with the U.S. Army Aviation Center of Excellence, Fort Rucker, AL.