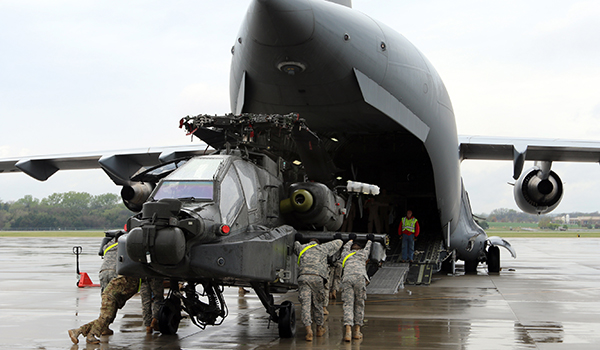 Branch Command Sergeant Major / By CSM Gregory M. Chambers: Capitalizing on individual aviation experience and getting civilian recognition and certification for that gained experience has always been a challenge for enlisted personnel within the Aviation branch.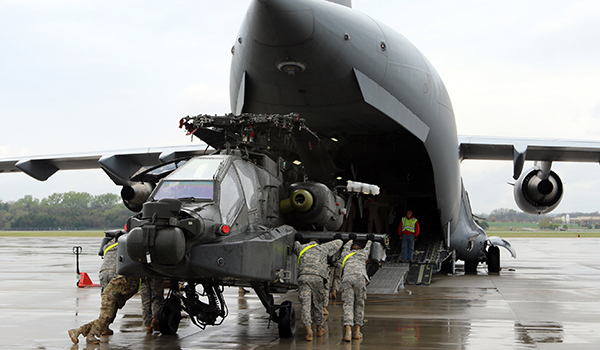 Soldiers from B Company, 601st Aviation Support Battalion, Combat Aviation Brigade, 1st Infantry Division, push an AH-64 Apache Helicopter to the ramp of a C-17 Globemaster III April 17, 2016. / U.S. ARMY PHOTO BY SGT JARRETT E. ALLEN, 1ID PAO
In accordance with Army Directive 2015-12 (Implementation Guidance for Credentialing Program and Career Skills Program), all branches of the Army are required to establish professional credentialing opportunities for Soldiers. This directive outlines how credentialing and CSP will integrate into a Soldier's military life cycle.
The Army and the Aviation branch spend an enormous amount of money to initially train and sustain aviation skills to fly, maintain and to control our aviation rotary and fixed wing fleets. The institution and operational units dedicate a majority of their training time to ensure the ground force commander has the aircraft they need to accomplish their stated mission. In this article I would like to concentrate on what the branch has accomplished as it concerns Credentialing opportunities for our great aviation maintainers, controllers and operation specialist.
The aircraft in our Aviation Branch today are highly sophisticated machines that enhance the aviation commander to support the ground force commander and to fly in some of the most demanding environments. Whether it's composite materials, enhanced cockpits, survivability equipment, ground control stations, enhanced radars, management systems or efficient computer tracking systems, there is one common denominator with all these advantages; there is a Soldier that maintains them, inspects them and repairs them.
Transitioning Skills
Aviation managers and leaders spend a large amount of time in the operational domain training Soldiers to become proficient, competent and experts at maintaining our Aviation systems. Aviation Soldiers learn how to maintain our Aviation systems through numerous opportunities while assigned to both operational and institutional units. Our Soldiers learn an extremely valuable skill while serving in Army Aviation, but when they leave the Army they cannot put those skills to work in a civilian workplace environment due to the Soldier not having a civilian credential or license.
For years, Soldiers have paid with their own money to capitalize on the skills they have learned in the Army in order to get a civilian recognized license or credential; that will soon end and Soldiers will be able to leverage resources within the Aviation branch to get certified credentials for the skills they have worked on for years at no cost to them. Attaining these credentials will greatly enhance their certified portfolio and more importantly Soldiers will be highly marketable in the civilian workforce sector if they choose to leave the military.
23 Credentials for Enlisted MOSs
Through the great efforts of our Organization and Personnel Force Development Directorate (OPFD), the Aviation Branch will soon release the initial qualifying credentials for all 17 Enlisted MOSs in Career Management Field (CMF) 15. Some of the initial credentials or licenses that will be offered through the branch will be the Federal Aviation Administration (FAA) Airframe and Power Plant license, the Federal Communications Commission (FCC) General Radio Operator License (GROL), the FAA Private Pilot Ground course and the ANST Central Certification Program Level II Magnetic Particle Testing (ACCP-MP). In total, there will be twenty three initial credentials that the Aviation branch will offer. Additionally, the program will cover certain testing fees, study materials and administrative fees associated with credentialing.
There are numerous Credentials offered through the Credentialing Opportunities On-Line (COOL) web site (https://www.cool.army.mil) and once we get the branch Credentialing office established we will continue to add credential opportunities for all Aviation Soldiers.
Aviation Branch Credentialing Office
The credentialing effort from the Branch is a huge undertaking and as with any new Soldier support system there will be issues that we have to work through. But through the aggressive work of the OPFD team and the newly established Aviation Branch Credentialing office we have established, the initial resources to support the start of the program are in place to start the initiative. I would ask that leaders and Soldiers be patient as we bring the program on line.
redentialing is an extremely important initiative by the Army, TRADOC, the Combined Arms Center and the Aviation Branch and it is one of my top priorities for all our Aviation personnel. We will align credentialing opportunities with individual MOS career progressions which will be reflected on the MOS career maps on the ACT website. Additionally, it will be important that leaders tie this effort into the Soldier for Life Transition Assistance Program to ensure we educate our young Soldiers. We expect to send a message to all the combat aviation brigades (CABs) no later than August of 2016 outlining the implementation instructions and the Standard Operating Procedures for the program.
Above the Best!
CSM Chambers
This email address is being protected from spambots. You need JavaScript enabled to view it.
CSM Gregory M. Chambers is the command sergeant major of the Aviation Branch and the U.S. Army Aviation Center of Excellence, Fort Rucker, AL.