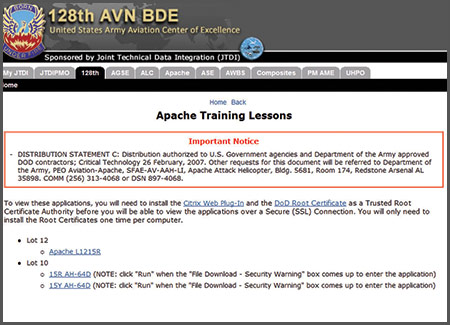 128th Aviation Brigade Update —By Ms. Allie Eschenbach
I have asked Allie Eschenbach from our Learning Technology Division to lay out a breakdown of the currently available training on the Joint Technical Data Integration website, what additional training is scheduled to be included, and what the future holds as the JTDI becomes the Consolidated Aviation Portal and Storage.
COL Rigole, Commander
If you have finished your formal maintenance resident training at the 128th Aviation Brigade and would like to review the training products or need training material to conduct refresher training for your Soldiers, we have support for you.
We want to ensure the training you need is available when you need it. And, to this end, we have made sustainment training available on the Joint Technical Data Integration (more commonly referred to as the JTDI) website.
Under the USAALS tab in JTDI, you will find training available for the same systems on which you received training while at the 128th and the training is arranged by platform. The only difference between the training available on JTDI's website and the instruction provided in the school is that the web-delivered instruction is not lock-stepped. You can review the material in any sequence that you chose. The following lessons are currently available with additional lessons being incorporated as they are completed:
Apache Lot 10
Apache Lot 12  
CH-47D APU (103 MB) 
CH-47D Fuel Final (364 MB) 
CH-47D Hydraulic Lessons (1.32 GB) 
CH-47 Hydraulic Systems Maintenance (Electrical IMI) (274 MB) 
CH-47D MSPU Training (46 MB) 
CH-47D Powerplant (98 MB) 
CH-47D Rotor System 
Kiowa IMI (Release 6.0, 31 October 2012)(This is a full update that replaces all previous MTS releases.) 
UH-60L APU (1.12 GB) 
UH-60L Automatic Flight Control System (548 MB) 
UH-60L Hydraulic Systems (282 MB) 
UH-60 Main Landing Gear (823 MB) 
UH-60L Powerplant (2.67 GB) 
UH-60 Main Rotor System (1.91 GB) 
UH-60L TRADS (1.95 GB) 
Automatic Flight Control System (447 MB) 
Flight Control System (456 MB)
In the near term, completed lessons will be added that cover precision measuring tools and techniques, torque and torquing techniques, basic electricity and electrical tools with multimeter operations as well as updates to the existing training.
The next modules to be loaded in the January 2014 time frame will be the EPA training for the Section 608 Universal Certification. Maintainers will be able to complete the EPA training and receive a certificate indicating completion of training. They will then be able to schedule testing for issuance of the 608 Universal Certification. This certification is required to maintain vapor cycle air conditioning systems installed on Army aircraft.
If computer-based multimedia was used in your course, you will have the option of also reviewing in any sequence desired all the content of the multimedia. For some platforms, such as the AH-64D, the multimedia provides the option for printing out a certificate of completion when an entire module is finished. Supervisors can assign modules to subordinates who may need to enhance their skills or receive refresher training in a system area.
You may also find some of the training tools used in the classroom available for download from the site. These tools include:
Three dimensional component locators that will navigate you to components and show you their exact location on the airframe. Currently, these tools are available for the AH-64 and will soon be available for the CH-47.
System level functional flows that are shown in the sequence they happen on the aircraft.  They show how systems function starting with an input through all electrical, mechanical, pressurized air, hydraulic, and data buss actions.
Crew station emulations that allow the user to conduct tasks in a virtual crew station environment replicating the aircraft crew station.
Future development of training materials will include the Virtual Immersive Environment (VIE) for each airframe with Apache leading the fleet. In the VIE, maintainers will be able to perform tasks on their assigned aircraft in a virtual atmosphere while following all of the technical manual task procedures. They will be able to perform complex tasks such as: main transmission removal and replacement, flight control rigging, and system level functional testing with test equipment and test, measurement and diagnostic equipment (TMDE). The VIE also provides the capability to perform maintenance operational checks (MOCs) and fault isolation procedures (FIPs). Once again, these procedures are performed step-by-step with the maintenance manual, and the VIE has the capability to complete every step. Look for additional platform VIE systems to begin appearing and ready for use in the January 2015 time frame.
In addition to training materials, JTDI is an excellent resource for other maintenance aids and support such as electrical tools and test equipment, so visit the site and see what's there. In the near future the JTDI site is going to change to the Consolidated Aviation Portal and Storage (CAPS) and will contain all the same information you would find in JTDI. Should you find that  JTDI no longer exist, go to https://caps.peoavn.army.mil. If you don't find what you need on the site, please contact the listed POC as the product may be developed but may not yet be ready for distribution.
We, at the 128th Avn. Bde., are committed to ensuring training products are available after training completion at the school. The goal is to foster continuous improvement in aviation maintenance through communication, education, representation, and support. We work for you, the Soldiers, let us know where we can help!
Ms. Allie Eschenbach is the audio-visual programs officer in the Learning Technology Division of the 128th Aviation Brigade S-3 at Joint Base Langley-Eustis, VA.