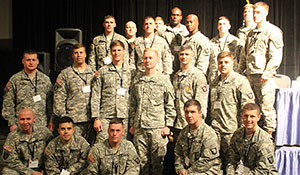 President's Cockpit 
BG Howard W. Yellen, Ret.
This month I had several topics I considered writing about, but despite this plethora of ideas, I looked at the calendar and threw that all out. I decided I would share some of my recent travels and then mention one of our 4 pillars that I believe is important to consider, whether you're a unit leader, or a private association: Recognition.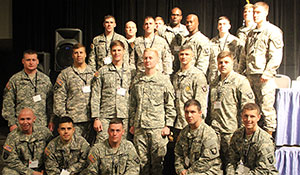 Members of 4th Bn., 101st Avn. Regt., 159th Cbt. Avn. Bde., from Ft. Campbell, KY surround one of their own, SGT Dustin Mahan (second row, 3rd from right), following his being awarded the 2014 AAAA Avionics Award on Nov. 4th, during the Aircraft Survivability Professional Forum in Huntsville, AL. / AAPI PHOTO BY ALICE PAGANOIf the AAAA National Office is the heart of our Association, then our 70 Chapters could certainly be considered our vital organs. Last month I visited two of our high-performing Chapters: Central Florida and Washington Potomac. Both epitomize the AAAA purpose to support the U.S. Army Aviation Soldier and Family.
Down in Orlando, Florida, the Central Florida Chapter was in the midst of celebrating their 250th consecutive monthly chapter meeting. Now think about that for a moment. That's over 20 years without ever missing a meeting! They were extraordinarily proud of their Chapter and what they've accomplished and were committed to another consecutive 250 monthly meetings. Whether they were recognizing deserving members, providing support thru matching scholarships, or just networking to enjoy the camaraderie with each other, the atmosphere was electric. I was impressed at how energetic they are and not content to rest on their laurels. What is truly unique about the Central Florida Chapter is that they don't have a large military population to draw upon, yet they continue to bring in new members and that evening recognized two brand new AAAA Life Members. The spirit of volunteerism was unmistakably on display that evening.
While the weather was a pleasant 80 degrees in Orlando, it was a bit nippier in the National Capitol Region as I traveled up to join the Washington Potomac Chapter for their annual Dining Out. This traditional black tie event is their major scholarship fund-raising effort. The industry members of this chapter dig deep each year in order to help raise $25,000 or more for the AAAA Scholarship Foundation. The dining out was the epitome of the AAAA pillar for Networking. That evening there were attendees from the Active Army, National Guard, and the Army Reserve. Enlisted, warrant, and commissioned officers, plus a host of retirees and our industry partners all gathered to help make this an eminently successful event. In fact, if you wanted to have your voice heard, you could meet and speak with a variety of senior leaders such as LTG Ray Palumbo, Director for Defense Intelligence (Warfighter Support) in the Office of the Under Secretary of Defense (Intelligence), or BG Mike Bobeck, the Special Assistant to the Director of the Army National Guard, or even the Army G-1, LTG Jim McConville who was the guest speaker that evening. This was a terrific evening that once again highlighted Washington Potomac as a model chapter worthy of emulation.
I was pleased that we could once again resume our schedule of professional forums and what better way to kick it off than with the Aircraft Survivability Forum in Huntsville. We had a spectacular array of presenters on the first day and three outstanding award winners. But one of the most indelible memories was the image of the battalion commander and about 40 of his Soldiers from 4-101st Aviation in attendance in support of award recipient SGT Dustin Mahan. They left Ft. Campbell around 0400 hours in order to share this special moment with one of their own. That's unit cohesion.
This was followed by the Joseph P. Cribbins Aviation Product Symposium. Here was another jam-packed agenda with all the key personnel from the Army Aviation acquisition and sustainment communities. Well done to the Tennessee Valley Chapter who put together a magnificent professional program and followed it up with their scholarship fund-raising golf scramble on Friday morning. Well done!
The recurring thread throughout the above was simply, Recognition. Not that Networking, Voice and Support weren't present, but here we had leaders taking the time to ensure deserving personnel were properly recognized. We all have another opportunity as it is the season to nominate folks from throughout the Army Aviation community for AAAA National Awards. Please take the time to nominate officers, soldiers and civilians who have made an exceptional contribution this past year. If a unit is nominated, there ought to be a nomination for each individual award. After all, an outstanding unit doesn't become such all by itself.
Army Aviation has never been stronger or more relevant. As I reflect upon 2014, I can't help but admire all the efforts of so many who have volunteered their time to make AAAA so successful. And, it's that time of year that we wish all our service men and women could be home with their families for the holidays. They are deployed around the world dedicated to serve selflessly, quietly, and professionally to ensure the freedoms so many Americans take for granted are preserved.
My best wishes for a Happy Holiday season to all – and for a successful and safe 2015 for Army Aviation.
BG Howard W. Yellen, Ret.
31st President, AAAA
This email address is being protected from spambots. You need JavaScript enabled to view it.
Caption: Members of 4th Bn., 101st Avn. Regt., 159th Cbt. Avn. Bde., from Ft. Campbell, KY surround one of their own, SGT Dustin Mahan (second row, 3rd from right), following his being awarded the 2014 AAAA Avionics Award on Nov. 4th, during the Aircraft Survivability Professional Forum in Huntsville, AL. / AAPI PHOTO BY ALICE PAGANO