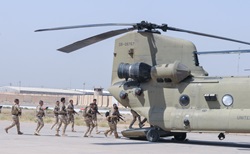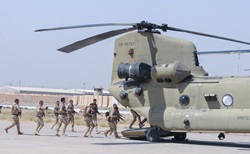 Camp Taji, Iraq
July 19, 2017
Photo by Capt. Stephen James
29th Combat Aviation Brigade
CAMP TAJI MILITARY COMPLEX, Iraq – Members of the Iraqi security force load onto a CH-47F Chinook helicopter fielded by the 29th Combat Aviation Brigade at Camp Taji Military Complex, Iraq, July 19,2017. The ISF trained with their U.S. counterparts in the 82nd Airborne Division's Task Force Red Falcon and the 29th CAB on security procedures involving aircraft and met to schedule future partnership events. This training is part of the overall Combined Joint Task Force – Operation Inherent Resolve building partner capacity mission by training and improving the capability of partnered forces fighting ISIS. CJTF-OIR is the global Coalition to defeat ISIS in Iraq and Syria.
This photo was originally found here.