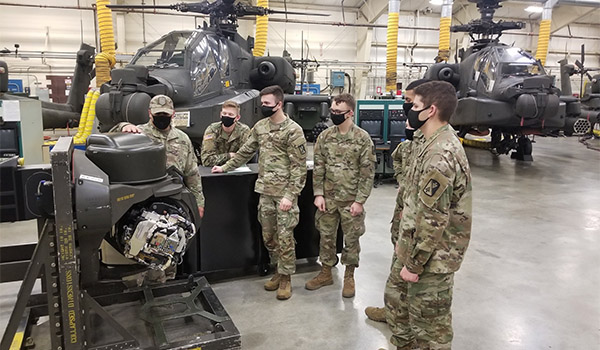 128th Aviation Brigade / By CPT Trenton Conyers: As 2020 ended, the 128th Aviation Brigade postured itself to conduct Holiday Block Leave for all the trainees and cadre as it does every year. Amidst the COVID-19 pandemic, however, this mission posed new challenges to leaders within the Brigade. The commander's goal from the beginning was to maximize Soldier participation in this leave period and to do so as safely as possible, utilizing a series of COVID-19 mitigation strategies at every juncture. The most critical strategy in this was the creation of student "clusters" upon return from Holiday Block Leave which would help re-establish a safe environment for the hundreds of trainees who operate throughout the Brigade daily. While 1st Battalion, 222nd Aviation Regiment, was responsible for planning and executing the significant Holiday Block Leave movements for students, it fell to 1st and 2nd Battalions, 210th Aviation Regiment, to manage the clustering operations and re-establish the Brigade's safe training environment for all personnel.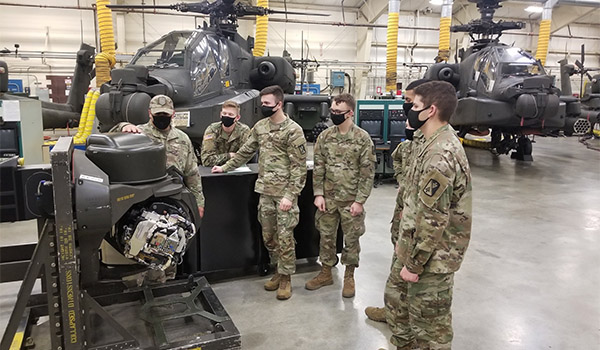 CPT Trenton Conyers is the operations officer for 1st Battalion, 222nd Aviation Regiment, 128th Aviation Brigade, Joint Base Langley-Eustis, VA.
SSG Yahaziel Remigio from the 128th AVN BDE teaches 15Y trainees about the Apache helicopter in clustered operations./ U.S. ARMY PHOTO BY 1SG RYAN MCFARLAND
Holiday block leave operations for 2020 encompassed the entire brigade, which included over 1,600 trainees and 750 cadre. The main effort in these operations was the trainee movement to the Tidewater Region's local airports, bus stations, and rail station. Working through Morale, Welfare, and Recreation (MWR), bus transportation was afforded to those trainees traveling from airports and the Williamsburg, VA, transportation hub. Several Soldiers, whose families reside nearby, were also able to link up with their family members at a centralized pick-up location and depart safely from Fort Eustis. Students who could not take advantage of Holiday Block Leave were still afforded a plethora of activities run by Delta Company, 1st Battalion, 222nd Aviation Regiment. They conducted events such as paintball competitions, movie, and game night, and enjoyed good holiday meals. These events carried on until the return of all trainees from Holiday Block leave on January 3rd.
The Process
Upon return, students were organized by their MOS-specific classes into specific "clusters," ranging from eight to 16 trainees in a group. A designated instructor from 1st or 2nd Battalion was responsible for his assigned cluster's movement and accountability in the week following student return. During this time, these instructors were charged with conducting basic Soldier training with the students, including 350-1 requirements, SHARP, MRT, and mentorship via group discussions keeping Soldiers active while simultaneously mitigating the spread of the virus. These NCOs played a critical role in successful operations as the front lines in establishing the Brigade's safe training environment. They enforced all COVID-19 mitigations, helped conduct contact tracing, and managed quarantined classes to help prevent the potential spread of COVID-19 to the general population. After the first week of cluster operations, Soldiers then continued into aviation-specific academic training, maintaining the cluster model but moving closer to the brigade's normal operations. Keeping students restricted to these small groups without allowing clusters to intermingle was essential restarting training almost immediately after the holidays.
The 128th Aviation Brigade's cluster strategy allowed the unit's mission to continue and send well trained and equipped Soldiers to their first unit of assignments. While the country, including the local Virginia area, saw a dramatic rise in COVID-19 cases, the Brigade worked to minimize the risk of COVID-19 and continue training on time. The focus on caution and leader engagement helped identify and isolate the risk of COVID-19 early, all while maintaining proper leader involvement in Soldiers' mental health. Cluster instructors were acutely aware of the degree to which Soldiers were locked down without a regular routine. This environment can wreak havoc on a young Soldier with limited resiliency tools, and the instructors assigned did an excellent job. The leadership within 128th Aviation Brigade, as always, continues to remain engaged and vigilant to support the training of the future of Army Aviation Maintenance.
"Born Under Fire!"