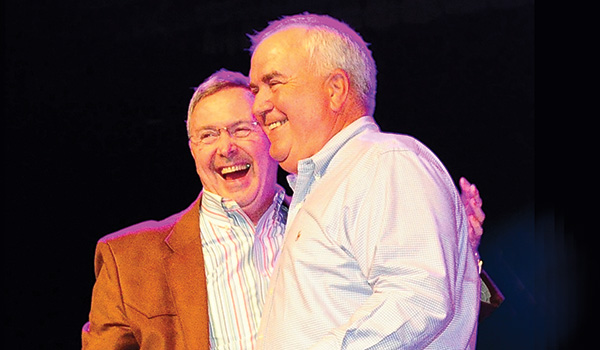 President's cockpit / By BG Steve Mundt, Ret.: It is hard to believe that it was over six years ago when I first became a member of the AAAA National Executive Group and began my journey to become your new AAAA President.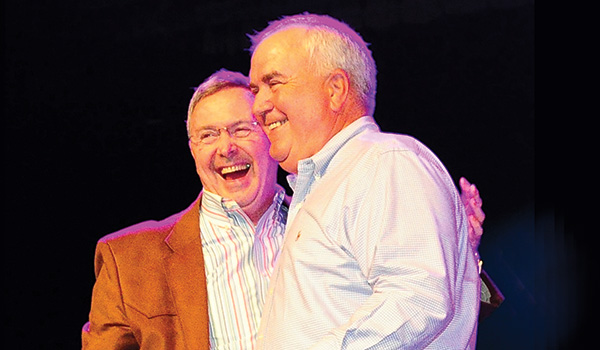 New AAAA President, BG (Ret.) Steve Mundt (left), shares a laugh with outgoing president, BG (Ret.) E.J. Sinclair while presenting him with a Black Hawk pilot t-shirt following the passing of the gavel at the Annual Membership meeting on April 28, 2017 during the Army Aviation Mission Solutions Summit in Nashville, TN. / AAPI PHOTO BY MIKE ULLERY
First, I would like to thank BG (Ret.) EJ Sinclair for everything he accomplished over the last two years. He married well above what he deserves, as so many of us have, and he did a great job in spite of being an Apache pilot! What Susan sees in him is beyond me except that he is a great husband, father, grandfather and Soldier! We thank them both for their service to AAAA and the Army Aviation Soldier and Family. They truly made a difference.
Your new leadership team on the national executive group (NEG) also includes MG (Ret.) Jeff Schloesser
as Senior VP, MG (Ret.) Tim Crosby as Secretary, and MG (Ret.) Walt Davis as our new Treasurer. I am working the appointments now to fill out the NEG and the National Members at Large.
We assure you that your all-volunteer board and especially the NEG is humbled by the confidence AAAA members have in our ability to provide networking, recognition, voice, and support in fulfilling our commitment to support Army Aviation and take care of our Soldiers and their Families. We are always looking for better and more innovative ways to serve you all, especially in the National Guard and Reserve, as a Total Army and solicit your input! We will do our upmost to never fail you.
At this point we have three primary priorities.
First, we will focus even harder on the member experience in the chapters. Specifically, how we can better support and coordinate our AAAA Chapters to meet your needs and give you the best possible local membership experience. We have worked through significant legal/policy restrictions in the last few years and will make sure local leadership can maximize the potential for participation. There are many ways to serve in AAAA leadership positions while in uniform and meet the legal requirements and stay within the guidelines.
Second, as stated above we will be emphasizing the Army Chief of Staff's stated objective for the Total Army; Active, Guard and Reserve. We will also be concentrating on the needs of our enlisted personnel in all compos. We are still not there yet in terms of meeting the need of these brothers and sisters in the reserve components and enlisted ranks in my view.
Finally, how can AAAA best serve as a platform for helping our Army leadership in maintaining a well-trained, well-equipped, and well-led Aviation Force for the fight today and tomorrow in the "multi-domain battle space" while preparing for the future? On the equipment side, where are we on the Improved Turbine Engine Program, Degraded Visual Environment, Aircraft Survivability Equipment and Future Vertical Lift?
I would be remiss if I did not mention the recent AAAA Annual Summit in Nashville. We had the best event in years in every respect. From the keynote by our then incoming Army Vice Chief of Staff LTG(P) Jim McConville through the amazing Hall of Fame Induction to the closing concert – it was a home run. Check out the Summit photo wrap up section in this issue. Thank you to our industry partners whose support at the event make many of our yearlong AAAA activities possible.
As always, I welcome your feedback and thoughts as we all work together to Support the U.S. Army Aviation Soldier and Family. Above the Best!
BG Steve Mundt, Ret.
33rd President, AAAA
This email address is being protected from spambots. You need JavaScript enabled to view it.