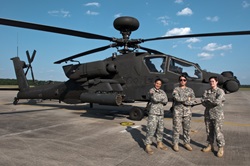 Story by Capt. Jessica Donnelly
59th Aviation Troop Command
EASTOVER, SOUTH CAROLINA – Citizen-Soldiers and Airmen serving in the National Guard are an asset to the military due to the skillsets developed from their civilian careers and how they are applied to their military service. Each South Carolina National Guard Soldier and Airman has a unique story that contributes to making the South Carolina National Guard a ready, relevant, responsible, and resilient force.
U.S. Army 1st Lt. Jenna Pitcher is assigned to the 1-151st Attack Reconnaissance Battalion, D Company as the commander, as well as an AH-64D Apache pilot with the South Carolina Army National Guard. When she's not providing aerial protection, Pitcher is protecting the streets as a police officer for the City of Charleston.
"There's a lot of overlap between being a police officer and an Apache pilot in the Army," said Pitcher. "In both roles, your life and the lives of others depend on your situational awareness, proficiency and knowledge. Both being an officer in the Army and a police officer reminds me daily to strive to be truly selfless."
Balancing roles of fulltime obligations and military commitments is a constant challenge National Guard members face. Pitcher explained, it takes a lot of self-motivation to stay proficient as a leader, be an aviator, and to study the required manuals. However, she said, the opportunity the National Guard provides to be part of something bigger than herself and aviation being a true passion, is what inspires her to continue her military service.
Pitcher has served in the South Carolina National Guard for seven years, beginning her career as a carpentry and masonry specialist with the 122nd Engineer Battalion, 1221st Engineer Company. She explained that she did not have much exposure to the military while growing up and decided on joining the National Guard to stay in close proximity with her family. Her older brother's decision to serve impacted her decision to join as well, and also contributed to the career path she chose.
"My older brother is in the Army. He was a huge influence in deciding to be an Apache pilot," said Pitcher. "He is an Infantryman and our job as Apache pilots is to protect and assist the ground forces."
Another reason Pitcher chose to become a pilot is she has always found helicopters to be fascinating and knew it would be a challenging and rewarding career path to follow. She explained that on any given day she could be flying treetop-level over Fort Jackson, or landing on pinnacles at 12,500 feet in Colorado.
"I enjoy the variety of flying the Apache," added Pitcher. "My favorite part of being in the military is that it doesn't feel like a job. I enjoy being around my colleagues and there is always so much happening at one time I can honestly say I am never bored or looking for something to do."
While Pitcher has served in the South Carolina National Guard for a short period of time, she has already made an impact on Soldiers who have served with her.
"1st Lt. Pitcher has accomplished many things throughout her career as an aviator," said Chief Warrant Officer 3 Deborah Glenn, 1-151st ARB, B Company aviation mission survivability officer and fellow AH-64D Apache pilot. "She is company commander, which is a first for our unit because she is the first female company commander we have had, and she recently got signed off as an air mission commander, a really great accomplishment."
An Air Mission Commander is the pilot in charge when multiple aircraft are conducting a mission. Pitcher completed the training January 2017, which included a week of classroom instruction and aircraft simulators to conduct and be evaluated on the execution of missions. Completion of the training does not fully qualify the pilot to serve as an AMC, but is used to familiarize them with what it is like to be in charge of multiple aircraft and crews. It also gives the pilots the opportunity to make mistakes in a controlled environment.
While Pitcher's years in the South Carolina National Guard have already been noteworthy, she attributes her success to the other Citizen-Soldiers who serve with her.
"I'm surrounded by very knowledgeable and motivated Soldiers that schedule and conduct aircraft maintenance, troubleshoot issues, and arm the aircraft with munitions," said Pitcher. "They keep the fleet airworthy and are critical to the Apache's mission success."
Pitcher noted she has enjoyed her time serving and will stay in the South Carolina National Guard for as long as she can, all while balancing her service with a civilian career.
"Pursue your goals with gusto," she said. "Be focused, vocal and make moves to achieving your goals, and with enough persistence it will happen."