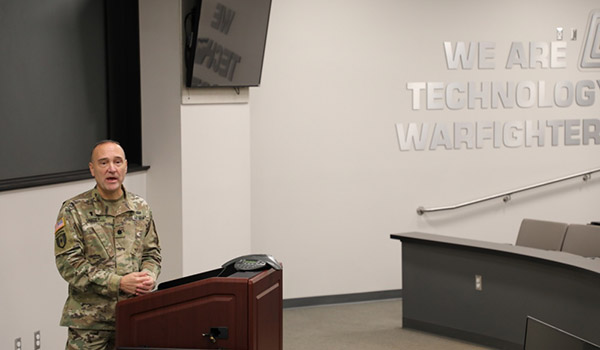 By Amy Tolson: When a co-worker dies, a serious illness strikes or suicidal thoughts occur, they can provide listening ears, be sounding boards or people to pray with. U.S. Army Combat Capabilities Development Command Aviation & Missile Center employees seeking spiritual care can do so within their own center thanks to the Chaplain Care Team. Designed to be a force multiplier for the CCDC chaplain section, the CCDC AvMC team is the first to go operational within the command. CCDC Command Chaplain (Lt. Col.) David Snyder and his aide paid a visit to AvMC Nov. 12 to conduct training for the civilian volunteers who make up the team.
"The Chaplain Care Team is there to provide a religious or spiritual option for those members of the workforce that would like to employ their faith. For many people, their spirituality or their faith is important. For those who would like to employ it, you will be able to help them do that," Snyder told the team.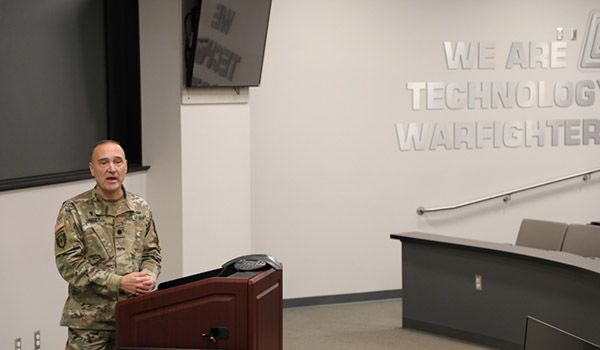 U.S. Army Combat Capabilities Development Command Chaplain (Lt. Col.) David Snyder speaks to members of the CCDC Aviation & Missile Center Chaplain Care Team as part of their quarterly training at Redstone Arsenal, Ala., Nov. 12. The group is designed to be a force multiplier for the CCDC chaplain section, helping to meet the spiritual needs of the CCDC AvMC workforce. Photo By Amy Tolson
In an organization as large as AvMC, meeting the spiritual needs of employees as they come up can be challenging for the chaplain team that serves all of CCDC, according to Darrin Carter, AvMC liaison officer for the team. The Chaplain Care Team Concept helps bridge the gap by allowing civilian employees to provide spiritual care as needs arise, such as visiting hospitalized personnel, attending funerals or delivering prayer for special events. Civilians must be approved by their supervisor and agree to abide by Army Regulation 165-1, Army Chaplain Corps Activities.
"Our job is to ensure the free exercise of religion for Soldiers, their families and DOD civilians – that is what we are called to do," Snyder said. "We do that in a way that is to respect the belief system of others yet, at the same time, allowing for individuals to maintain integrity to the belief system that they come from. You will never be asked to compromise what you believe in; all we ask is that you respect someone who may have a different belief system."
Twenty individuals currently make up the AvMC team and encompass a range of denominations to include Buddhism, Catholic, Protestant and the Jewish faiths. To be eligible to serve on the team, volunteers must be of sound mind and character, an active-duty service member or government civilian, an excellent and well-rounded employee, and have a flexible work schedule.
While they are not considered counselors or therapists, the group will receive quarterly training from Snyder on topics such as applied suicide intervention skills, caring for those who grieve, active listening skills, when and how to make a referral, solution-focused counseling skills and guidelines on religious exercise and religious expression in the federal workplace. The quarterly training with Snyder ensures care team volunteers are prepared to respond the variety of spiritual needs their co-workers may come to them with.
"It gives people someone to voice their opinions to or their questions to, someone they can pray with, someone who will listen and be a good ear," said Carter, an ordained elder in his church. "It doesn't have to be someone to pray with all the time, but just someone who is there. You have someone extra to reach out to."
The CCDC Aviation & Missile Center, formerly known as the Aviation & Missile Research, Development and Engineering Center (AMRDEC), is part of the U.S. Army Combat Capabilities Development Command, which conducts responsive research, development and life cycle engineering to deliver the aviation and missile capabilities the Army depends on to ensure victory on the battlefield today and tomorrow. Through collaboration across the command's core technical competencies, CCDC leads in the discovery, development and delivery of the technology-based capabilities required to make Soldiers more lethal to win our nation's wars and come home safely. CCDC is a major subordinate command of the U.S. Army Futures Command.