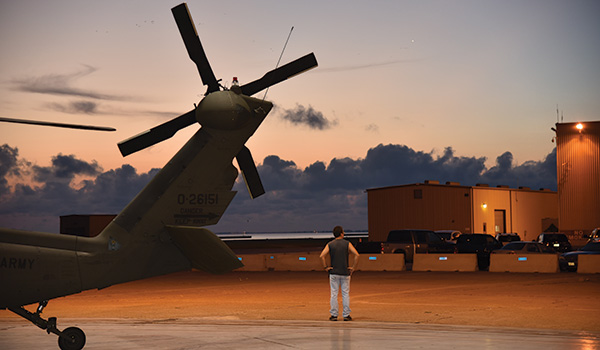 Aviation Maintenance / By COL Billingsley Garner Pogue III and CSM Stephen D. Odom: The Corpus Christi Army Depot (CCAD) has a single unwavering mission: to support U.S. Army and Department of Defense Aviation with Joint helicopter readiness and sustainment. Our Joint Force's helicopters are critical to national security around the globe where they provide transport, combat support, rescue, and humanitarian aid. In today's complex security environment, our Nation's Warfighters are called to respond to a growing number of never-before-seen challenges in Army Aviation as we face increasing threats from emergent adversaries employing the latest technology and weapon systems. With Fiscal Year 2015 (FY15) behind us and the New Year quickly approaching, I can say that the entire CCAD team is poised to serve that call.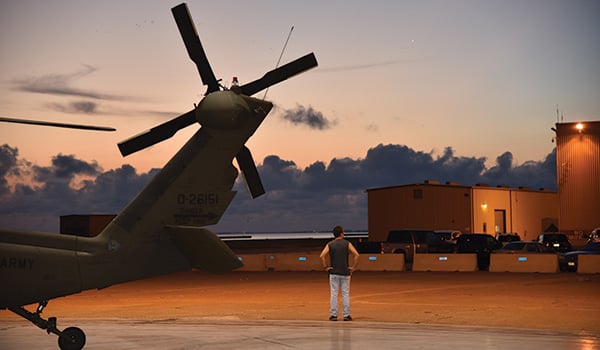 Andy Carballeira watches another dawn outside the hangar where he works. After 11 years at the depot, the avionics electrical technician believes that taking in a CCAD sunrise is the best way to start the work day. There may be something in that Texas Gulf Coast that has refueled the sense of honor and commitment of every aviator and federal civilian and contractor on that flight line since World War II. Though Aviation and the industrial base will continue to evolve, the team at CCAD, like each dawn, will rise to meet the horizon. / U.S. ARMY PHOTO BY KIANA ALLEN, CCAD PHOTOGRAPHER
Despite budget shortfalls and cuts to our overall force, Army Aviation remains the backbone of the Nation's defense and CCAD is the focal point of sustained aviation readiness in the Army's Organic Industrial Base (OIB). Our commitment to preserving this role is evinced through our continued evolution toward efficiency in every aspect of depot operations. Over the past year, we've right-sized to a smaller, more sustainable workforce of multi-skilled professionals with a mindset for innovation to not only sustain operations, but to increase capabilities and readiness at a reduced cost.
Meeting the Challenges
CCAD is breaking new ground in problem-solving to achieve our mission on-budget and on-time. This year, our artisans provided outstanding support to the Air Force Special Operations this year by repairing a critical MH-47G that suffered major crash damage to its roof and rotor blades. Industry estimates to repair the magnitude of damage this aircraft sustained averaged 18 months, but the unit needed the aircraft in six to be able to train for an upcoming mission. It was up to CCAD to prioritize the repair: to find a way or make one. By engineering creative solutions and synergizing materiel and resources within the Depot, we delivered a mission-ready aircraft for Special Operations within six months. This aircraft is now back in service performing some of the most specialized missions for some of the most elite defenders of our Nation.
Our mobile depot field teams increased their global reach with more than 100 missions around the world this year, troubleshooting and conducting thorough accident investigations and repair to support our regionally engaged, globally responsive Army.
Foreign Military Sales are also on the rise. This year we supported fifteen allied countries on component orders for their aircraft.
CCAD's public-private partnerships complement our organic workload to the nth degree. Leveraging Technical, Engineering, Logistics, Supply and Services partnerships and our original equipment manufacturers (OEMs) provides invaluable support and is one of the most effective solutions we have found to improve our business model in the OIB.
Our Information Technology professionals have expanded shop floor automation across the depot with the Complex Assembly Manufacturing Solution (CAMS). Together with the Logistics Modernization Program (LMP), CAMS streamlines the way the Depot does business by tracking materiel inventory and increasing visibility on personnel and process management.
Preparing for the Future
CCAD is actively preparing for the future. While our production teams meet present-day requirements, our support personnel are making our facilities more resilient, efficient, and effective. Several of CCAD's infrastructure investments are nearing completion.
Our Advanced Corrosion Control Facility will be operational in FY16, providing substantial energy savings and enhanced environmental protection processes for the Depot.
Our production teams will continue to work smarter, developing innovative methods of reducing cost and increasing efficiency across CCAD. Continuous Process Improvement principles are spliced into the very DNA of Depot production. Improving programs across the board boosts production capabilities through conservation—from simple ways to best steward resources in everyday operations to significant cost savings on large-scale multimillion dollar projects.
We are engaged in several programs that extend the lives of Defense helicopters. While our showcase program remains the UH-60A to L recapitalization program, we recently began converting the Army's L-model aircraft to the V-model. Our long-term focus is to transition the entire Black Hawk fleet to the V-model.
We are expanding our crash damage repair programs. Along with our new MH-47G Chinook repair capability we are now launching a pilot program for the AH-64E Apache. CCAD also has multiple aircraft component programs in the works for several Black Hawk gearboxes and rotor blades. Other efforts are underway to transition programs from being solely organic Army, like the one we have for our T-55 engine, to become a dual effort with enterprise partnerships with one or more of our OEMs.
Expanding Services
In 2018, we will launch a new AH-64E overhaul program as well as a depot-level sustainment strategy to extend the CH-47F Block II life-cycle. We're also expanding our capabilities by increasing our support services to all military branches and a wider range of aircraft. We have potential workload from the U.S. Air Force to convert their UH-60A to HH-60G. We can also meet Aviation Restructure Initiative goals to replace their fleet of UH-1N with the HH-60 Pave Hawk using a conversion program.
In the coming years, the Depot will invest in new technology, processes, and equipment to increase our sustainability and flexibility to meet any challenge in any environment. We will prioritize the development of our highly-skilled workforce to ensure our rapid surge capability to respond to the Warfighters' evolving needs.
Today and beyond the next horizon, CCAD stands as the point of sustained readiness for Joint Aviation support by achieving the optimal balance between end strength, readiness, and modernization to ensure the Army's strategic advantage to win in a complex world.
COL Billingsley Garner Pogue III is the commander of Corpus Christi Army Depot and CSM Stephen D. Odom is the CCAD senior enlisted advisor at Corpus Christi, TX.