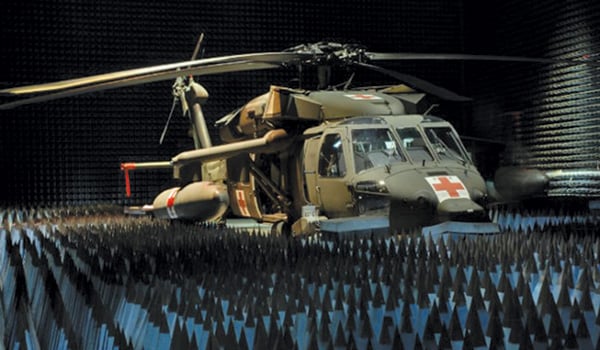 Tech Talk / By Mr. Nathan Proper and Mr. Darin Boyer: Medical evacuation (MEDEVAC) mission priority is to provide vital medical treatment to the wounded within the Golden Hour, which is the time period following traumatic injury being sustained and in which there is the highest likelihood that prompt medical treatment will prevent death. The Golden Hour standard was mandated by the Secretary of Defense in 2009.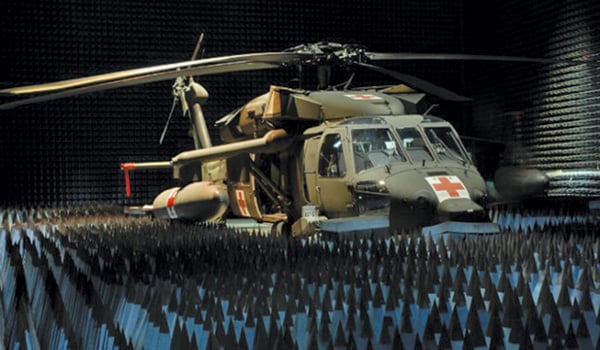 EMC aircraft test chamber at Eglin Air Force Base, Florida / U.S. AIR FORCE COURTESY PHOTO
Approximately 600 H-60 Black Hawk helicopters support the MEDEVAC mission and are equipped with various medical devices to provide critical care to the wounded during air transport. These medical devices (also known as Patient Movement Items (PMI)) are considered carry-on equipment and are typically transported with the patient. Many of the PMI used to support the MEDEVAC mission are the same medical equipment used in hospitals; however, they are not typically designed to operate on an aircraft or in harsh battlefield environments.
Army Regulation (AR) 70-62 requires the Army airworthiness authority to determine if operation of PMI would affect the airworthiness of an aircraft. Prior to developing an Airworthiness Release (AWR) authorizing use of a particular item of PMI, the Aviation Engineering Directorate (AED) requires the PMI to undergo a series of tests. The test requirements are documented in the Joint Enroute Care Equipment Test Standard (JECETS), which is a joint agreement between the Air Force and Army that defines the PMI test requirements and methods for both fixed- and rotary-wing platforms. The U.S. Army Aeromedical Research Laboratory (USAARL) develops test plans, in accordance with the JECETS document, and conducts appropriate testing. PMI testing primarily consists of Electromagnetic Interference (EMI), explosive atmosphere, Night Vision Device (NVD) compatibility and Electromagnetic Compatibility (EMC) testing.
EMI testing is initially conducted on each PMI device to characterize its electromagnetic profile. Conducted emission (CE) testing is performed on all power leads and returns to verify that measured emissions do not exceed specified levels, thus maintaining clean aircraft power. Radiated emission (RE) testing is performed to verify that radio frequency (RF) emissions from the PMI and its cabling do not exceed specified limits. Excessive radiated emissions may cause interference with aircraft communication and navigation systems.
Explosive atmosphere testing is required to show the PMI is not an ignition source which could be hazardous when operating in a fuel-air mixture environment, such as in a forward area rearm refuel point (FARRP). If the PMI is unable to successfully pass this test, the AWR will impose a restriction stating that the PMI device shall be turned off when exposed to fuel-air mixture environments such as during refueling.
Many MEDEVAC missions are conducted at night where pilots and crew utilize night vision devices. Testing is conducted on each PMI device to evaluate if light emitted directly from the PMI itself or reflected from surrounding surfaces, impairs the pilot's ability to safely operate the aircraft.
After the component-level testing is complete, the AED reviews the test data to determine if the PMI can be safely operated on aircraft. The AED will then develop an AWR for flight test with the PMI. An EMC test, which is an aircraft level test, will be conducted to determine if the PMI is compatible electromagnetically with all other equipment installed on that aircraft. This ensures proper operation of flight displays, navigation and communication equipment.
Once flight testing is complete, the AED will review the flight test report and if approved, will update the fleet wide AWR authorizing use of the PMI on all H-60 aircraft to support the MEDEVAC Mission. Some operational restrictions may be imposed on the PMI based upon the results of the component and flight tests.
Over 75 PMI devices have been authorized for use on the H-60 fleet. Testing for PMI is ongoing to enable use of new medical equipment that will provide improved capabilities and treatment of patients. In addition, programs such as Telemedicine are in development that will enable detailed communication between aircraft and the trauma unit or hospital as to the extent of the patient's injury well in advance of aircraft arrival. Enabling the latest medical technology to be operated onboard the MEDEVAC aircraft will continue to increase the chances for survival during the Golden Hour.
Mr. Nathan Proper and Mr. Darin Boyer are engineers with the Utility Division of the Aviation Engineering Directorate of the U.S. Army Aviation and Missile Research, Development, and Engineering Center at Redstone Arsenal, AL.