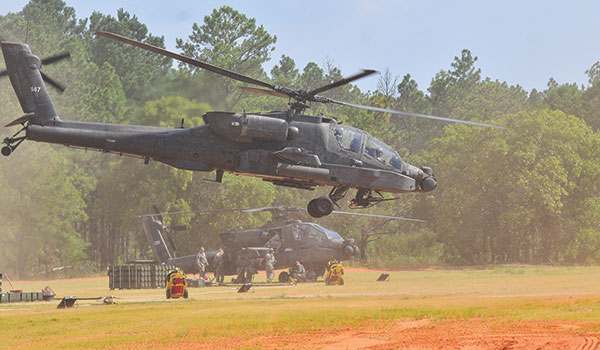 News Spotlight / By SGT Leticia Samuels: The second annual Carolina Thunder exercise, a multi-component joint live fire event, exploded onto training sites across North Carolina July 31st through August 2nd. The exercise, consisting of nearly 850 Soldiers and Airmen, with a heavy emphasis on attack and assault aviation operations also including artillery, airborne and insertion events, provided units with opportunities for complex planning and execution of maneuver and lethal fires.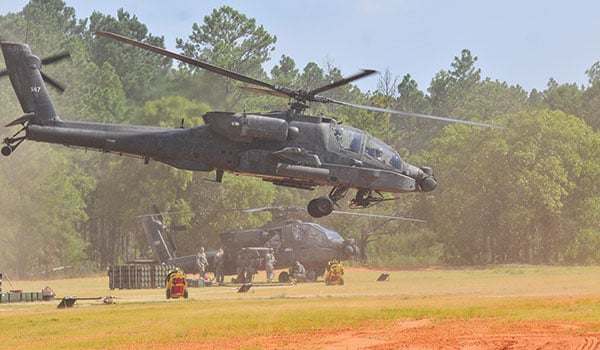 An AH-64 Apache assigned to the 1-130th ARB NC ARNG departs for a fire mission during the second annual Carolina Thunder multi-state live fire training exercise hosted by the 1-130th ARB at Fort Bragg, Aug 1 through 2, 2015.
Over the three day exercise, paratroopers from the 82nd Airborne Division jumped from 2 NC Air National Guard C-130 aircraft. Eighteen AH 64 Apache attack helicopters from the 1-130th Attack Reconnaissance Battalion (ARB) NC ARNG and 12 Apaches from the SC ARNG pounded targets with rockets and gunfire. Two CH-47 Chinook helicopters from the AL ARNG and 3 UH 60 Blackhawks from Co. C, 131st Assault Battalion of the NC ARNG ferried 82nd Airborne Cavalrymen and 3rd Special Forces Group (SFG) operators onto the tarmac at a small regional airport training area used by the NC ARNG near Charlotte, NC.
In addition to aviation, the NC ARNG's 5th Bn., 113th Field Artillery Regt. (HIMARS) shot rockets into the impact area making for a well-orchestrated barrage of artillery, aviation gunfire and hellfire missiles on designated targets on Ft. Bragg.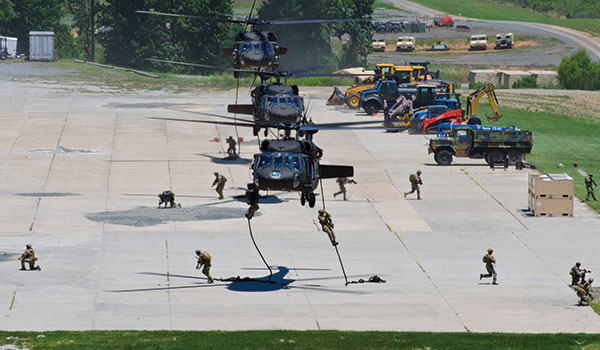 Soldiers rappel from UH-60 Black Hawk helicopters assigned to the North Carolina Army National Guard at the Stanly County Airport during the North Carolina National Guard's Carolina Thunder 2015 aviation training exercise Aug. 1, 2015.
This year's synchronized effort was hosted, planned and led by the 1-130th ARB requiring months of planning and rehearsals utilizing traditional weekend Soldiers and Airmen as well as full time aviation staff from the ARB in conjunction with active duty training officers at Ft. Bragg. This was the second multi-component joint live fire exercise hosted by a National Guard Apache attack battalion, last year the SC Army National Guard hosted the inaugural event.
SGT Letitia Samuels is assigned to the 382nd Public Affairs Detachment, South Carolina Army National Guard.