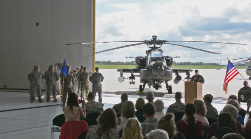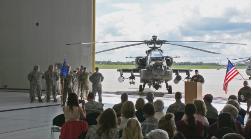 August 23, 2017
Video by Sgt. Shane Smith
Joint Force Headquarters, Pennsylvania National Guard
Check out this video of Pennsylvania National Guard Soldiers with Charlie Company, 1st Attack Reconnaissance Battalion, 151st Aviation Regiment, were joined by family, friends, and other supporters during an honorary deployment ceremony for the unit at the Army Aviation Support Facility in Johnstown, Pa. August 23. More than three dozen Soldiers are deploying to Afghanistan in support of Operation Freedom's Sentinel as part of a task force that will provide aviation capabilities with AH-64 Apaches, UH-60 Black Hawks, CH-47 Chinooks, as well as medevac assets.