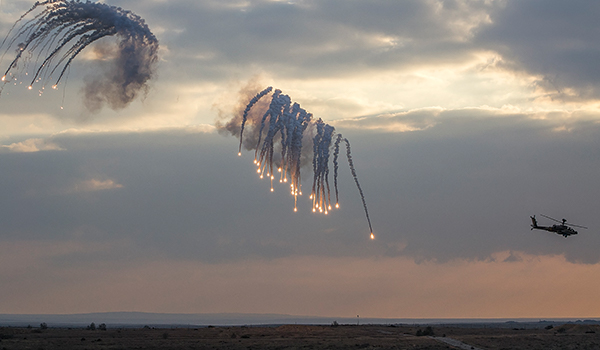 Training and Simulation / By LTC Ryan K. Welch and MAJ Cameron G. Gallagher: "We must increase the tactical competence within our aviation warfighters to improve readiness for large scale combat operations (LSCO) while capitalizing on counterinsurgency (COIN) expertise resident across our branch. To do so, we must rebalance the tactical and technical knowledge we teach and evaluate in order to continue to provide an unparalleled advantage to the ground commander." – MG William K. Gayler, Commanding General, USAACE, STACOM Message to TC 3-04.11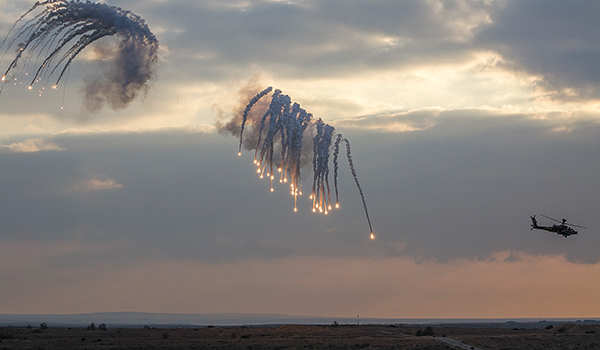 YOUR CAPTION HERE
In preparing for large scale combat operations, U.S. Army aviation air crews and Soldiers must re-learn required skills necessary to fight, survive and win in a highly contested environment. During the last 17 years of supporting counter insurgency operations, the skills needed for Army air crews to account for a mix of radar, infrared (IR) and direct fire threats simultaneously has atrophied. The capability and knowledge gaps in regards to true capacity to deal with these threats has built to the point that many units lack the confidence to operate in high threat environments.
NTC Aviation Training
The nature of today's threats demands an approach to training that stresses survivability and maneuver tactics to avoid and defeat high-end peer or near-peer systems. Units at the National Training Center (NTC) at Ft. Irwin, CA, will enjoy neither maneuver nor air superiority over their opponent. Rotational units will fight in a contested and degraded electronic environment and have to rely on the weapons and aircraft survivability equipment (ASE) that they have – not what they want – to seize and retain initiative for ground force commanders.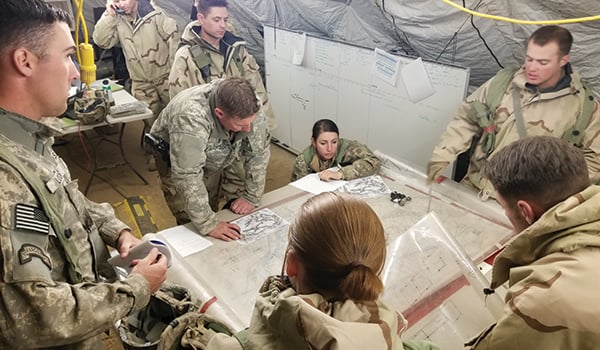 AH-64 fires flares in response to simulated threat. / ALL PHOTOS: NTC ALPHA TEAM COURTESY PHOTO EXCEPT WHERE INDICATED
Over the last year, NTC has expanded the air defense training environment. The 11th Armored Cavalry Regiment, the NTC's Opposing Force (OPFOR), has fielded multiple air defense capabilities, which include the Giraffe Radar, Aircraft Survivability Equipment Trainer (ASET IV), Radar Signal Emulator (RSE) and Man-Portable Aircraft Survivability Trainer (MAST). All of these systems work in concert to provide real-time analytical feedback on maneuver and tactical employment for air crews operating within NTC boundaries. These threat systems – replicating current air defense threats such as the 2S6, SA-15, SA-18, SA-24 – challenge aviation task forces and air crews when employed in the brigade combat team's (BCT) close area.
NTC China Lake Partnership
Since the fall of 2017, NTC has leveraged the facilities and training area of neighboring China Lake Naval Air Weapons Station to add to the complexity of the Decisive Action Training Environment (DATE) as a way to challenge aviation task forces that may be employed beyond the BCT's close area and in the division's deep area. The NTC's partnership with the China Lake Naval Weapons Station provides a unique opportunity for select aviation units to train against a truly integrated air defense system (IADS). Current threat capability is comprised of threat systems that rotary wing aviation would most likely encounter in the current enemy order of battle. Operations at China Lake are scheduled once per quarter and are executed from four mission capabilities or "set plays" that are scalable & tailorable based on the unit's composition and commander's training objectives. Units deliberately plan and prepare in a time constrained environment to execute deliberate attack, air assault, and strike coordination and reconnaissance (SCAR) missions with a multitude of enables to include electronic warfare, long range division fires, ISR, and the ability to integrate manned unmanned teaming (MUM-T).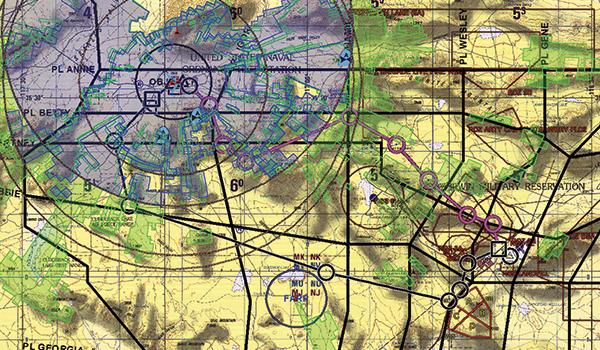 Task Force 3-6 CAV plans their China Lake mission during NTC Rotation 18-04.
The China Lake scenario challenges an aviation task force staff to plan across warfighting functions and synchronize enablers both internal and external to their task force. The dense threat environment requires integrated reconnaissance and fires to set conditions for successful execution with suppression of enemy air defenses (SEAD), pre-planned, and on call fire missions. For intelligence, staff will plan for the employment of both division's Gray Eagle and internal Shadow unmanned aircraft systems (UAS), with a forward site ground control station to extend the reach and control of UAS. In addition, staff will request and plan for electronics and signals intelligence (ELINT/SIGINT) and full-motion video (FMV), using a number of external and internal assets to provide cueing, mixing and redundancy. Extended lines of communication require detailed sustainment planning to include potential Jump Forward Arming and Refuel Point (JFARP) and CH-47 fat cow operations along with planning for downed aircraft recovery operations (DART). Mission command planning stresses the staff for redundancy of nodes and employment of TAC, use of aerial command and control (C2) platforms, re-transmission and over the horizon communications. For movement and maneuver, staff will plan routes, attack by fire positions, movement techniques, and conduct thorough engagement area development to enable survivability while retaining lethality.
Building Readiness
In a live, contested environment, units will employ aircraft in teams, platoons, companies/troops to collectively test tactics, techniques and procedures (TTP) against modern Tier 1 threat systems. In addition to these benefits, aviators accomplish semi-annual Table III requirements IAW TC 3-04.11, Commander's Aviation Training and Standardization Program & TC 3-04.9, Commander's Aviation Mission Survivability Program outside of the simulator in a live and challenging environment.
After completion, the NTC Eagle team provides live feedback (audio and visual) and technical data from threat system operators to propagate lessons learned and observations that enable air crews to gain confidence in their planning and survivability systems and tactics to build lethality on the battlefield. Accurate OPFOR feedback gives commanders, staff and air crews a rigorous review on tactical planning, effectiveness of execution, and actions on contact.
Home Station Training is the Foundation
Whether your unit is going to execute a China Lake iteration as part of their NTC rotation or not, there are areas aviation task force staff and aviators should leverage at home station prior to deploying to NTC. The OPFOR is increasingly competent and capable in utilizing air defense to engage both manned and unmanned aircraft. Units should train "opposed" in all facets of training and conducting operations – from tactical road march to gunnery to simulated attacks against enemy forces out of friendly contact. By designating an internal or external OPFOR and leveraging the systems at the post's training support center (TSC), units can stress their aviators and Soldiers with additional rigor and realism, which will result in lethality and survivability not only at their NTC rotation but for potential future operations in a high-threat environment.
LTC Ryan K. Welch is the senior aviation trainer, and MAJ Cameron G. Gallagher is the senior aviation operations trainer for Eagle Team, National Training Center, Fort Irwin, CA.
AH-64 fires flares in response to simulated threat. / ALL PHOTOS: NTC ALPHA TEAM COURTESY PHOTO EXCEPT WHERE INDICATED