Industry Support / By Mr. Carl Wolf: For decades commercial-off-the-shelf (COTS) avionics have remained attractive as a conceivable solution for military cockpits around the world, primarily due to their relatively low cost and considerably shorter lead-times. The drawback that has persisted has largely been the perception that COTS avionics equipment are not capable of supporting the missions frequently flown by military aircraft or withstanding the harsh environments in which military aircraft typically operate.
A leading supplier of avionics systems and integrated flight decks, Garmin Aviation continues to push the envelope, developing products, largely at their own expense, designed around advanced avionics technology and at a fraction of the cost of avionics systems often procured under military funded contracts that are often platform specific. With product development cycles typically much shorter than those developed under military funded contracts, Garmin avionics systems deliver leading edge technology that is easily upgradeable and remains relevant for many more years of an aircraft's lifecycle.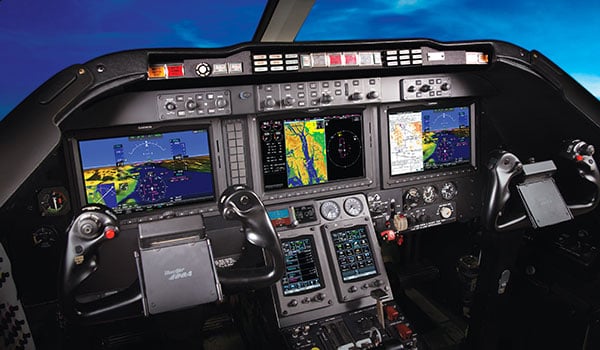 G5000 integrated flight deck in a Beechjet 400A
As cockpit technology rapidly evolves, Garmin Aviation continues to live and thrive in an environment and at a pace that many reputable avionics suppliers have never experienced, bringing to market products that offer increased capability and reliability, reduced size, weight and power while improving situational awareness and overall safety. It is through Garmin's vertical integration approach to product design and development that they reduce much of the risk often experienced by other avionics manufacturers. This reduced risk translates to avionics systems delivered on time and within budget.
Garmin Integrated Flight Decks
In 2010, Garmin introduced the G5000 as a premier Integrated Flight Deck for turbine aircraft. The cornerstone of G5000 is Garmin's intuitive touchscreen Flight Management System (FMS) and Vehicle Management System. This Man-Machine Interface (MMI) raises the bar in ease of use, safety, and situational awareness for both rotorcraft and fixed-wing aircraft. In addition to the simple and powerful user interface, the G5000 utilizes new products and software that place the flight deck on the leading edge of avionics innovation.

Garmin G1000
Avionics suites like the Garmin G5000H Integrated Flight Deck, developed for advanced rotorcraft applications, are a shining example of the evolution of cockpit technology. Night Vision Imaging Systems (NVIS) compatible displays designed and tested to operate in the harshest of environments, controlled primarily by infrared touchscreen control units compatible with standard military issue flight gloves, are available at a fraction of the original cost and with no impact to the non-ITAR classification given to commercial cockpits.
Garmin Integrated Flight Decks also utilize Integrated Aircraft Maintenance and Management Tools that support Integrated data logging and torque monitoring with capabilities to record faults, exceedances, trends, or other customer specified data. This recorded data can then be automatically transmitted via Wi-Fi on the ground, via satellite in flight or on ground, or other available connectivity to maintenance personnel. These data logging capabilities are highly configurable and can be designed to meet the specific needs of the operators. Where connectivity is a concern, these Wi-Fi capabilities are optional and can be disabled.
Garmin G5000H Integrated Flight Deck
Global Connectivity and Flight Data Services now used extensively by commercial aircraft everywhere have also been integrated into Garmin Flight Decks and support worldwide voice and data services, including maintenance data transmission, text messaging, and international weather via a satellite network. In part, much of the success of the Garmin Integrated Flight Decks is due to the successful architectural design that allows third party avionics components to be easily integrated via industry standard interfaces. The capability to integrate video and mission data from various aircraft sensors and sources, including the increasingly large number of unmanned aerial vehicles, has also been designed into Garmin Integrated Flight Decks.
Man Machine Interface
With emphasis placed on the continued design and development of the critical Man-Machine Interface (MMI) Garmin has created one of the most intuitive pilot-vehicle interfaces available on the market, providing the next generation of Army Aviators the ability to more efficiently manage and control navigation and communication systems, traffic surveillance systems, flight management systems, electronic checklist entries, and remote audio/intercom system, as well as optional charting, traffic, weather and custom display options. In addition to the effort placed on advancing the man-machine Interface, Garmin continually looks for ways to integrate software-based design, allowing future enhancements to aircraft systems and functionality to be more easily incorporated than systems reliant upon upgrades through hardware changes.
Currently flying on more than 16,000 aircraft worldwide, Garmin Integrated Flight Decks have proven to be state of the art, reliable, intuitive and cost effective on both rotorcraft and fixed-wing aircraft.
NextGen Avionics
Recognizing the impact of the Future Airborne Capability Environment (FACE) requirement, Garmin is an active member of the Open Group FACE Consortium and is working to develop avionics technology aligned with the FACE Technical Standards in support of the Army's Common Operating Environment initiative. Garmin's efforts to develop an open architecture system will enable increased technology transfer and reuse across many platforms, both rotorcraft and fixed-wing.
Work is underway with various OEMs to integrate Garmin COTS technology into current and developmental military platforms that will clearly demonstrate the capabilities of a commercial flight deck to manage and control military subsystems and the inherent capabilities of the commercial flight deck to communicate, aviate, and navigate in civil airspace anywhere in the world. Platforms such as Future Vertical Lift, C-130AMP, UH-60 Blackhawk and NextGen Multi Role IR Platforms, both manned and unmanned, are just a few examples of the efforts supported at Garmin in bringing cost-effective avionics solutions to the U.S. Armed Forces.
Whether you require a fully integrated cockpit upgrade or a simple modification involving federated avionics, Garmin has a solution for your helicopter, airplane or unmanned aerial system. From industry leading ADS-B solutions to traffic avoidance and terrain awareness systems, to both active and passive weather radar or satellite datalink communications solutions, Garmin avionics are appreciated around the world for their state-of-the-art technology centered around an intuitive and easy-to-use design.
With Garmin avionics systems installed on US Army aircraft including UH-60 Black Hawks, UH-72 Lakotas, CH-47 Chinooks and C-12 Hurons, Garmin stands ready to support the men and women of the United States Army and the next generation of Army Aviation.
Mr. Carl Wolf is Garmin Vice President for Aviation Marketing and Sales in Olathe, KS.