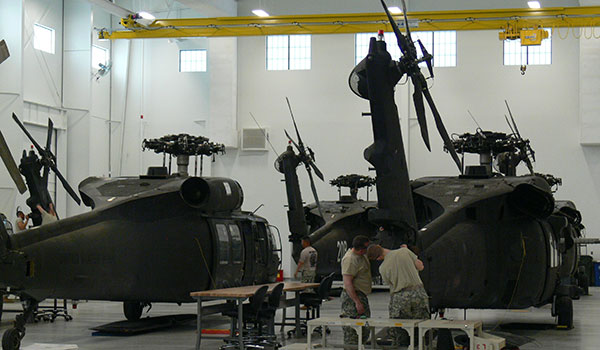 128th Aviation Brigade Update / By SFC Joshua J. Fulghum: Bravo Company, 2nd Battalion, 210th Aviation Regiment, 128th Aviation Brigade located at Joint Base Langley-Eustis (JBLE), Virginia has long been the premier, worldwide training facility for UH-60 Black Hawk maintenance.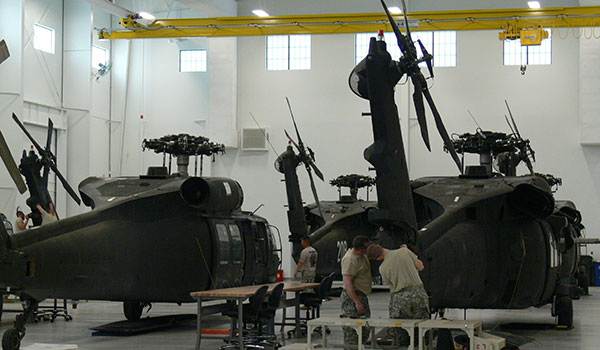 Students in the 15T10 (UH-60 A/L/M helicopter repairer) course removing/replacing stabilator actuators in one of the new hangars at Joint Base Langley-Eustis, VA. / 128th AVN BDE COURTESY PHOTO
Over the past year, the company has made some significant changes to keep pace with the fielding of the UH-60M model airframe. Updates to Black Hawk maintenance training at JBLE include the incorporation of UH-60M maintenance into all 10-level and 30-level training, new training devices, improved training facilities, improved internal training, and continued Mobile Training Team (MTT) support. This article will explain how these improvements provide the Army's 15T students, sister services, and other worldwide maintenance personnel with the most up-to-date and technologically advanced Black Hawk maintenance training available.
UH-60A/L/M Training
The most significant change to training for FY15 was the incorporation of UH-60M model specific maintenance into all aspects of both the initial and advanced maintenance training courses. Beginning October 1, 2014, all students entering the 15T10 and 15T30 courses received instruction on all three models of the UH-60 currently fielded – A, L and M. These students will graduate from training qualified and prepared to provide support to any Black Hawk unit in the Army or around the world.
Training Devices
The Black Hawk Maintenance Trainer – Mike model (BHMT-M) is a recent addition to the 15T course. These new, upgraded training devices allow instructors to implement realistic, scenario-based training for students. The BHMT-M is a computer-based platform that allows the introduction of 45 mechanical and electrical faults which instructors use to teach students about troubleshooting procedures. These devices are also designed and used for the removal and replacement of components, rigging, and conducting maintenance operational checks (MOCs). The upgraded device features Mike-model specific components such as the folding stabilator, rotor brake and section I tail rotor driveshaft, main rotor lead stops, and Mike-model specific systems such as the Active Vibration Control System (AVCS) and the Integrated Vehicle Health Management System (IVHMS). This new state-of-the-art equipment will assist in providing higher quality graduates ready for any given mission.
Training Facilities
Black Hawk maintenance training also recently expanded into two new state-of-the-art hangars which not only support wireless hoist capabilities but also provide multi-functional, interactive, on-floor classrooms with 60-inch mobile Smartboard touchscreen displays and modifiable classroom layouts. Each interactive classroom is capable of supporting 12 students, equipped with individual laptops, loaded with all current UH-60M programs and publications. These new hangars have a maximum training capacity of nine total helicopters and are the current home to three historic MH-60Ks from the 160th Special Operations Aviation Regiment (Airborne) converted for UH-60M training, and one of the new BHMT-M training devices. The expanded training footprint also allows great facility space for component and task training to include a basic safety wire instructional zone, landing gear training, rotor brake training, and stabilator training areas. In all, these improved facilities enhance the training experience and reinforce pride in aviation.
Instructor Training
Not all 15T instructors assigned to the 128th Avn. Bde. come from units fielded with the UH-60M. Because of this, Bravo Company has created a robust internal training program to ensure every instructor receives the A9 additional skill identifier, which denotes they are qualified to perform maintenance on the UH-60M. The program goes even further with in-depth airframe information, specific training on BHMT-M operations, and standardized procedures to certify the NCOs' abilities to serve as UH-60M instructors.
Mobile Training Team (MTT) Support
Bravo Company has deployed an MTT to multiple locations around the country. This team typically consists of five highly qualified 15T instructors, along with additional 15F and 15N instructors who train, instruct and qualify Soldiers on the UH-60M platform. The Soldiers they train are members of Active, National Guard and Reserve components. The 128th Avn. Bde. and the Utility Helicopters Project Manager plan to continue the MTT effort until the UH-60M is fielded to all required aviation units in accordance with the material fielding plan. To date, the MTTs have trained Aviation Soldiers at Forts Bragg, Campbell, Drum, Joint Base Lewis-McChord, Wheeler and Hunter Army Airfields, and are currently training Soldiers from 16 states at the Western ARNG Aviation Training Site (WAATS).
With uncertainty in the type of future operations Army aviation may be called upon to support, one thing is certain: Army aviation maintenance training must evolve and remain relevant in today's modern world. Soldiers and maintainers attending the UH-60 Black Hawk maintenance course, in any capacity, will be among the world's most technologically equipped and fully-capable maintenance personnel ready to respond whenever our Nation calls. Meanwhile, the instructors and leadership teams at Bravo Co., 2-210th Avn. Regt., and the 128th Avn. Bde. will continue to carry on the tradition of being "Above the Best."
SFC Joshua J. Fulghum is a senior instructor with Company B, 2nd Battalion, 210 Aviation Regiment, 128th Aviation Brigade, Joint Base Langley-Eustis, VA.