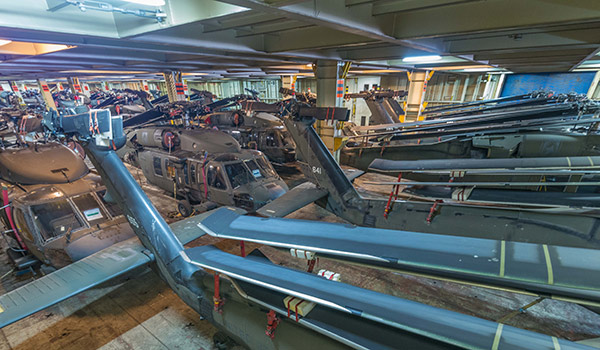 Reserve Component Aviation / By COL J. Ray Davis: Greetings again from your Army National Guard (ARNG). It's been a few months since I last wrote; I hope your summer was safe, enjoyable, and productive.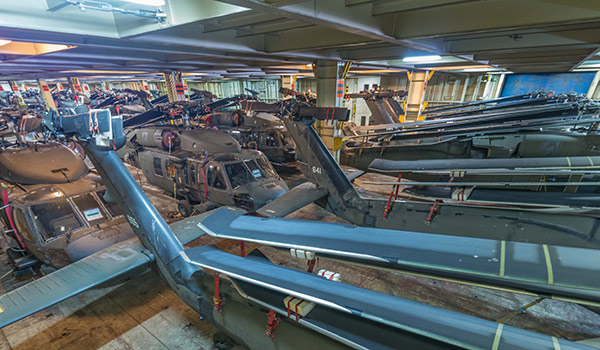 37 Black Hawk helicopters from 12th Cbt. Avn. Bde. arrive at Port Charleston, South Carolina, from Germany on Jul. 16, 2015./ U.S. ARMY NATIONAL GUARD PHOTOS
We're all familiar with the exciting, high-profile, deployments and training events that dominate our calendars. But sometimes what goes on "behind the curtain" is just as impressive, if a bit less heart-pounding. Such an event recently occurred in Charleston, South Carolina.
As part of Army Aviation's on-going reorganization, 37 UH-60s were retrograded out of Germany for destinations stateside and other locations overseas. The funnel was the Port of Charleston. HQDA asked us (ARNG's Aviation and Safety Division) to provide a command and control cell, knowing we had recent experience in Port Ops. But this was truly a multicomponent event, as the Active Component, Army Reserve, and ARNG all received a portion of the delivery. Specific participants included:
U.S. Army Aviation Center of Excellence: received 5 aircraft
ARNG (AR, MO, NJ, PA, TN): received 26 aircraft
8-229th Avn (USAR): received 4 aircraft
1-228th Avn (Honduras): received 2 aircraft
12th CAB (Germany): losing unit, 37 aircraft
841st Transportation Battalion: overall port responsibility
437th Aerial Port Squadron, USAF: loaded the two Honduras-bound aircraft
Aviation Field Maintenance Activity (AFMA) – Bragg: primary port maintenance
SC ARNG AASF: back-up mainte nance support
Pre-arrival planning and preparation was thorough and collegial. Both the ARNG and USAR sent property book teams to Katterbach, to conduct initial inventories and Property Book Unit Supply Enhanced (PBUSE) transactions. The ship arrived a day early (16 July), and off-loading commenced immediately. AFMA off-loaded the aircraft, performed maintenance run-ups and limited test flights, and moved the aircraft to the ramp of Atlantic Aviation, the local fixed base operator (FBO) at Charleston Airport. At Atlantic, the gaining units had their first chance to inspect their new Black Hawks, and concurrently they did mission planning for their respective flights home. As a testament to the quality of aircraft maintenance performed by the 12th CAB, only two minor Not Mission Capable (NMC) conditions were encountered, and these were rapidly addressed. The two Honduras-bound aircraft were flown to Charleston AFB, prepped for air-movement, and loaded aboard a C-17 for the flight south. Back at Atlantic, aircraft departed when ready, until the final aircraft took-off on 27 July, as planned.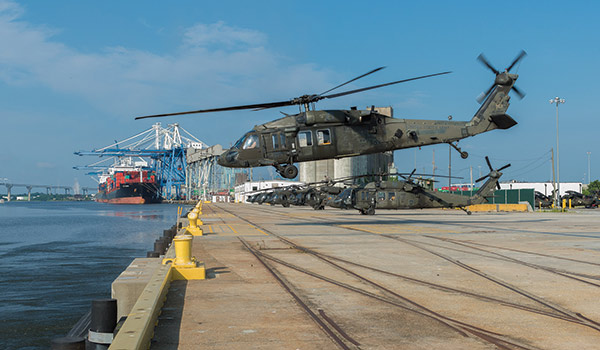 One of 37 Black Hawk helicopters from Germany takes off at the Port of Charleston, SC for its new home station in July, 2015.
Aircraft transfers can be very emotional events, with fiscal "negotiations" dragging on for months. The Charleston transfers were exceptionally stress-free – a demonstration of what can be achieved when disparate teammates work together toward a common goal. And did I mention it was 100 degrees at the port? A hearty "well done" is in order for all participants… even if it was "behind the curtain."
Finally, let me make a plug for Quad-A. This is our community's professional organization – our trade union. From this monthly magazine to college scholarships, it oversees a wide range of programs designed to support both you and your family. It even waives membership dues while you're deployed – how better to stay in touch. It serves all of us to spread the word on the value of Quad-A; please do so at every opportunity.
Fix Well, Fly Often (& Safely), Stay Guard.
COL J. Ray Davis is the chief of the Army National Guard Aviation and Safety Division located in Arlington, VA.