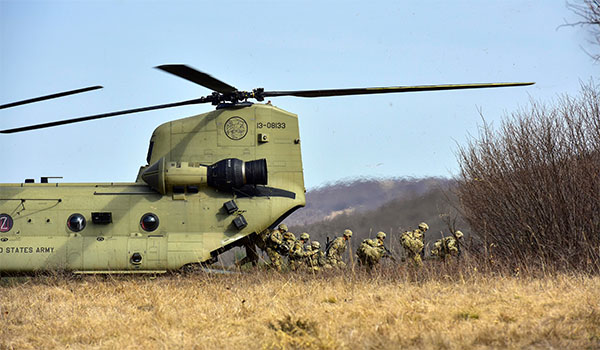 Director of Army Aviation / By BG Michael C. McCurry II: Greetings from the Pentagon. As I arrived back in the building in June, things seemed much the same as in my previous Pentagon tours, but new challenges await around the corner.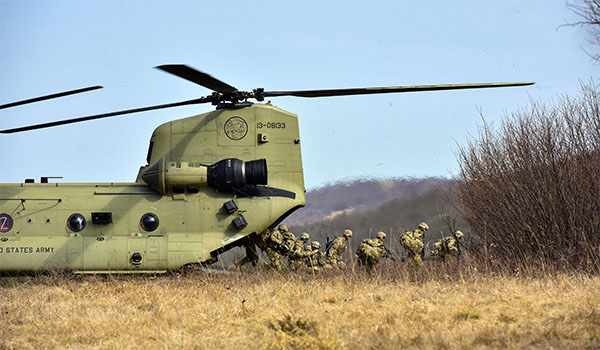 Army paratroopers exit from a CH-47 Chinook at Pocek Range in Postojna, Slovenia, March 25, 2019, during Eagle Sokol, a bilateral exercise with the Slovenian Armed Forces./ U.S. ARMY PHOTO
I look forward to working closely with our new Branch Chief, MG Dave Francis, as the DAMO-AV team supports his vision for Army Aviation and synchronizes aviation actions across the Total Army Force. We owe MG Francis a debt of gratitude for his work in D.C. sustaining the Army's trust in our branch over the last year.
With the large muscle movements of ARI and holistic reviews mostly behind us, we are focused on a few remaining strings. Still left on the plate is building out all our heavy armed reconnaissance squadrons and retiring the last of our legacy training aircraft at Fort Rucker. Army Aviation however, remains a force in transition, with the National Defense Strategy calling for a renewed focus on large scale combat operations (LSCO). This focus will change the way we train and fight as we refine our capability to win against a near-peer competitor. DAMO-AV is ensuring our Aviation Enterprise remains nested with the Army vision.
We are also focused on enabling our training base to provide the best quality and correct quantity of trained Aviators to the combat aviation brigades (CABs). During the lower budget years we produced fewer new pilots which created our current inventory issue with mid-grade Aviation Warrant Officers. For the past year, DAMO-AV has worked across the Army Staff to fully resource Fort Rucker with the required dollars, aircraft, and instructor pilots to increase production. This increase in the near term, predictable and sustainable funding, and retention of our quality aviators through targeted incentives, which will prevent future shortfalls.
Along those lines, DAMO-AV is also exploring options to increase the retention of our more experienced aircrews and maintain the skills built through the past decade of high operational tempo. We continue to work with the HQDA G-1 on the Aviation Bonus, and as a part of talent management reviews, we are evaluating proposals on incentive pays that would reward individual aviation career progression. Additionally, we are working on stability for aircrew members to provide more predictability for families.
To make our aviation units more lethal and ready to conduct LSCO, we have changed the way we budget for and track aviator training. The Army has sharpened our focus to emphasize battalion level collective readiness. DAMO-AV is working across the Army, with the Joint Staff, and Congress to ensure CAB operations are fully funded to execute the training strategy.
The modernization of our doctrine, formations and aircraft continue to be major components of increasing the branch's readiness. To that end, the aviation enterprise is fully involved in the Multi-Domain Operations (MDO) 2028 initiative as we look at future capabilities and requirements. In support of the Chief of Staff's modernization priorities, the Army is developing both Future Attack Reconnaissance Aircraft (FARA) and the Future Long Range Assault Aircraft (FLRAA). These priorities make our aviation force more capable of penetrating and exploiting enemy defenses and maintain the overmatch required to win in future conflicts. One of my goals is to increase interaction and battle rhythm with the Future Vertical Lift Cross Functional Team, CDID, and the rest of the Aviation Enterprise as we collectively develop requirements, enforce priorities, and defend the decisions that will allow our aviation force to uphold the sacred trust that our forefathers established with our Soldiers on the ground.
Lastly, just as Army Aviation is a force in transition, the summer transition for DAMO-AV is in full swing. We are pleased to welcome some outstanding new members to the team – COL Bernie Harrington as the new deputy, along with colonels J. Parker and Jason Davis as the new division chiefs. I also want to pass along my congratulations to their predecessors, Colonels RJ Garcia, Tammy Baugh and Whitney Gardner as they all take command this summer. With the new team in place, DAMO-AV has the right leaders to effectively synchronize priorities and efforts throughout the enterprise. It is vital that we meet our readiness goals to facilitate modernizing for the future fight in a world of uncertainty. In the coming year, I will leverage my previous building experience, relationships with industry, and relationships around the NCR to make sure our DAMO-AV team helps Army Aviation achieve both!
Above the Best!
Mac
BG Michael C. McCurry II is the director of aviation in the office of the deputy chief of staff G-3/5/7 of the U.S. Army in Washington, D.C.