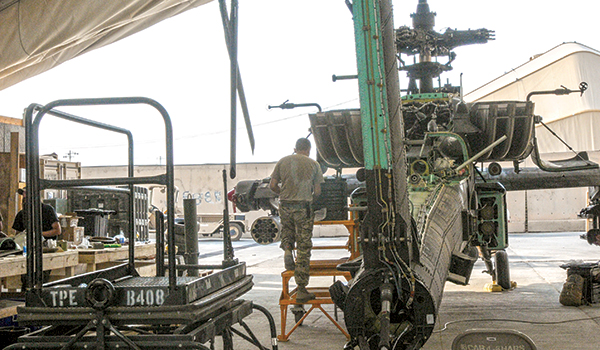 AMCOM Commander Update / By MG Douglas M. Gabram: U.S. Army Aviation and Missile Command will recognize 20 years of maintenance and sustainment excellence in October 2017. Over the course of those years, AMCOM has evolved and adapted in order to ensure it is capable of responding to warfighter needs.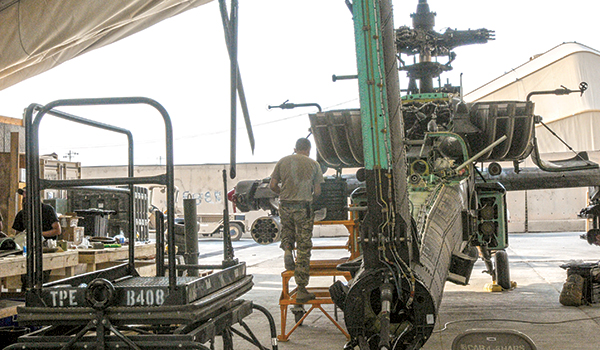 National Guard Soldiers of the 449th Aviation Support Battalion, organized under the 29th Combat Aviation Brigade, and the 1107th Theater Aviation Sustainment Maintenance Group work together on the 500-hour phase maintenance cycle of the AH-64E Apache "Guardian" at Taji Military Complex, Iraq, July 6, 2017. / U.S. ARMY PHOTO BY SSG ISOLDA REYES
This large and diverse life cycle management command, charged with the maintenance and sustainment of the Army's aviation and missile systems, was only four years into its new formation when Sept. 11, 2001 events transpired. Since 9/11, AMCOM and its employees have reorganized, re-tooled, and rededicated themselves to ensure the Aviation Material Enterprise remains poised to answer Army readiness requirements. Please take the opportunity to read about AMCOM's first 20 years and its selfless and dedicated employees; they are well represented in the historical article included in this issue.
During my multiple combat deployments to Afghanistan and Iraq, the Army aviators I commanded were the recipients of AMCOM's maintenance and sustainment support. Over and over again, my units experienced AMCOM's dedication to keep our aircraft flying in challenging environments. From corrosion issues caused by Southwest Asian sand, high and hot environments, to the wear and tear imposed by exceedingly high operational tempo; AMCOM employees, engineering, new technology and refined logistical channels adapted to meet the demands of a wartime environment. AMCOM innovation in part made a difference in combating terrorist tactics and attempts to destroy U.S. forces.
This period of perpetual conflict has been challenging on systems and Soldiers. Our Army has begun to evolve and embrace the complex, multi-domain environment. As the Army has evolved, AMCOM has transformed. Where our past focus was on support to modernization and high OPTEMPO sustainment, we have shifted to operationalizing and synchronizing Aviation Material Enterprise efforts to meet combatant commander readiness requirements today that are consistent with the Army's vision for the future. We know that today, 70% of aviation life cycle costs are sustainment related. Looking to the future, we must reduce sustainment costs early in the life cycle so that we can afford aircraft that are more lethal, fly longer, higher and faster with a broader suite of capabilities.
AMCOM's Top Priority
Today, AMCOM's number one priority is to achieve and sustain 100% supply availability. In short, our goal is to ensure that when a crew chief orders a part that returns a platform to the fight, the part is in the system, readily accessible and prepared for immediate issue or shipment. All too often, aviation readiness is negatively impacted by back orders that are the result of an overly complex logistics process. To that end, AMCOM's Logistics Center is working to strengthen its management and supervision of our supply chains. Concurrently, AMCOM is working closely with ACC-Redstone to establish smarter contracts that measure the speed, accuracy and quality of vendors.
Depot Outputs
AMCOM endeavors to optimize our depot outputs – for aviation, that is the Corpus Christi Army Depot, Texas – as they recapitalize and modernize the Army's aviation fleet. Our focus is to ensure that speed, accuracy and quality are the key aspects of all our aviation depot maintenance activities. It is essential that we reduce repair cycle time and return our aviation platforms back to the line; doing so increases available hours in operational fleets thereby spreading OPTEMPO to a greater number of airframes while allowing acceleration of modernization timelines.
As the AMCOM commander, I am proud to lead an organization that has made a winning difference for the Army and its aviators on the battlefield. I have seen and experienced the power of the AMCOM enterprise, and I am confident this organization will continue to positively impact Army aviation readiness for years to come.
MG Douglas M. Gabram is the commanding general of the U.S. Army Aviation and Missile Life Cycle Management Command at Redstone Arsenal, AL.