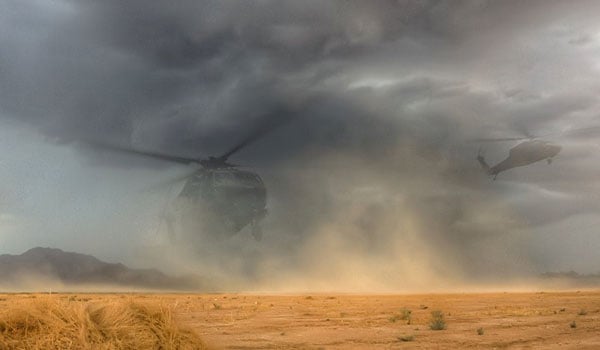 Aviation Support / By MAJ Jeremy Scott, Mr. Danny Mahan, and Mr. Tim Vinson: The Aviation Networks and Mission Planning (ANMP) Product Office is an integral part of the Aviation Systems Project Management Office. PD ANMP interfaces with all aviation platforms; rotary, fixed wing, and unmanned aircraft systems (UAS) in the U.S. Army fleet. Additionally, PD ANMP's reach touches many foreign governments through Foreign Military Sales (FMS) cases, as most of the products developed by PD ANMP are essential to the successful planning and execution of the Army Aviation mission. PD ANMP products and current activities are described below.
Improved Data Modem (IDM)
The IDM is the common solution for digitizing Army Aviation, performing as an internet controller and gateway to the Tactical Internet and Fire Support network. The IDM is a dynamically evolving product facilitating the sharing of situational awareness (SA), sensor, and command and control (C2) data with our digitized Army, Joint, and coalition aviation partners. The IDM serves as the crucial interface between platform mission computers and radios, supporting legacy very high frequency (VHF) radios, ultra-high frequency (UHF) radios, and Blue Force Tracker (BFT) satellite transponders. As the digitized Army Aviation's integrated C2 and SA solution, the IDM hosts Force Battle Command Brigade and Below–Air (FBCB2-Air) and processes Air Force Applications Program Development, Variable Message Format messages, and Advanced Field Artillery Tactical Data System (AFATDS) messages, further enhancing Aviation's combat multiplicative effect.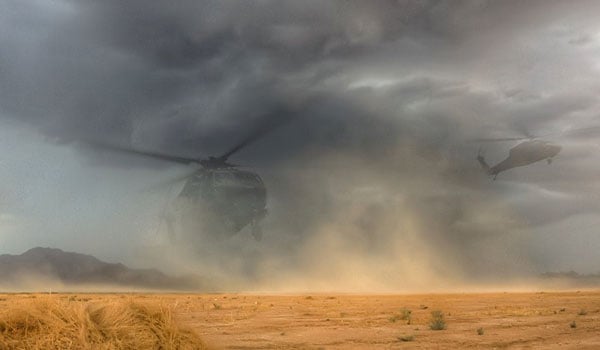 ALL GRAPHICS/PHOTOS COURTESY AVN. SYS. PMO
The IDM program activities are currently focused on continuing IDM-401 hardware production, completing updates to the Open Systems Architecture software product and planning updates for Common Operating Environment (COE) 3.0 interoperability.
Aviation Mission Planning System (AMPS)
The AMPS provides Army aviation state-of-the-art interoperability and mission planning tools to enhance situational awareness, command and control, and safety. AMPS automates aviation mission planning tasks, mission rehearsal, and flight planning. Interoperable with Army Mission Command Systems (AMCS) and associated networks, AMPS furnishes the aviation commander with continuous situational awareness, allowing for rapid adjustment and dissemination of mission plans.
AMPS hosts the Army Portable Flight Planning Software (PFPS), which allows the loading of aircraft with navigation, environmental, performance, and threat data. In fiscal year (FY) 2016 a significantly updated version of PFPS, Execution Planner (X-Plan), will be fielded. X-Plan provides PFPS capabilities with improved workflow and integration. A collaborative effort between PEO AVN, U.S. Special Operations Command, and the U.S. Air Force, X-Plan will expand the planning capabilities available to users across the Department of Defense. This will greatly increase the value of AMPS as an air, ground, and maritime mission planning tool.
Centralized Aviation Flight Records (CAFRS)
CAFRS is a decision support system for automated mission planning, risk assessment and risk mitigation that supports mission command functions within Aviation units. CAFRS supports the Aviation commander's decision making process required to complete the Aviation Risk Assessment Worksheet (RAW) that provides the assessment tools to match personnel qualifications, operations tempo to aircraft type, and mission needs. The CAFRS application, a sub-system of AMPS, provides aircrew member flight hours, aircraft currency, qualification and training history in order to accomplish effective risk assessment/risk mitigation throughout the Aviation Mission Planning Process. CAFRS is a primary tool within the unit Flight Operations area to plan, assess, conduct, and evaluate Aviation operations at battalion, company and detachment level.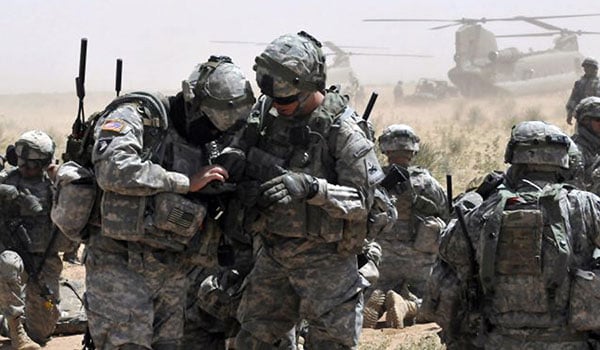 The new version of CAFRS, v4.0 will implement the Individual Aircrew Training Folder (IATF) management capability and automate management of the Aircrew Training Programs (ATPs) currently completed today as a manual process dependent on the use of paper forms. CAFRS v4.0 is currently fielding to U.S. Army Aviation units.
Aviation Data Exploitation Capability (ADEC)
The ADEC system will improve Army Aviation operations, safety and training through the implementation of the Military Flight Operations Quality Assurance processes. ADEC supports the management of aviation flight and assists the commander and aircrew by automating the flight scheduling and mission briefing processes including an integrated risk assessment capability augmented by the CAFRS System. ADEC allows for the consolidation of unit flight schedules and enhances the tracking of flight activities and provides automated notifications for overdue aircraft and other key events. ADEC enhances post mission training effectiveness by providing flight visualization capabilities; supporting analysis, event detection, and constructive aircrew debrief; and after action reviews. The Abbreviated Aviation Accident Report is automated within ADEC to assist in the processing of each report from the unit to higher headquarters. ADEC software release Version 1 will provide Army Aviation with the mission management and risk assessment functionality and flight visualization for the UH-60M fleet. ADEC is expected to complete customer testing in FY16 and begin fielding in early FY17.
Aircraft Notebook (ACN)
The ACN System consists of the Platform Maintenance Application software and the Maintenance Support Device laptop computer providing the user the necessary at-platform forms, records, and platform specific applications. Additionally, ACN supports operations in connected and disconnected environments. The ACN delivers digital logbook functionality and integrates with Maintenance Consolidated Database System (MCDS), Interactive Electronic Technical Manuals (IETMS) and platform Condition Based Maintenance Plus (CBM+) tools. The ACN is expected to significantly reduce the user manual inputs required to record maintenance activities and complete associated maintenance forms and will enhance the fleet manager's knowledge of performed maintenance tasks and associated faults. The ACN has completed development of its rotary wing, fixed wing and UAS functionality, and is expected to begin fielding to the UH-72A in 2QFY16 followed by the C-27J and the C-26E. The Global Combat Support System–Army (GCSS-Army) plans to leverage the ACN as the at-platform capability and further replicate the look and feel for unit maintenance operations.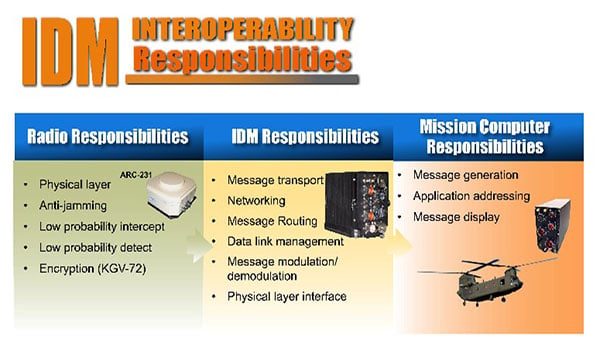 Degraded Visual Environment / Brownout Rotorcraft Enhancement System (DVE/BORES)
The DVE/BORES program Acquisition Decision Memorandum (ADM) was signed 10 June 2015 by the Army Acquisition Executive (AAE). DVE/BORES will provide a fused multi-spectral pilotage system to counter brownout obscurants during rotorcraft approach, hover, landing, and takeoff operations. DVE/BORES is an accelerated acquisition program integrating sensor, cueing and flight controls on aviation platforms.
The DVE/BORES program continues to characterize existing technologies while in preparation to conduct a Limited User Evaluation (LUE). Current priority of work is development of system architecture and specifications, in addition to program documentation in preparation for a Milestone B decision in late FY17. PD ANMP is leveraging ongoing efforts at Army Research, Development and Engineering Command (RDECOM) and Technology Applications Program Officer (TAPO) to enhance the potential solution set.
Networks and Mission Command Integration (NMCI)
NMCI's task is to improve air-ground interoperability by managing Army Aviation's participation in key Army and Joint network events, i.e. the Network Integration Evaluations (NIEs), Army Warfighting Assessments (AWAs), Joint Bold Quests (BQs), Army Expeditionary Warfighting Experiments (AEWEs), and the Command & Control, Communications, Computers, Intelligence, Surveillance, and Reconnaissance Events (C4ISR Es). These efforts involve fixed wing, rotary wing and unmanned aircraft as well as a variety of emerging communications technologies and waveforms. Each of these events synchronize requirements and concepts generation, systems development and integration, as well as assessments and testing, to refine our current and future tactical communication needs to accelerate integrated network capabilities. NIE 16.1 and BQ 15.2 are concurrently planned for September-October 2015. For 2016, the AEWE 16 is slated to be conducted in February, the NIE 16.2 in April, and the C4ISR E16 in July
MAJ Jeremy Scott is the assistant product manager for AMPS; Mr. Danny Mahan is the deputy product manager and Mr. Tim Vinson is the product manager, Aviation Networks and Mission Planning, Project Office, Aviation Systems, Program Executive Office, Aviation located at Redstone Arsenal, AL.