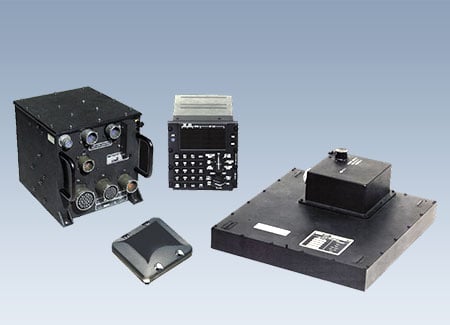 SPECIAL FOCUS AVIATION SUPPORT —By LTC M. Scott Everton
All Army aircraft require communications, navigation, and surveillance (CNS) equipment in order to effectively and safely operate in both civil and military airspace. 
The Product Manager for Aviation Mission Equipment (PM AME) is responsible for providing the common CNS equipment to meet the full range of Army Aviation requirements from Federal Aviation Administration (FAA) and International Civil Aviation Organization (ICAO) mandates required to fly in commercial airspace to tactical secure CNS capabilities that enables Army Aviation to be effective in combat operations. PM AME is also responsible for providing the current situational awareness (SA) system integrated in Army aircraft.
ASN-128D Doppler Global Positioning System (GPS) Navigation Set (DGNS)
The PM AME portfolio currently includes the AN/ARC-231 and AN/ARC-220 radios, the AN/ASN-128D and EGI H-764 navigation systems, the AN/APX-118 and AN/APX-123 surveillance systems, and the Blue Force Tracker-Aviation (BFT-A) SA system. We are also responsible for integrating Joint Tactical Radio Systems (JTRS) into all Army manned and unmanned platforms.
Communication Systems
The AN/ARC-231 is a multimode radio that supports very high frequency and ultra high frequency line-of-sight and non line of site (NLOS) tactical satellite communications (SATCOM). We are continuing work to develop an improved radio transmitter to support emerging Department of Defense (DoD) cryptological modernization requirements and incorporate the next generation tactical SATCOM Mobile User Objective System (MUOS) capability, ensuring the AN/ARC-231 will remain relevant in Army Aviation.
The AN/ARC-220 High Frequency (HF) radio provides NLOS communications for Army aircraft and is installed on the majority of Army rotary wing platforms. We are working to enhance the system's functionality to improve responsiveness and are addressing obsolescence issues to extend useful life to 2030. 
HF is the only Aviation alternative for NLOS operations in a SATCOM denied environment. We have initiated an HF Network Pilot Program with the Army National Guard and the U.S. Department of Homeland Security Customs and Border Protection division to assess and evaluate HF networking architecture and its benefits. 
The communications team has developed an HF course that is offered quarterly at Redstone Arsenal, AL. For more information on the course please contact Mr. Alan Cerny, AME New Equipment Training Lead, at 256-955-3358 or This email address is being protected from spambots. You need JavaScript enabled to view it..
The AME communications team works closely with the PM for Airborne Maritime and Fixed Station (AMF), part of the Program Executive Office (PEO) Command, Control and Communications-Tactical (C3T), to integrate Joint Tactical Radio
Systems into Army Aviation platforms, both manned and unmanned. AME is working with AMF to identify a Small Airborne Networking Radio (SANR) capable of delivering Wideband Networking Waveform, Soldier Radio Waveform, and Single Channel Ground and Airborne Radio System (SINCGARS) Waveforms. Once a SANR solution is identified AME will work with AMF to integrate the SANR onto the AH-64E, UH/HH-60M, UH-60L, CH-47F, and OH-58F.
Navigation Systems
The AN/ASN-128D Doppler Global Positioning System (GPS) Navigation Set (DGNS) provides both GPS and Doppler navigation capability. The AN/ASN-128D is instrument flight rules (IFR) compliant and is certified for use of GPS as a supplementary means of navigation for en route, terminal, and non-precision approaches using the Digital Aeronautical Flight Infor-mation File non-corruptible database. 
We are working to obtain authorization for use of GPS as a primary means of navigation and Automated Dependent Surveillance Broadcast (ADS-B) Out Global Navigation
Satellite System (GNSS) support including the Wide Area Augmentation System (WAAS). This upgrade will include a new control unit with a
ruggedized display capable of presenting navigational maps and digital approach plates.
The Embedded GPS Inertial Navigation System (EGI) is a U.S. Air Force led, tri-service program, which provides combined GPS and inertial navigation capability for aircraft equipped with a Military Standard 1553 digital data bus. The EGI provides precise location, velocity, and attitude to the aircraft fire control computer or integrated system processor for processing targeting information. 
It is IFR compliant and is certified for use of GPS as a supplementary means of navigation for en route, terminal, and non-precision. We are working to obtain authorization for use of GPS as a primary means of navigation with the EGI also, including Localizer Performance with Vertical Guidance, and ADS-B Out GNSS support including WAAS.
Surveillance
The Common Transponder is a family of transponders including the AN/APX-118 and AN/APX-123 transponders, incorporating the advanced features required in today's global military and civil air traffic environments. We are now fielding the AN/APX-123, an upgrade to AN/APX-118, which adds the Mode 5 Identification Friend or Foe capability. Efforts are underway to upgrade the APX-123 to meet the FAA Mandated ADS-B capability which provides a cooperative position, direction, and velocity report for air space managers. We are working with the U.S. Navy to procure a Small Form Factor transponder for Shadow unmanned platforms. 
Blue Force Tracker – Aviation (BFT-A)
The current BFT-A, also called BFT1, began as an urgent operational need for an NLOS tracking capability for Army aircraft in October of 2002. The technology has evolved into a mission command system installed on virtually every Army helicopter, and used extensively by the U.S. Marine Corps and several foreign countries. 
The BFT1 currently on aircraft began transitioning to organic supply support. The CH-47D, AH-64D and OH-58D all have BFT1 system items in technical manuals. All Line Replacement Units, commonly referred to as the B-Kit, are currently in the National Supply System. The field service representatives continue to provide assistance for maintenance and troubleshooting support to the units as needed. 
BFT is once again evolving – BFT2 will integrate a new satellite air transceiver and a KGV-72 type 1 encryption device. The system is significantly faster and more efficient and is designed as a high-capacity, full duplex network upgrade to the legacy system. Message latency through the network has been demonstrated at 4 to 8 seconds in the BFT2, a huge leap from the 1-2 minutes experienced with BFT1. BFT 2 will be installed on the fleet of UH-60L, UH/HH-60M, AH-64 D/E, CH-47Fs, and OH-58 D/F aircraft beginning in 2015.  
PM AME managed systems are critical to the success of Army aviation missions ensuring effectiveness, safety, and survivability in commercial and DoD airspace and on the modern battlefield. The dedicated personnel in the AME product office continue to look to the future of technology and interoperability to bring our Soldiers the best systems possible.
LTC M. Scott Everton is the product manager of the Aviation Mission Equipment Office, Project Management Office,
Aviation Systems, PEO Aviation at Redstone Arsenal, AL.