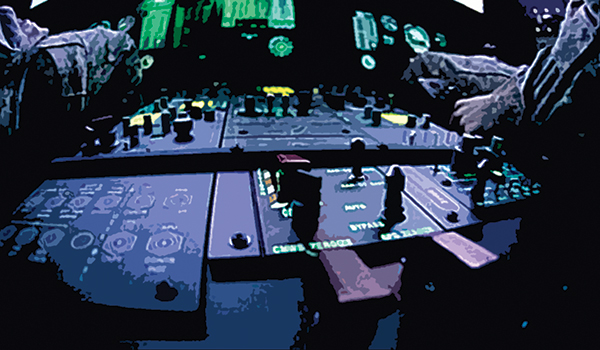 Simulation / By Mr. Daniel Finch: The future of aviation collective training in the virtual environment is obscure at best. Retirement, at what some might consider an early age, is on the horizon for the Aviation Combined Arms Tactical Trainer (AVCATT). AVCATT also happens to be the only collective training capability in the aviation arsenal. The training device has been on the scene since 2003, and with only a combined fourteen years of service, it is arguable that AVACTT has never reached its full potential. This is especially true when considering the lifespan of AVCATT has fallen completely within the timeframe of current conflicts. With the constant state of rotational aviation brigade deployments, utilization of the device has been a challenge.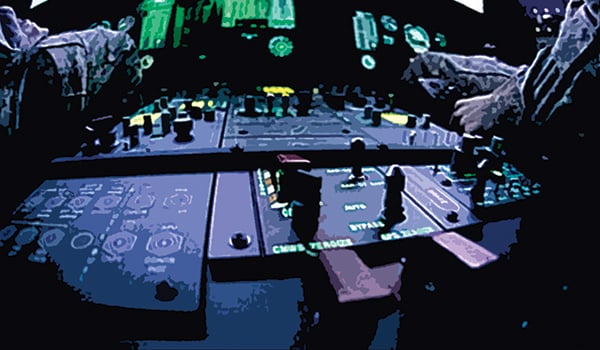 Center console of the AVCATT cockpit / TCM-V&G COURTESY PHOTOS
The AVCATT program has recently undergone a few changes, most notably modifications to the basis of issue plan (BOIP). An executive order published in October 2017 reduced the AVCATT fleet from 23 to 20 operational devices, with two going into storage and one serving as a development and testing suite at Program Executive Office Simulation Training and Instrumentation (PEO STRI). Additionally, U.S. Army Europe (USAREUR) successfully campaigned to have an AVCATT suite returned to Germany in support of rotational combat aviation brigades (CABs). This includes an accompanying Nonrated Crewmember Manned Module (NCM3). As a result, AVCATT will return to Germany in November 2017, followed by an NCM3 later in FY18.
KPP Changes
In addition, AVCATT has undergone some fundamental changes to the original system requirements. Changes to three key performance parameters (KPPs) include modifications to concurrency, gunnery, and interoperability system requirements. These changes, however, do not negatively impact the system's ability to support collective training tasks as recommended in the Aviation Combined Arms Training Strategy (CATS). Changes to the concurrency KPP simply mandate the system will maintain concurrency with fielded aircraft platforms until the next generation training capability is available. The gunnery requirement now provides for mission rehearsal capabilities for tables 7 and 10, rather than tables 1 through 10. Finally, the interoperability requirement now focuses on two systems, the Close Combat Tactical Trainer (CCTT) and the Universal Mission Simulator (UMS).
Challenges
Recent changes to TC 3-04.45 Combat Aviation Gunnery, and TC 3-04.9 Commander's Aviation Mission Survivability Program, include requirements for training specific tasks in AVCATT. Also, the Army National Guard recently published guidance that establishes a level of required usage for their aviation units. Concurrency with fielded aircraft has always been of paramount importance to the utilization of AVCATT, but these emerging usage requirements make it even more critical. The system cannot support these training requirements without the appropriate level of aircraft concurrency. Of course, rapid aircraft functionality changes make maintaining AVCATT concurrency a difficult endeavor. In addition, the digital aircraft that make up the Army Aviation fleet present a significant technological challenge to successful integration into the AVCATT system. Is it possible that AVCATT's base architecture is not capable of technologically supporting the simulation of new aircraft configurations like the UH-60M, CH-47F, and AH-64E? There may not be an easy answer to this question, but concurrency efforts over the last few years have proven to be increasingly difficult. Clearly, lack of concurrency creates a training gap and leads to negative habit transfer, making it a significant contributor to AVCATT underutilization. Concurrency challenges and underutilization bring the program return on investment into question.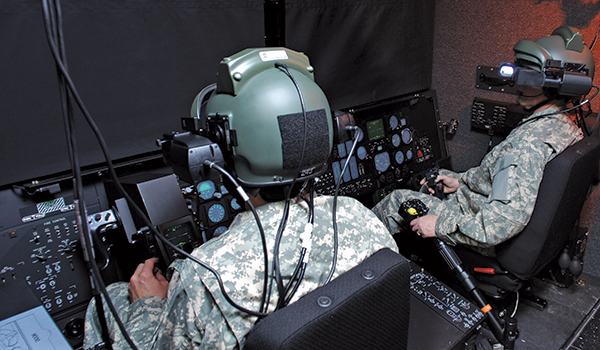 AVCATT cockpit can be configured to each of the active fleet aircraft systems.
As mentioned earlier, retirement for AVCATT is not far off as the program plans to enter sustainment in FY25. At that point, funding for development, concurrency, and upgrade efforts is not available. A conservative estimate is that within three to five years after entering sustainment AVCATT will be obsolete due to a significant lack of concurrency with fielded airframes. To be sure, the system proponent, capability manager, and materiel developer are making every effort to upgrade the system prior to entering sustainment in order to increase its longevity. However, continued threats to the program budget, along with the previously mentioned technological challenges, makes achieving this goal increasingly difficult. The bottom line is that by FY25 there will be a significant gap in the ability to execute aviation collective training in the virtual environment. So what is the future of aviation virtual collective training once AVCATT retires?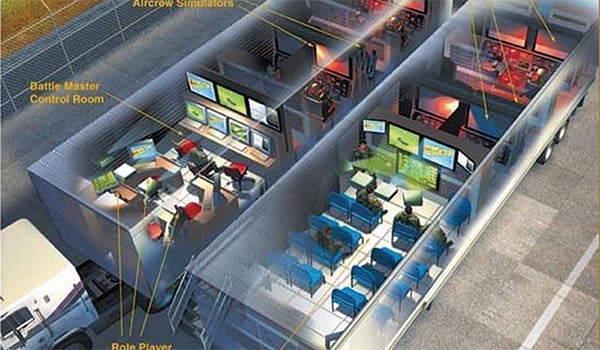 Layout of the Aviation Combined Arms Tactical Trainer (AVCATT)
The Future – STE
In theory, the Synthetic Training Environment (STE) will replace virtual collective trainers in eight to ten years. The STE converges the virtual, constructive, and gaming environments into a single-synthetic environment and includes air and ground virtual collective training capabilities. It is a single synthetic environment utilizing one world terrain, common authoritative data and models, cloud-enabled through the Army Enterprise Network, services-based through the Common Operating Environment, and available for use anywhere a soldier needs it. Four developmental increments make up the STE, but increment 1 is the focus of this discussion. Increment 1 delivers the system architecture consisting of a game engine, terrain, networks, and semi-automated forces (SAF). Additionally, increment 1 provides reconfigurable synthetic collective trainers for both air and ground. The requirements for the collective aviation virtual trainer are yet to be defined, and it is unclear how the STE will accomplish immersive virtual collective training. Critical to the development of the immersive capabilities of the STE is aviation enterprise and proponent involvement in requirements development. It is important to remember that AVCATT is a product of the Aviation CATS, and the collective training tasks contained within. The United States Army Aviation Center (USAACE) Director of Simulation (DOS) establishes AVCATT fidelity levels, based on the ability to accomplish CATS collective training tasks. This same level of fidelity analysis also applies to any future training capability, to include the STE aviation collective virtual trainer.
It is imperative to the future of virtual aviation collective training for the proponent to conduct a thorough analysis of collective training requirements. Finding answers to several critical questions is paramount as we move forward in the development of the next aviation collective trainer. Have the aviation collective training requirements changed since the initial concept development for AVCATT? In light of the underutilization of AVCATT, is a collective training device required? Alternatively, should army aviation return to conducting all collective training in the live environment? What is the appropriate fidelity of future collective training devices? Is a semi-immersive, rather than fully immersive training environment sufficient to train collective tasks? These are the questions that must be answered, and answered soon, to influence the development of the STE or any other future collective training capability. Only the proponent and the army aviation enterprise can answer these questions.
Mr. Daniel Finch is an aviation virtual training system analyst with the Training and Doctrine Command Capability Manager (TCM) Virtual and Gaming located at Fort Leavenworth, KS.