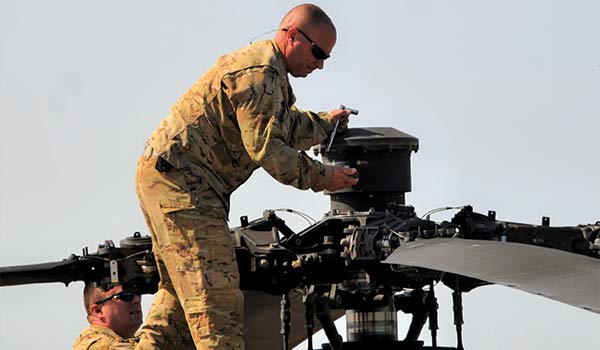 AMCOM Commander / By MG Douglas M. Gabram: As I reflect on the past year, the Aviation Enterprise has accomplished a great deal through incredible teamwork and determined leadership. That said, I am often asked the question, what keeps me up at night? Two things:
Overall Fleet Readiness – specifically, fixing our Apache issues.
Are we ready for a near-peer fight?
Soldiers with Company D, 1st Battalion (Attack Reconnaissance), 3rd Aviation Regiment, 12th Combat Aviation Brigade, conduct routine maintenance on a AH-64 Apache helicopter on Aug. 17, 2018, at Katterbach Army Airfield in Ansbach, Germany. /US Army Photo by Charles Rosemond
We are working with the entire Aviation Enterprise to fix the strap pack issue, but also to improve the AH-64E transmission and 30mm accuracy. We must restore confidence in the field and reduce the maintenance burden on our Soldiers. First, CW5 Mike Cavaco will cover the "mega nut" strap pack (MNSP) in his article in this issue. Second, large-scale combat operations against a near-peer competitor will likely have surging supply chain demands, interrupted lines of communication, and extended expeditionary operations. One could say, given our sustained high OPTEMPO (15-plus years of Iraq and Afghanistan) and associated fully mission capable (FMC) rates, we are doing pretty well. So what's the problem? No doubt from the outside looking in, the surface is calm, but below the water line, it is a complex and daily battle to meet unit requirements.
Looking back, I was the beneficiary as a field commander at multiple levels during many deployments – I never worried about parts, they were always there. I didn't truly understand what was behind the supply chain, but now I do. Do we have the right parts in depth on the shelf to sustain ourselves in a near-peer conflict?
To strengthen our position, we have identified key readiness drivers for every one of our aircraft types and we are striving to increase the supply depth. The entire enterprise (AMCOM, Corpus Christi Army Depot (CCAD), Program Executive Officers (PEO), Aviation Engineering Directorate (AED), Defense Logistics Agency (DLA), Army Contracting Command-Redstone (ACC-R), and Original Equipment Manufacturers (OEMs)) is moving in this direction. It starts with three questions: What's our stock on hand? What is the average monthly demand? What are the sources of supply? Our goal for our top readiness drivers is 90-days stock on hand based on the average monthly demand with no backorders greater than 30-days. Think engines, transmissions, blades, and other key aircraft components.
For over 15 years, we have been operating on a just-in time basis. We must have depth and predictability in our supply chain to anticipate our Soldiers' needs in a large scale combat operation. A combat environment against a near-peer competitor will be much different than today's conditions, and it might occur at the same time we are conducting our current U.S. Central Command (CENTCOM) operations.
Great organizations adapt and fight the enemy, not the plan. As I review our actions over the past 12-months, AMCOM, in coordination with the Aviation Enterprise and industry partners, have made great strides in improving readiness. We are shaping the fight and setting conditions to remain flexible and successful. Our efforts are changing the way we sustain readiness and continue to improve every day. We have a long way to go, but having a common target of our readiness drivers with everybody rowing towards increasing our supply chain depth is a good start to increasing our overall readiness.
MG Douglas M. Gabram is the commanding general of the U.S. Army Aviation and Missile Life Cycle Management Command at Redstone Arsenal, AL.