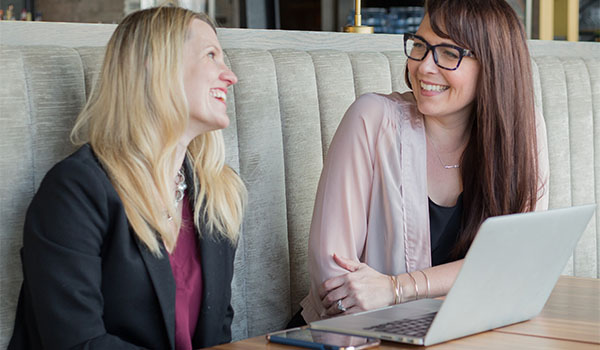 Family Forum / By By Erica McMannes: More and more military spouses are choosing to take the leap into remote work.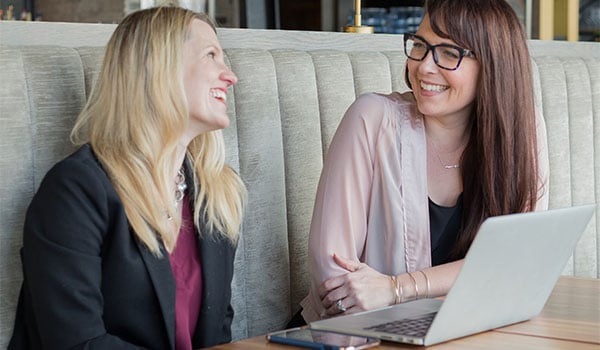 Erica McMannes(right) and her MadSkills cofounder, Liza Rodewald, work and strategize together 99.99% of the time. They were able to meet up in D.C. recently for a one-day strategy session before their PCS moves to Florida and Hawaii./ PHOTO BY KELSEY MARIE
From accounting to content strategy to software development, virtual work poses an opportunity for military spouses who want a career that will move with them, yet still align with their professional goals and background. It's arguable that military spouses are the original digital nomads. Forced to merge jobs or careers with relocations every 2-3 years for decades, they face two troubling concerns: unemployment and underemployment.
On average, a military family will move 8 to 12 times over a 20-year career. Often, remote and overseas duty stations compound the problem due to local hiring restrictions or status of forces agreements (SOFA). Thankfully, with a virtual workforce growing strong and remote work capabilities like never before, virtual employment opportunities for military spouses are on the rise. It is estimated that half of the workforce will work remotely by 2020 at least part-time. So let's be sure the community is prepared to take advantage of these advances, and military spouses are employed with companies and corporations across the globe.
Defining Virtual Work
Long gone are the days of telework or work-from-home being used to vaguely describe non-traditional work often limited to call center opportunities or multi-level marketing organizations. In the simplest of terms, virtual work is being employed by a company but not working on site. Virtual work career opportunities in all industries are starting to emerge at a high rate and military spouses are prime candidates.
Often struggling to maintain employment in local communities, professional skill sets being put to use on virtual teams provide new solutions for unemployed spouses or even veterans. With the right communication, technology, goals, and strategies in place, full-time and part-time virtual team members are providing companies across the globe with new, diverse talent, higher retention rates, and cost- effective solutions.
Finding Career Oriented, Legit Virtual Work Opportunities
Virtual work is becoming easier to find on human resource and employment websites, but it's still not always easy to navigate through it all and the many interpretations of virtual work roles. Networking and job searches on LinkedIn can turn up some great results. Connecting with your local Military Spouse Professional Network (Hiring Our Heroes/U.S. Chamber of Commerce) chapter can offer up ready-made employer relationships, some of which are virtual work focused. There are also specific companies, like MadSkills, dedicated to creating virtual teams for companies with professionally skilled military spouse talent.
Matching Your Skill Sets With The Virtual Job Search
The first step to finding virtual work is knowing what you want to do and what you're qualified to do. It can be as simple as using Google to find skills that transfer well into virtual jobs like bookkeepers, content writers, graphic designers, social media managers, project managers, and web developers. If you don't have previous work experience, expertise, or those hard skills that easily convert, then invest some time in free open learning communities to learn about options like virtual assistance, coding, design, and more.
A few great places to start include Skillshare, Coursera, Udemy, and EdX. Large firms like Hubspot and Salesforce also offer incredible free training programs for the military connected community to skill up within their programs and position well for virtual employment.
Volunteer Experience Counts
How do family readiness group (FRG) service and other volunteer experiences come into play? It's all about how you define the experience. Fund-raising roles teach cold calling, sales process, community networking, and articulation of goals, values, and mission. Social coordinating roles put spouses in group management, event management, and logistic scenarios daily. Cool head and clear thoughts in crisis? It shows level headed thought processing to crisis and validates your ability to draw a team together, strategize a solution, and act on it. So whether you have a strong corporate background or years of solid volunteer experience, you can make it work!
Creating a Thriving Work-From-Home Environment
It's all about routine and expectations. Create a routine and stick to it. Have a set schedule for your working hours and have a designated workspace. Pick a place to go specifically for work (somewhere with a physical door is ideal), and designate it as your "office." If you're cramped for space, invest in a room divider to create a remote workstation in a corner of your kitchen, bedroom, or living room. The best virtual team members also embrace technology and are open to learning the platforms necessary for communication, productivity, time tracking, and internal processes that make the company work. Last, but not least, communication! Communication is critical in virtual team environments so always be prepared to ask for any clarification needed to get the job done.
If you are interested in learning more about virtual work as a military spouse or looking to build a virtual team of military spouse talent for your company, you can reach MadSkills at This email address is being protected from spambots. You need JavaScript enabled to view it..">This email address is being protected from spambots. You need JavaScript enabled to view it..
Erica McMannes is Co-founder and COO of HireMadSkills, Inc. (MadSkills). She and spouse MAJ(P) McMannes with their two children have recently been transferred to Tampa, Florida.
Judy Konitzer is the Family Forum editor for ARMY AVIATION; questions and suggestions can be directed to her at This email address is being protected from spambots. You need JavaScript enabled to view it..">This email address is being protected from spambots. You need JavaScript enabled to view it..