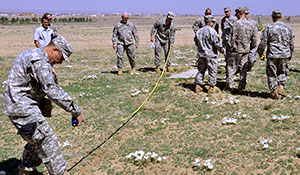 Reserve Component Aviation Update
By COL Mark W. Weiss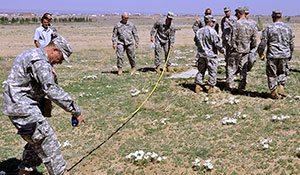 Welcome back to the Army National Guard (ARNG). In this issue I'd like to share a few of the initiatives we're taking on the Safety Front, in order to preserve our most precious asset – the Soldier – and the steeds with which those Soldiers ride to the sound of the guns, at home and overseas.
But first I'd like to highlight the continuing impact of hazardous weather on our aircraft…while still on the ground. You old-timers may remember the Mother's Day "Event" at Fort Hood in 1989, where a microburst severely damaged nearly 200 aircraft (at a cost of over $600M!). Sad to say, but we are still inadequately protecting our parked aircraft from extreme weather. For example, over the last two years, two different States have sustained damage to 14 airframes from hailstorms. Could this have been prevented? Could the aircraft have been hangared? Can we find an inexpensive commercial blade-cuff to protect our $100,000 rotor blades? Do we have adequate weather forecasting, weather report dissemination, and weather response tactics, techniques, and procedures (TTPs)? Is it cheaper in the long run to build cold-storage parking, as opposed to replacing 20 hail-damaged rotor blades? Collectively, we must develop solutions and share best business practices to reduce our losses in this category.
Investigating these and other mishaps helps reduce our future risk. To that end, the ARNG has a robust Certified Accident Investigator Program (CAIP) that has five components, designed to provide safety professionals and leaders with a comprehensive knowledge of Army accident investigation techniques in accordance with AR 385-10 and DA PAM 385-40.
The CAIP courses are:
• Transportation Safety Institute/FAA Basic Aircraft Accident Investigation Course
• Human Factors Analysis and Classification System (HFACS)
• ARNG Accident Investigation and Analysis Course
• ARNG Aviation Accident Investigation Exercise (AAIE)
• NTSB Basic Aircraft Accident Investigation Course
But safety is everyone's business, and it's our duty to provide tools for every Soldier to embrace risk management and drive our mishap rate down. To assist in this effort, CW5 Jerry Dedge, Aviation Safety Officer (ASO), FLARNG, and Dan McCune, Vice President for Safety at Embry Riddle University have joined hands to develop three high-value presentations:
Distracted Driving Awareness – At any given moment, approximately 660,000 drivers in the U.S. are using cell phones or manipulating electronic devices while driving, a number that has held steady since 2010.
Understand Risk Management – continuous assessment, continuous decision-making, continuous control-implementation… in every endeavor.
Using Safety Culture & Human Factors Analysis and Classification System (HFACS) to Prevent the Human Error Accident – Human error has been implicated in 70 to 80% of all civil and military aviation accidents.
These briefings, and other safety-related tools, are available on our website at https://tiny.army.mil/r/GiTe/.
All of these efforts dovetail nicely into the Army's "Ready or Not" Campaign. ARNG leaders and Soldiers must – and will – remain committed to risk management and mishap prevention in all activities – on-duty and off. The Aviation and Safety Division at Arlington Hall Station stands ready to assist. LTC Cathi Cherry, This email address is being protected from spambots. You need JavaScript enabled to view it., 703-607-7731, leads our Safety and Standardization Branch and has a full stable of safety professionals prepared to help.
Fly Guard. Fly Safe.
COL Mark Weiss is the chief of the Army National Guard Aviation and Safety Division located in Arlington, VA.
Caption: Soldiers and evaluators from the Army National Guard Accident Investigation Analysis Course examine a mock aircraft accident site while conducting investigator training at Kirtland Air Force Base in May of 2011. / U.S. ARMY NATIONAL GUARD PHOTO BY SGT IAN K. JOHNSON, ARNG SAFETY SUPPORT CENTER