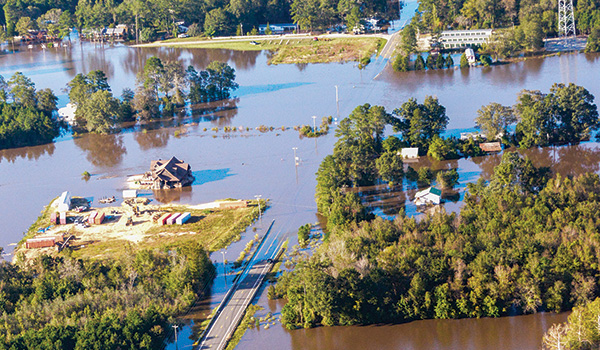 Reserve Components Aviation / By COL J. Ray Davis: The Army National Guard has the vital role of providing essential capability to civilian authorities. As the combat reserve of the Army, the ARNG's primary role remains to provide trained and ready forces to the Army to fight and win our Nation's wars.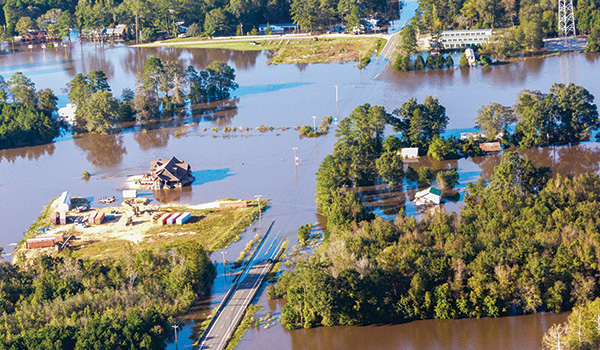 North Carolina National Guard UH-60 Black Hawk helicopters fly over flooded areas of Eastern N.C. after Hurricane Matthew. Guardsmen from across the state executed rescue and relief missions with more than 1,000 Guardsmen activated in the wake of the storm. / U.S. ARMY NATIONAL GUARD PHOTO BY CPT MICHAEL WILBER
When not otherwise employed in that function, a secondary, but vital mission is supporting civilian leadership in a domestic response role. From disaster response to National Special Security Events and counter-drug operations to border surveillance, ARNG Aviation conducts numerous non-combat missions that are key to Governors and their subordinate civil agencies in supporting citizens in times of need. ARNG Aviation is community-based, widely-dispersed and readily available. This article reveals some of the details of the ARNG aviation domestic support role; its processes, intricacies, subtleties and how ARNG Aviation supports Governors and the adjutants general across the 50 states, 3 territories, and the District of Columbia.
Defense support of civil authorities (DSCA) is support provided by federal military forces, Department of Defense (DOD) civilians, DOD contract personnel, DOD component assets, and National Guard (NG) forces in response to requests for assistance from civil authorities for domestic emergencies, law enforcement support, and other domestic activities, or from qualifying entities for special events (JP 3-28).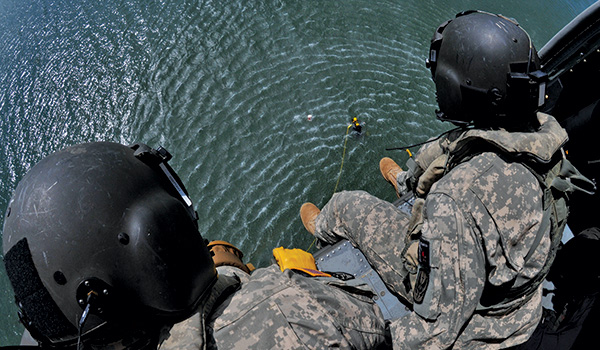 SFC Robin McDaniel (left) and SGT Charles sit ready in a North Carolina Army National Guard UH-60 Black Hawk helicopter before raising a rescuer and victim during a North Carolina Helo Aquatic and Rescue Team training event at Lake Norman, May 8. The NCNG's C Company, 1-131st Aviation provided their aircraft and worked together with the Denver, N.C., Fire Department and NCHART in order to prepare for swift water/flood rescues that may happen in the future. / NORTH CAROLINA NATIONAL GUARD PHOTO BY TECH. SGT. BRIAN CHRISTIANSEN
National Guard Civil Support is support provided by state military forces in response to a request for assistance from civil authorities for domestic emergencies, law enforcement support, and other domestic activities, or from qualifying entities for special events. For the purpose of this article, National Guard Civil Support and DSCA will be referred to as DSCA.
Duty statuses provide the legal authority for ARNG to perform DSCA missions in varying circumstances.
Title 10: This is the federalized status used to activate Guardsmen in extremis (during large scale domestic emergencies, e.g., Hurricane Katrina) or when they are mobilized for deployment to a warfight overseas. Federal status, federal funding, federal command and control. U.S. Northern Command (NORTHCOM) Active Component forces are Title 10 and they may also be used in Civil Support.
State Active Duty (SAD): This is the status used to activate Guardsmen when commanded by the Governor and funded by the State.
Title 32: This is the training or other duty status during which the guardsman is commanded by the governor, but funded by the federal government. This Federally-funded State status poses no obstacle to supporting civil authorities in most situations (NG PAM 95-5).
How the DSCA Process Works (Normally)
Let's look at how the Guard would respond to an unanticipated natural disaster (an anticipated response would look just the same, but with a pre-event planning and preparation phase in the few days before, for example, a hurricane made landfall).
When it is safe to conduct aviation operations (e.g. the hurricane has passed), in-state ARNG Aviation would respond to mission requests from that state's joint force headquarters, which would be embedded within or connected to the state's Emergency Response Center (each of the 54 has its own method of crisis management). Local, in-state ARNG resources would be applied as necessary to the limits of that state's capacity.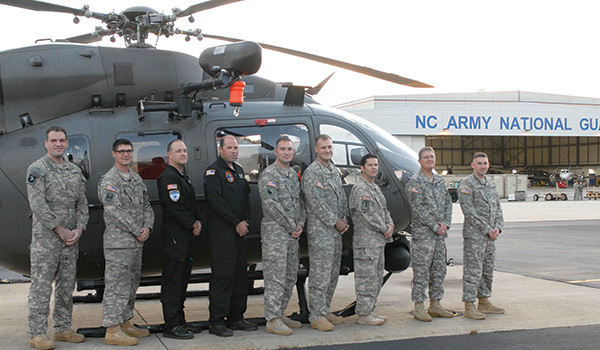 The North Carolina Helicopter Aquatic Rescue Team (NCHART) with the Lakota helicopter used to rescue residents displaced by Hurricane Matthew over the eastern part of the state, Oct. 10-14, 2016. The team is comprised of volunteer fire fighters and Soldiers with the North Carolina Army National Guard, Detachment 1, Company B, 2nd Battalion, 151st Aviation Regiment. Pictured (right to left): CW2 Ryan Stewart, CW2 Charles Thompson, Matthew Mauzy (Orange County Fire & Rescue), Mervin Taylor (Greenville Fire & Rescue), SGT Brian Datema, CW2 Larry Coleman, CW4 Jeremy Kagi, CW4 Michael Young, and SGT Andy Sutton. / U.S. ARMY NATIONAL GUARD PHOTO BY SGT RUTH MCCLARY, 130TH MEB PUBLIC AFFAIRS
If the magnitude of the response requirement exceeds that State's capabilities or capacity, Emergency Management Assistance Compacts or "EMACs" kick in. These are previously-arranged legal agreements between states that pledge specified support, in the event that the required response cannot be generated within the affected state – a disaster-relief "treaty" of sorts. Aircraft from the supporting state will launch to the supported state under their parent unit's mission approval process. Upon arrival, aircrews (and associated support personnel) complete local area orientations and briefings, as delineated in TC 3-04.11. While in the area of operation supporting and responding under the provisions of the EMAC itself, operational missions will be briefed and approved by the gaining/supported organization within the state.
If existing EMACs still don't address the response requirements, the ARNG calls on its nationwide capacity to assist the supported state. And here's where the Readiness Center earns its pay.
The National Guard Readiness Center as a Coordination and Communications Hub
Make no mistake, the ARNG Readiness Center is not a headquarters, and does not perform command and control over the 50 states, 3 territories, and District of Columbia. National Guard Bureau (NGB) does; however, effect coordination and communications among the 54 state entities, and for ARNG Aviation, this is done through the Aviation Coordination Center (AVCC). In any multi-state, regional or large scale response scenario, the AVCC immediately provides centralized operational and decision-making capabilities to effectively source, allocate, and apply ARNG aviation resources to the state(s). The AVCC crisis action team aggressively staffs and accurately responds to all requests for assistance (RFAs) and requests for information (RFIs) in a timely manner, and helps implement a tiered response, expanding response support and resources as necessary, in accordance with its OPLAN Busted Windsock. The Busted Windsock framework applies to All Hazards events (e.g., earthquakes, floods, etc.) with regional implications and employs Force Pools that incrementally provide anticipated support requirements
Hurricane Matthew is an example of an AVCC activation event. The scope of the problem exceeded EMAC capacity. Anticipating Matthew's far reaching impact, the AVCC established 24-hour operations on October 6, 2016 just before the storm reached Florida's eastern shore on October 7th.
The massive storm surge that followed caused severe flooding along the Atlantic coast, resulting in massive power outages, displaced personnel, landslides, road network disruption and numerous other hazards that persisted for weeks afterwards.
Performance in 2016
In FY16, ARNG aviation executed over 24,735 flight hours in support of domestic operations across the country. This included 105 search and rescue missions resulting in 1,178 personnel rescued, of which 220 were live hoists due to floods, difficult terrain, and time-critical medical emergencies. Domestic ARNG aviation in FY16 was also responsible for over 15,000 pounds of marijuana seized while performing southwest border operations. The seized drugs have an estimated street value over $1 billion. Finally, ARNG aviation dropped more than 4.7 million gallons of water in support of wildfire suppression operations.
Army National Guard aviation remains postured to provide support when called upon. Always Ready,
Always There!
COL J. Ray Davis is the chief of the Aviation and Safety Division for the Army National Guard Directorate, in Arlington, VA.