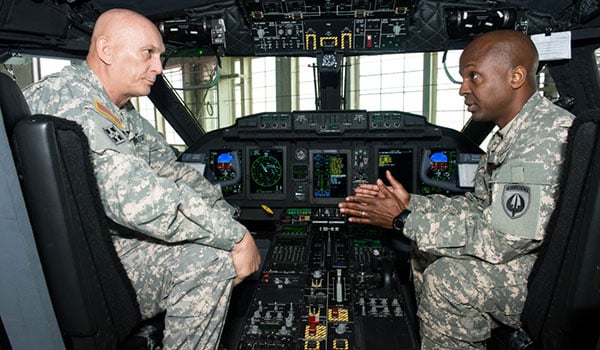 USASOAC Commander Update / By BG Erik C. Peterson and COL Dean Heitkamp: The Branch chief, MG Michael Lundy, has coordinated having the commanding general of the U.S. Army Special Operations Aviation Command, BG Erik C. Peterson, his command chief warrant officer, and command sergeant major provide this article.
Army Special Operations Aviation (ARSOA) was born out of the failed attempt to rescue American hostages held in Tehran, Iran in 1980. The Holloway Commission investigation, and report that followed the failed mission, asserted that our nation required a dedicated aviation force to support growing ground and maritime special operations capabilities.
This was the impetus for establishing the original dedicated ARSOA force – Task Force 158 – later redesignated as the 160 Special Operations Aviation Battalion.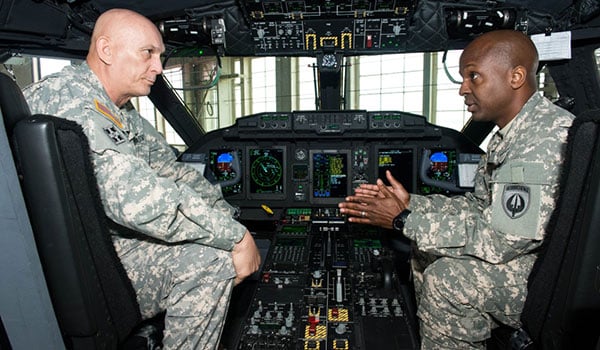 CW3 Doug Armstrong, USASOC Flight Company (UFC), with Army Chief of Staff GEN Raymond Odierno, in the cockpit of a C-27J "Spartan" aircraft, discuss the Spartan's capabilities supporting special operations forces training.
In the 35 years since that humble beginning, ARSOA units have been called upon to execute a wide variety of missions, ranging from Hostage Rescue (HR) and Direct Action (DA) raids to Unconventional Warfare (UW) support, Aviation Foreign Internal Defense (AvFID), and Non-Combatant Evacuation Operations (NEO). These missions required rapidly deploying ARSOA forces to execute operations in every environment and mission profile for a wide variety of supported maneuver forces and commanders. This unique capability is provided by a learning organization that seeks to continuously improve and places a premium on the selection, training and professional development of both Soldiers and civilians. In that spirit, we are deliberately looking forward and shaping ARSOA for 2030 and beyond.
As we look forward toward 2030, we expect to face an exceptionally complex operating environment and multidimensional threats, both conventional and non-conventional. For example, we expect to operate in the complex urban environment of mega-cities where legitimate governance may fail and diverse, hybrid threat networks will operate freely, seeking to attain an asymmetric advantage. We also expect to face traditional adversary states with relatively modern capabilities and the ever present challenges of extreme physical environments. Lastly, we can be fairly confident that we will continue to face a period of fiscal uncertainty and austerity that will require tough decisions on the tradeoffs between capability, capacity, and readiness.
ARSOA 2030: Strategic Priorities
Meeting the challenges of a volatile, uncertain future environment requires a deliberate approach that sustains and matures our vital, enduring capabilities while simultaneously adapting to meet emerging requirements and counter evolving threats. To that end, the U.S. Army Special Operations Aviation Command is currently drafting ARSOA 2030, our blueprint for the future. ARSOA 2030 is a strategic framework, nested with national, U.S. Army, U.S. Special Operations Command, and U.S. Army Special Operations Command strategic guidance. At the heart of ARSOA 2030 are our strategic priorities, which provide the direction for the entire ARSOA enterprise as we purposefully move into the future.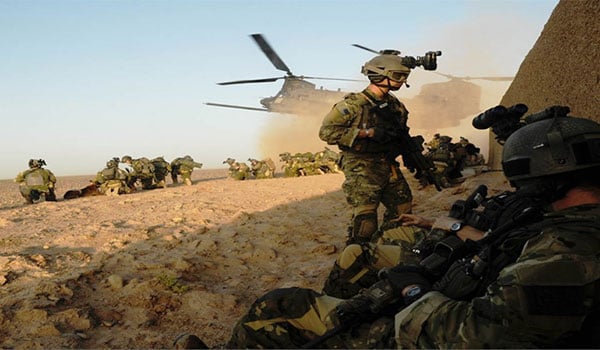 Soldiers prepare to load an MH-47G as part of a training exercise. In performing the task of providing the Nation with the best trained, lethal, and effective force on the planet, U.S. Army Special Operations Aviation Command (USASOAC) understands a significant focus must also be placed on affordability to the Nation, especially in the current era of fiscal austerity and uncertainty.
Sustain Our Core Competencies Beyond The Current Fight
ARSOA provides the nation unique capability and expertise; much of which is difficult to replicate, substitute or replace, given the investment made in attaining that capability. Our first strategic priority, Sustain Our Core Competencies Beyond The Current Fight, keeps us focused on characteristics, principles and approaches that we assert are enduring; those proven things which define us now and remain applicable in the future operating environment.
Our commitment to culture focuses on competence, character, and relentless commitment to mission accomplishment. It yields a cohesive professional force with a strong reputation for mission success, trusted by those we support. Critical to sustaining this culture is the ability to recruit, assess, select, train, and retain highly talented personnel from the broader Army and Army Aviation. Aircraft, equipment, and tactics change, but building and sustaining the right team, with the right culture remains an imperative.
It is also vital that ARSOA forces remain postured and ready to provide agile, globally responsive aviation capabilities in any environment. To do this, our carefully selected team must be rigorously trained and appropriately equipped to maintain the credible readiness and flexibility our mission and supported commanders demand. We must be ready now – without the luxury of additional train-up – to rapidly respond and accomplish key missions, anywhere required.
Our ARSOA forces must remain adaptive and innovative to meet national objectives in a volatile, uncertain, complex, and ambiguous environment. We must continue to adapt and evolve in the face of ever changing threats, and maintain structures and processes that leverage innovation. The people, processes, authorities and trust that allow us to rapidly develop and implement solutions remain vital to our success.
Posture to Provide SOA Support Forward
Our strategic priority, Posture to Provide SOA Support Forward, focuses on providing our nation with the unique ARSOA capabilities required to meet global objectives. In addition to being able to deploy globally and operate in any environment for contingency operations, we must also support enduring special warfare requirements and Geographic Combatant Commanders' (GCC's) theater engagement and partner nation capacity building priorities. This requires expertise in the human domain and increased emphasis on cultural awareness. To that end we are aligning most of our battalions with specific regions and corresponding GCCs while retaining the flexibility to meet prioritized contingency requirements.
We must also improve our capability to build partner nation SOF rotary wing aviation capacity in support of GCC's priorities. This includes developing our own doctrine, training, and education required for effective partner nation engagement. We are also working on refining policy, authorities and funding unique to assisting partner nations. Advising, assisting and training partner nation SOF rotary wing aviation further strengthens the global network, offsets demand for US forces, and promotes regional stability.
We must also be capable of providing small-footprint, low-signature, tailorable solutions, with both manned and unmanned aircraft in support of unconventional warfare campaigns and smaller contingency operations. There are many places in the world where the requirement for the culture, adaptability and innovation of ARSOA is welcome and requested, but where a large overt U.S. military presence is not.
Maintain the Comparative Advantage Over Our Adversaries
ARSOAC's third strategic priority, Maintain the Comparative Advantage Over Our Adversaries, asserts that we must remain capable of performing our mission across the full spectrum of operations and do so in the face of evolving threats. We must optimize technology and human performance to facilitate rapid innovation, adaptability and agility to continue to guarantee success in any environment. We have to operate in the extremes of climate, terrain and natural environments as well as densely populated urban environments. In concert with Army, SOCOM and DoD we will also invest in focused science and technology, and research and development initiatives to exploit leap-ahead opportunities and achieve overmatch. While we must utilize all the technological advantages possible, we have to successfully execute missions when those advantages are degraded or denied.
Our doctrine and tactics need to evolve to stay ahead of thinking adversaries and the proliferation of threat technologies. We are doing so through study, analysis and experimentation and continued investment in our institutional and force generation structure. It is essential to invest further in our intelligence analysis personnel and processes while ensuring we remain integrated with the interagency intelligence team to identify and counter emerging threats. As our doctrine and tactics evolve, the problem solving capacity and innovation of our great Soldiers will remain our greatest strength. Finally, we must also closely protect our advantages from our adversaries by maintaining firm operational security.
Improve Affordability Without Sacrificing Effectiveness
To continue maintaining effectiveness in the face of evolving threats and an uncertain fiscal environment, it is imperative that we improve affordability without sacrificing effectiveness. If our task was solely to provide our nation with the best SOF aviation capability in the world – unconstrained – it would be relatively easy. The reality is that we have to be affordable. In this era of fiscal austerity and uncertainty, our stewardship and resourcing responsibilities are more important than ever. This begins with an understanding and careful management of the total cost of ownership of our major systems, and associated investment and modernization programs.
We will continue to leverage Joint and Service common solutions that meet our special operations requirements when it makes sense, as well as the interoperability and commonality of components on our airframes. These efforts are already showing promise in reducing procurement and sustainment costs while enhancing readiness.
We also continue to refine and improve our integrated health monitoring systems, to not only get useful data, but to develop accurate diagnostics enabling well-informed decisions on the removal or repair of critical components. We see the future for conditions based maintenance not only promising but essential, as onboard data collection and supporting analysis increasingly predicts and prevents unscheduled downtime, helping to extend "time on wing" of expensive, vital components. This approach also promises to improve efficiency with parts and spares management and overall maintenance forecasting and management.
Lastly, we must continue to seek ways to reduce fuel consumption. This goes beyond just saving money – it reduces our logistical demand and footprint forward, and offers the opportunity to better support the ground force. As we reduce fuel consumption, we can extend our range, provide the ground force with greater useful load, or increase power margins during critical phases of the mission–all which equate to greater flexibility, where and when we need it.
Based on the future operating environment, fiscal realities, and the national strategic guidance, ARSOA 2030 provides the blueprint for how Army Special Operations Aviation is focused on the future while remaining committed to current and enduring requirements.
Volare Optimos!
BG Erik C. Peterson is the commander of U.S. Army Special Operations Aviation Command located at Fort Bragg, NC; COL Dean Heitkamp is the Deputy Commander.
Letter from BG Erik Peterson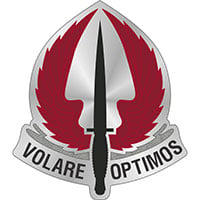 On behalf of the entire U.S. Army Special Operations Aviation Command (Airborne) team we sincerely appreciate the opportunity to share some thoughts and observations from the Army Special Operations Aviation (ARSOA) perspective in this month's publication. Thirteen plus years of unprecedented, sustained combat operations and shared accomplishment and contribution in the face of great adversity have made the entire Army Aviation community more capable, interoperable, and interdependent than ever before. Through both formal coordination and programs, and informal dialogue, collaboration and camaraderie we strive to not only retain these gains, but to advance them and grow even more capable – as members of the Army Aviation team. In this edition of AAAA's magazine we share an outline of our strategic vision, offer key leader insights, highlight the 160th Special Operations Aviation Regiment's (Airborne) support to the USSOCOM global Special Operations Forces "Network," and provide information on some of our unique programs and initiatives.
We hope you find these contributions informative and we look forward to working together to provide our nation and our supported forces with the premier aviation support they need and deserve.
Volare Optimos
Above the Best
-BG Erik Peterson
-CW5 Doug Englen
-CSM Greg Chambers