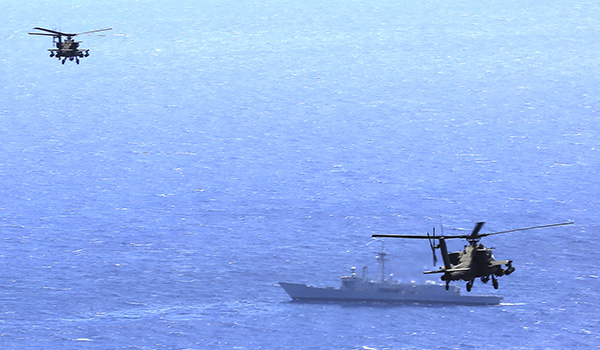 Spotlight / By MAJ Ian Benson and MAJ Erin Braswell: 2nd Squadron, 6th Cavalry AH-64s from 25th Combat Aviation Brigade Task Force Saber participated in sinking a target vessel as an exercise (SINKEX), part of the annual Rim of the Pacific (RIMPAC) exercises. The Navy provided a decommissioned naval vessel that was anchored over 50 miles offshore and engaged by over 6 different Naval, Air force and Army platforms. The AH-64 conducted eight different engagements against the littoral target and validated the helicopter's lethality not only on land but in the littoral environment as well.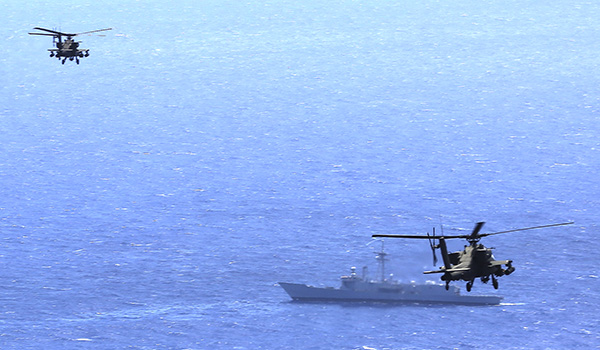 Two U.S. Army AH-64D Apache attack helicopters assigned to the 2-6th CAV, 25th Combat Aviation Brigade launch eight "fire and forget" AGM-114L Hellfire Air to Surface Missiles during a training exercise off the coast of Oahu, HI as part of the RIMPAC 2016 SINKEX with the decommissioned Pearl Harbor frigate USS Crommelin (FFG-37) on July 19, 2016. / U.S. ARMY PHOTO BY SGT ERIN SHERWOOD
Exercises like RIMPAC mark an increased emphasis within Army Aviation on the continued development and implementation of maritime tactics. As the environment around the world continues to change it is paramount that our allies and partners understand the capability that Army Aviation brings to the fight no matter the place. Training events like RIMPAC provide our branch with more opportunities on a worldwide scale to highlight our multi-domain battle capabilities in the transitional area dividing littoral areas and coastal regions that have typically fallen outside of U.S. Army training environments.