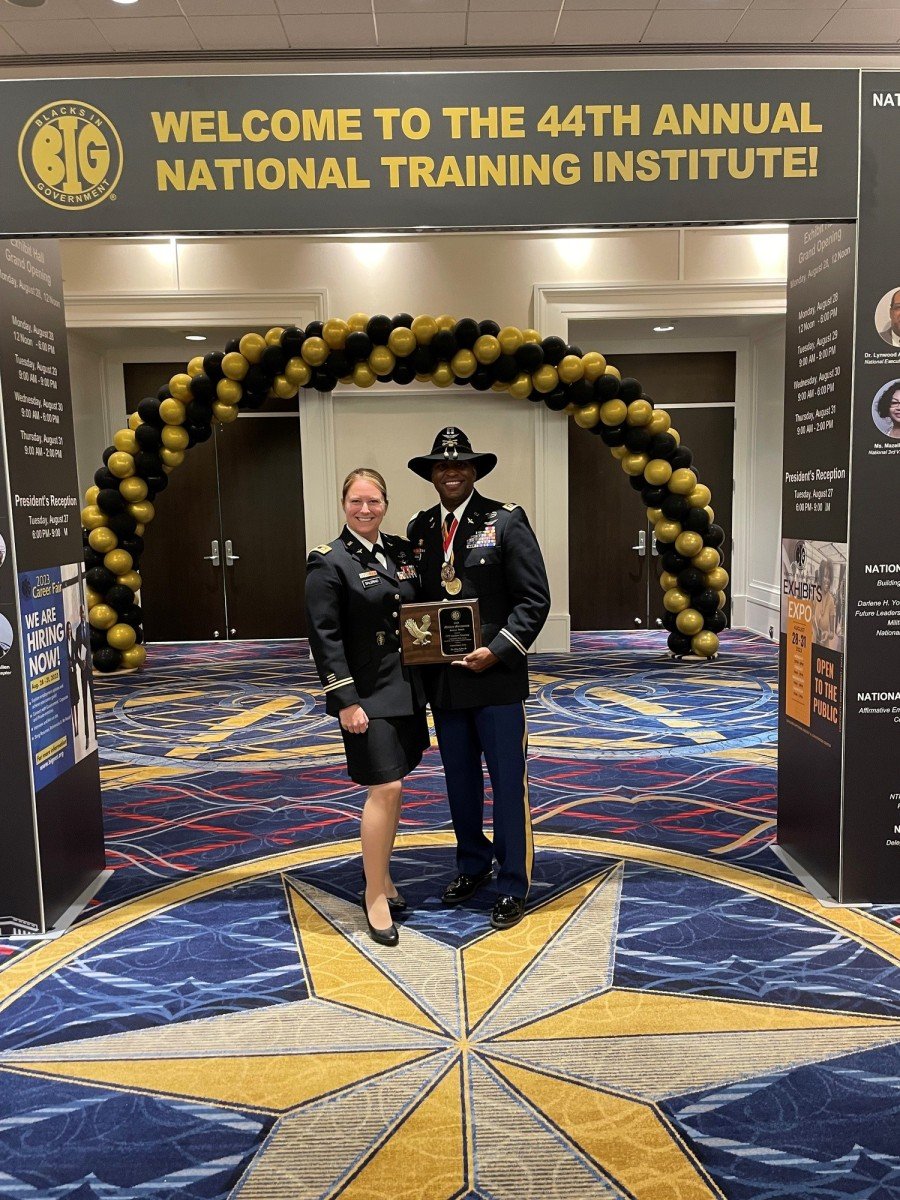 Capt. Matthew L. Manning, an AH-64 Apache helicopter pilot currently serving as a Gen. Omar N. Bradley fellow, pauses for a photo with Lt. Col. Erika Salerno, Organization and Personnel Force Development deputy director, U.S. Army Aviation Center of Excellence, after receiving the National Blacks in Government Military Meritorious Service Award in Oxen Hill, Md., Aug. 29, 2023.
One Army aviator's passion to raise awareness among minorities about opportunities in Army Aviation is not going unnoticed.
As a flight school student in 2015, Capt. Matthew Manning began guest speaking at historically Black colleges and universities to inform cadets about the Aviation branch and encourage them through his motto, "Don't self-eliminate."
Since then, the program idea he envisioned when he first entered the Army has grown, in conjunction with diversity and outreach initiatives at the Organization and Personnel Force Development directorate.
Lt. Col. Erika Salerno, the OPFD deputy director, said Army aviation is seeing a marked increase in the number of Black and African American cadets competing to be part of the branch.
"These young men and women are pursuing their dream of becoming an Army aviator. I have no doubt it is because of the impact Capt. Matthew Manning has had on them," said Salerno.
An AH-64 Apache pilot, Manning is a servant leader who knows what it means to set and achieve goals despite barriers he faced, and he is unafraid to be "raw and vulnerable" in sharing personal experiences as he motivates others, she explained.
And leaders in the Army Aviation are not the only ones taking notice.
In August, Manning receiving a national-level Military Meritorious Service Award from the Blacks In Government organization. The award recognizes efforts to fully integrate African Americans within the Armed Forces or Federal civilian workforce, increase opportunity for participation of HBCUs in Federal programs, and increase participation in DoD programs including with the Officer Training Corps.
Manning, who is currently a Gen. Omar N. Bradley fellow (formerly known as the Joint Chiefs of Staff internship), said the award reflects a team effort.
"Army Aviation is walking the walk. We're in there day in and day out trying to make a difference. This award shows that everything we are doing as a team matters. We are on a good trajectory," he said.
Understanding there is more work still to be done, Manning said he feels grateful for the support of current and former USAACE leaders who truly believe in strength through diversity.
Regardless of where he is stationed, Manning makes time to promote Army aviation and help others rise. Through guest speaking, representing the branch at events, and hosting in-person and virtual sessions with cadets through the Reserve Officer Training Program and at HBCUs, Manning aims to dispel myths and explain the process of becoming an Army aviator.
Manning said he wants to motivate others and help ensure the legacy of African Americans in military aviation, which began with the Tuskegee Airmen and the Red Tails in World War II, continues.
To him, the outreach mission is personal.
"I serve for those that don't think that they can do it," said Manning. "I think my calling is to inspire people to want to become aviators, and in general just inspire people to want to accomplish their goals and do things they don't think they can accomplish, to at least give it a chance."
Manning has 17 years of military service under his belt, including prior enlisted service in the U.S. Air Force, and three deployments to Afghanistan.
While previously serving as an enlisted A-10 mechanic, Manning set his sights on becoming a pilot, but was told he didn't look the part, even though he was fit and performed his job well.
"That for me was the fire that I think started my true path of wanting to become an aviator, which ultimately led me to the Army," Manning said. "It was an eye opener for me. I wasn't angry, but I set out on a journey to prove I did look like a pilot."
He transitioned from the Air Force to the Army in 2013, and as a cadet he began developing a plan for outreach to minorities, whose decisions about their future often hinge on whether they see people who look like them in those roles. Though people said he wouldn't get accepted in aviation, he commissioned as an aviator in 2015 as a distinguished military graduate.
"That's a little bit of my 'why'. It resonates when people say, 'I don't fit the profile'," Manning said.
He found a supportive team at Fort Novosel, including cadre, OPFD teammates, and senior leaders, from his first arriving for flight school and continued working branch initiatives as a team as he returned here for the Aviation Captains Career Course and the Air Cavalry Leaders Course.
"We're not going to make aviation easy to get in. Our job is too important. We're responsible for the people to our left and to our right, the best Soldiers on the ground, the people that may be in the back of the aircraft, so we're not going to cut any corners," he said.
"What we can do is educate them a little bit more, expose them a little bit more to the branch, expose them to aircraft," he said. "And representation matters. If I don't see African American or female officers, why would I go in a branch where I don't think I could succeed?"
In the future he hopes to see more opportunities for ROTC cadets to be exposed to the aircraft and aviation personnel, and he would like to see more cadets receive an orientation flight in an Army Black Hawk or Chinook helicopter.
"I think that will ultimately be that wow factor, that life-altering moment," he said.
Manning also wants young people to know that a person doesn't have to look exactly like they do to help them along their path. A white male commander "poured into me more than any leader had ever poured into me," and a white female instructor pilot genuinely encouraged him when he had difficulty learning to hover, he explained.
"It takes cross-cultural. It takes white, Hispanic, people that are diverse to all come together to truly make this initiative what it is and make it important," he said.
Much of his branch outreach focuses on cadets, providing information, getting them out to airfields, providing an aerial tour, and an opportunity to fly in the simulators.
He works with various age groups, including partnering with a nonprofit to inspire hope and encourage juveniles as young as age nine to set their sights on the horizon, including through a junior aviator training program.
"Some are surrounded by drugs, violence, parents are in and out of prison systems, or they're in and out of juvenile systems, and not a lot of resources around them to help them get back on track, so they continue down this bad path," he said.
"That's the importance of mentorship. It's deliberate, you're going out of your way to make sure you're pulling the next person up."
Undergirding his passion for lifting others up is a love for his country.
"I understand that we have our problems, but this country is greatest country in the world. Whatever people's race, ethnicity, gender is, I don't care what your political affiliation is, at the end of the day we're all Americans," Manning said.
"We have to stick together," he said. "We are going to overcome whatever comes our way."