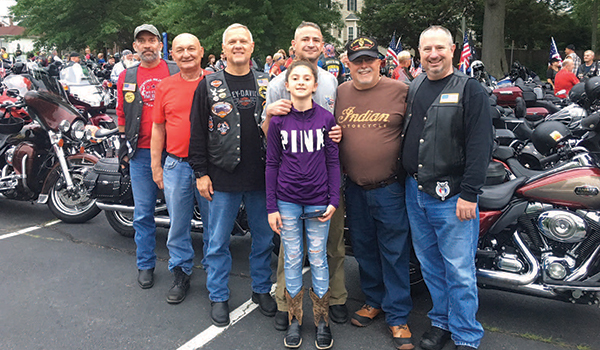 News Spotlight: Members of the AAAA Washington Potomac and Mohawk Chapters capture a moment during the Rolling Thunder Run, May 27, 2018 in Washington, D.C. Pictured are (l to r): COL (Ret.) Jim Viola, former 160th Special Operations Aviation Regiment (Airborne); Spiro Karadimas (a friend of Viola's); BG (Ret.) Mike Bobeck who also served with the 160th; LTC Kevin Ferreira, Command LNO with the 42nd Infantry Division; his daughter, Shea Ferreira; BG (Ret.) Joe Ferreira, former 1-9 CAV in Vietnam and Army National Guard Director of Aviation and Safety; and John Filmonchik.
Rolling Thunder is an organization that seeks to bring full accountability for prisoners of war (POWs) and missing in action (MIA) service members of all U.S. wars; 86,754 remain unaccounted for as of this writing.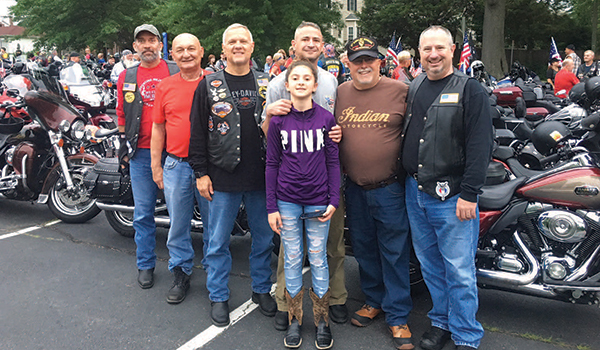 Former Army Aviation Branch Command Sergeant Major, CSM (Ret.) Ed Iannone (right) and his step-son, CW3 Jason Tyger, U.S. Coast Guard, get ready to mount up in the Pentagon parking lot for the Rolling Thunder Run, May 27, 2018. / PERSONAL PHOTO FROM BG (RET.) JOE FERREIRA
Rolling Thunder's first demonstration was in 1988; it was incorporated in 1995, and has more than 90 chapters throughout the U.S., as well as overseas. The main annual event occurs on the Sunday before Memorial Day, in which thousands of members on motorcycles make a slow ride, called the "First Amendment Demonstration Run" or "Ride for Freedom," on a dedicated, closed-off, pre-set route through Washington D.C., leaving the Pentagon parking lot at noon, crossing the Memorial Bridge, and ending at the Vietnam Veterans Memorial ("the Wall").
For more information on Rolling Thunder, go to www.rollingthunder1.com.