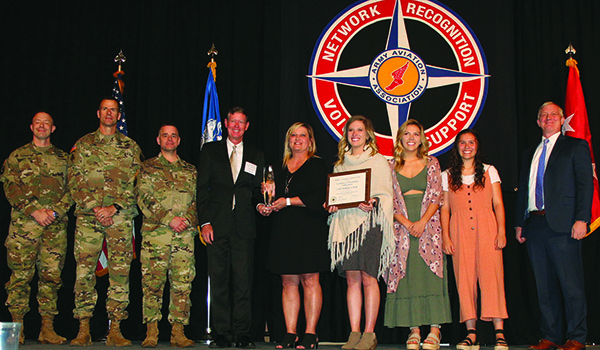 President's Cockpit / By MG Jeff Schloesser: The holidays are almost upon us, and so it's a great time to reflect back over the year, and what a great year it's been for Army Aviation!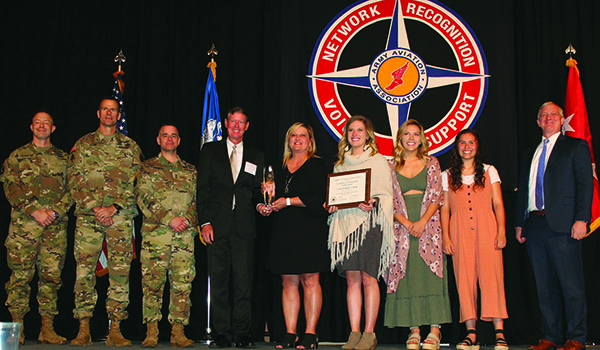 Deployed AAAA Aviation Mission Survivability Officer of the year CW4 William Roth's wife and daughters accept the award and congratulations on his behalf during the ASE Symposium on Nov. 18, 2019 in Huntsville, AL./ AAPI PHOTO BY CHEALSEA JARVIS
Army Aviation leaders at all levels have settled into their jobs, and are pushing our entire enterprise forward, working hand in hand with OSD, Congress, and Industry. Significant strides have been made in ensuring current fleet readiness and modernization, while setting the stage for 2020 to be a year of real progress in Future Vertical Lift, in both the Future Long-Range Assault Aircraft (FLRAA) and the Future Attack Reconnaissance Aircraft. Our Army Aviation leaders are telling the story on the WHY and HOW of Multi Domain Operations (MDO), and explaining in detail and through live experimentation how Army Aviation can and will penetrate, disintegrate, and exploit our foes on a complex, Large Scale Combat Operation (LSCO).
In this issue, our Branch Chief MG Dave Francis provides the context for Army Aviation success in LSCO and MDO, highlighting the critical role of terrain flight and aircraft control in our training. His article reminded me of my own early days in Army Aviation, where more experienced fellow aviators ensured we operated no higher than 100-200 ft above the ground or water, at speed, and where flying the aircraft was always most important when encountering a potential emergency procedure.
Our Army Aviation PEO, MG Thomas Todd, is about to end three exceptional years as Program Executive Officer of the Army's PEO portfolio, and his heartfelt farewell message reminds me of all he and his team have accomplished these past three years. We wish him the best as he prepares to deploy to his next position as a senior Army leader in Afghanistan.
We have devoted much of the remainder of this issue to our Industry partners – I hope you find this Industry Partners Directory useful and on point.
I do want to mention the superb AAAA Aircraft Survivability Equipment (ASE) Symposium and Joseph P. Cribbins Product Sustainment Symposium held last month in Huntsville. We had excellent participation in both, including our Army Aviation Six-Pack leaders as well as many of our Aviation Mission Support Officers (AMSO). A special recognition goes to BG Robert Collins, PEO IEWS, and COL Kevin Chaney, PM ASE, for their strong support for the ASE forum – it could not have happened without them. At both forums, we presented a number of functional awards to very deserving individuals and units. Their accomplishments in 2019 were amazing. Finally, a shout out to our very own AAAA Tennessee Valley Chapter and our AAAA National staff: without Chapter President Garry Nenninger and teammate Jerry Davis, as well as Bill Harris and Janis Arena and staff, events like these could not happen.
As we look forward to 2020, we are focused on growing our membership through our Vice President for Membership, CW4 Becki Chambers' "20K by 2020 Summit" initiative. At our current 18,500 members, we have some work to do, but we can get there if each and every one of us regard ourselves as an AAAA spokesperson and recruiter, and inform a friend or colleague about what AAAA does for Army Aviation. We are the only organization outside of the Army itself solely devoted to Army Aviation Soldiers, their families, and the Army Aviation enterprise.
Army Aviation is moving out to achieve a lethal, decisive and sustainable Multi Domain Operations maneuver and fires capability by 2028, and 2020 will be critical to achieving that goal. Let's all do our part to make it happen!
Happy Holidays from Patty and I and the entire AAAA National Executive Board and staff!
MG Jeff Schloesser, U.S. Army Retired
34th President, AAAA
This email address is being protected from spambots. You need JavaScript enabled to view it.