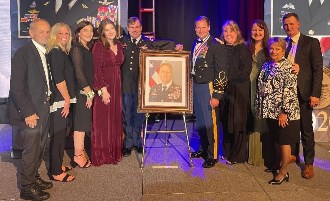 AAAA Family Forum / By Judy Konitzer  
Due to COVID, the annual Army Aviation Hall of Fame induction ceremonies for 2020 and 2021 were postponed. However, we were able to witness inducting six new members at the 2021 Joseph P. Cribbins Training, Equipping and Sustainment Symposium in Huntsville this past November, and it was indeed a very special "Oscar Night" for Army Aviation. The honorees were truly inspiring, while at the same time very humble, but equally inspiring for me was being able to spend time with some of their wives and with one who was so gracious to share her thoughts about the experience with me and our readers.
Tina Englen explained that her parents, mother-in-law, four children (31,28,23, and 21), and new son-in-law were able to share in an "absolutely positive experience for their family. In a very odd way, it made us feel proud of what we as a family had accomplished." She also shared that "During my husband's military career, and as a family member you don't really stop to think about all that was sacrificed. You just do what needs to be done." For her, seeing it all come together was very special, and it started many conversations while sharing memories. There were some that she had forgotten and some that she never even knew about.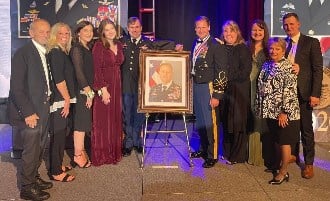 Englen personal photo: CW5 Ret. Englen and his entire family celebrated his induction to the Army Aviation Hall of fame.
CW5 Ret. Englen and Tina have been married for 34 years. He retired two years ago having served in the military for all those years. Her role as the "continuous parenting figure during deployments was to make sure that whatever needed to be taken care of here was taken care of for him to do what he needed to do and return. When he was home, sometimes his long work hours made it hard to take care of some things, and so I tried very hard to lessen the load."  She remembered a phone conversation with him one time asking "Is all, okay? And her saying, of course!"  At that time, she was sitting in an inch of water because of a broken washing machine. I had to laugh when she told me this as I have been there and checked that block with a similar scenario, and I know that many military spouses can readily identify with this or something comparable and be able to laugh about it years later too.
I felt her pain, which I feel so many of us too have experienced "that it is very important that no matter how upset the kids were when Dad was not there at an event etc.…. never to let them see him as the "bad guy." She "always made Dad out to be "The Soldier," and we (were) and still are proud of him always!" 
Tina's advice for new spouses was to value each moment. "The deployments with just me and the kids made memories that if he had been home, may not have happened. One was changing a starter on my 16-year-old son's truck which was priceless!" 
She also shared words of encouragement with this wise old saying, "This too shall pass and in the military nothing is forever." Tina felt that it was important to "Give yourself smaller milestones and embrace the accomplishment of reaching each of those milestones like breaking down a year-long deployment or a two-year station for a school or training and not getting so overwhelmed and wrapped around little details that don't matter was what was really important." 
Lastly, Tina felt that as the head of the household during deployments, schools, or long duty "you are the one who is most important, so you need to take care of yourself, and you need to take time together with your family. It also helps to find a support group like an FRG, church, or your neighbors" 
We are genuinely proud of our Soldiers who have been awarded their induction into the Army Aviation Hall of Fame, but we are equally proud of their spouses who have also earned their spot on this stage as well.
—–
Judy Konitzer is the family forum editor for ARMY AVIATION; questions and suggestions can be directed to her at This email address is being protected from spambots. You need JavaScript enabled to view it..