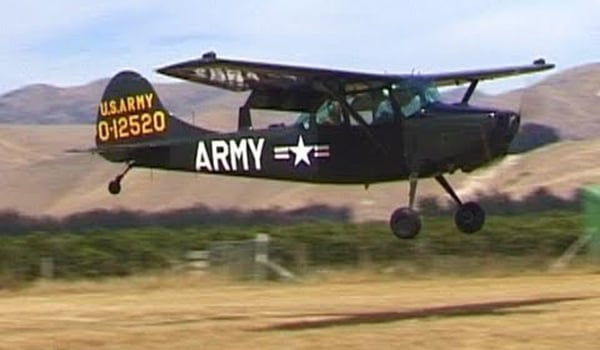 Challenges and Opportunities, Past and Present / By Mr. David B. Cripps: The last seventy-five years have seen monumental advances in Army Aviation in terms of its role in the Joint battlespace and its importance to the Soldier on the ground.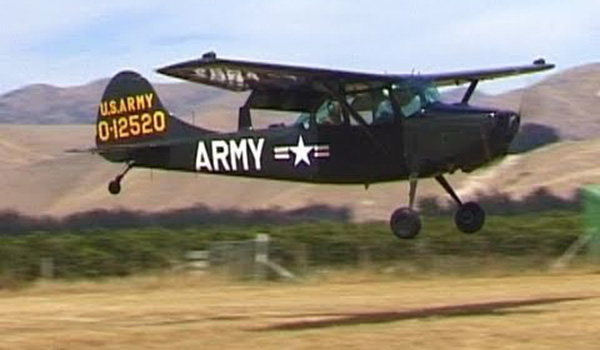 U.S. ARMY FILE PHOTO
At the same time the technology of aviation has grown at an ever-increasing pace, and leveraging the benefits of technological advance for tactical advantage has been the hallmark of Army Aviation. Whether it be speed, range, payload, lethality, survivability, connectivity, surveillance, timeliness of action, or any other measure of military effectiveness, Army Aviation has utilized technology to the fullest to the point Army Aviation is the preeminent and most persistent military aviation force in the world.
Throughout the entire history of Army Aviation, there has been a cadre of scientists discovering new technologies, engineers seeking to leverage those technologies to provide operational capability for Army aircraft, and testers running the new systems through their paces in order to iron out the wrinkles before putting the new equipment into the hands of Army Aviators in the field. The names and locations of the various organizations contributing to this collective effort have varied over the years, but one thing has remained steadfast – the keen and abiding awareness that Soldiers, whether aircrew or passengers or supported troops on the ground, trust their very lives to the work done by these scientists, engineers and testers. And so we take our jobs very, very seriously.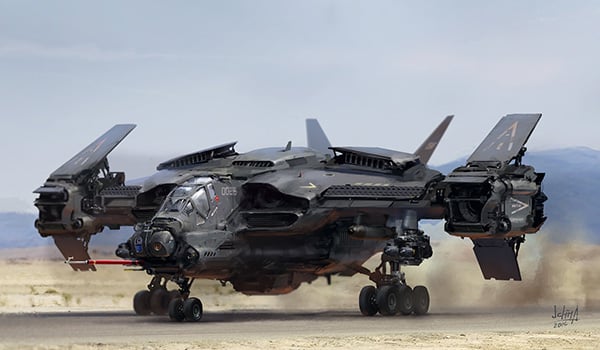 Gunship of the future / CONCEPTUAL RENDERING BY ALEX ICHIM, BUCHAREST, ROMANIA
Along the way, technology occasionally pushed back. Sometimes well intentioned leveraging of an emerging technological capability revealed unanticipated limitations. Novel approaches for utilizing technology revealed previously unknown failure modes. So we learned hard lessons, and we applied the knowledge gained from previous successes and failures to the next iteration. And on we went, and so it continues today.
Leveraging Advances
The world today is much different than it was three-quarters of a century ago. The pace of technological advance has increased beyond what anyone could have imagined when Army Aviation first came of age. The proliferation of personal electronics in practically all phases of everyday life has resulted in a profound shift in industry from a time when Defense drove technological advance to today, when the commercial marketplace drives most advances and Defense now seeks to leverage those advances. This new reality has two fundamental challenges. First, because of the pace of change, commercial applications often don't fully ensure their systems have the reliability, security or robustness that military users depend upon. Second, and probably more insidious, is that potential adversaries are better able to exploit inherent weaknesses in system security. The situation this creates is one where the demand for new capability on a timeline that keeps pace with the commercial marketplace will inherently yield greater vulnerabilities. So we face the dilemma of either exposing ourselves to potential vulnerabilities (which we won't know about until long after investing and fielding), or we have a more deliberate procurement strategy that better ensures system security but at the cost of a delay in fielding new capability.
If you plot the rate of technological change over the last 75 years, you will see that the future holds unprecedented change at a rapid-fire pace. The scientist, engineer and tester community stands ready to meet that challenge to enable Army Aviation to be even greater.
To steal a quote from Goose, "We're goin' ballistic, Mav!"
Mr. David B. Cripps is the deputy director of the Aviation Engineering Directorate of the U.S. Army Aviation and Missile Research, Development, and Engineering Center at Redstone Arsenal, AL.