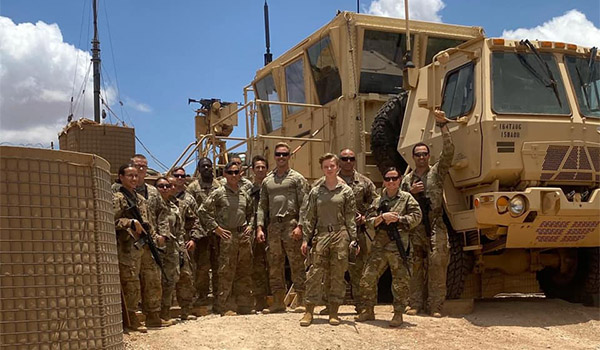 Air Traffic Services / By LTC Keith A. Haskin: October 2019 marked the beginning of a now-enduring capability as the Army assumed responsibilities of airfield management and air traffic control support to multiple airfields within the Combined Joint Task Force-Horn of Africa (CJTF-HOA) area of operations. The deployment of 1st Battalion, 58th Aviation Regiment (Airfield Operations Battalion (AOB)) into this area of operations initiated a cycle of Active Duty and National Guard forces to support the strategic goals of AFRICOM in East Africa: to enhance partner nation capacity, promote regional stability, dissuade conflict, and protect U.S. and coalition interests.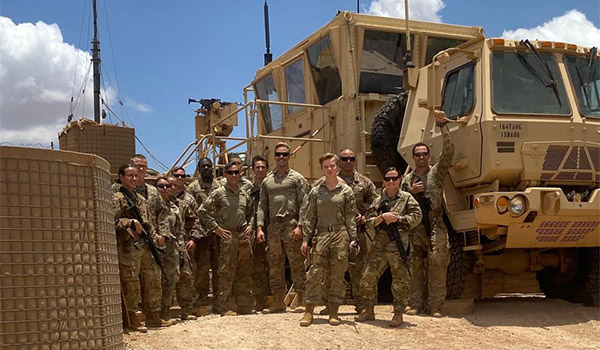 1-58th Soldiers based in Somalia standing next to the MOTS in March 2020. (l to r) SPC Penny Morgan, SFC Cameron Campbell, SSG Rebecca Baca, SPC Susann Orozco, SSG Tommy Thinnes, SGT Nicholas Wood, SFC Douglas Miller, SPC Jose Suarez, SSG Anthony Deluca, CPT Nathan Strohschein, SPC Annabelle Rich, CW2 Robert Pezzi, SSG Brooklyn Phillips, and SSG Ricky Gibbs./ U.S. ARMY TRAFFIC SERVICES COMMAND PHOTO
Pre-Deployment Activities
1-58th Avn. Regt. (AOB) was officially notified about the deployment in early 2019, directly on the heels of providing mobile tower support to Tyndall AFB as the base recovered from Hurricane Michael damage. The initial tasking from the Joint Staff was to provide landing zone safety officers (LZSO) to four airfields throughout Somalia and Kenya. Upon conducting mission analysis and conferring with the Air Force elements conducting the mission, the decision was made to deploy three of the unit's four tactical air traffic services systems: the Mobile Tower System (MOTS); Tactical Terminal Control System (TTCS); and the Air Traffic Navigation, Integration, and Coordination System (ATNAVICS) in order to effectively enhance the safety of the aircraft at those airfields.
The Air Force requires an LZSO at any airfield supporting US Air Force aircraft without a control tower. The LZSO's primary responsibility is to provide advisory services to aircraft while ensuring the landing surface is safe for the type and number of aircraft inbound. As this is an Air Force-specific requirement and Army controllers are not typically trained on these tasks, 1-58th AOB was required to send controllers to conduct landing zone safety officer certification training at Fort AP Hill in Virginia. The battalion then relied on these school-trained LZSOs to train the remainder of the controllers during the unit's mission readiness exercise (MRX) in July 2019. By the end of August 2019, the unit's controllers were fully prepared to assume the LZSO duties while concurrently preparing for the arrival and installation of the unit's primary systems.
Through continued mission analysis, and as the unit prepared for the LZSO mission, it was clear that airfield management was going to be a key task for battalion. In order to ensure the battalion's Soldiers were thoroughly trained on airfield management tasks, the majority of the unit completed the contingency airfield management (CAM) course. This course, conducted by the Army's Air Traffic Services Command (ATSCOM), provides the basics that a Soldier would need to manage airfield operations primarily in an LSCO environment.
Outcomes and Lessons Learned from Operations in East Africa
The battalion's primary mission while deployed was to provide 24/7 air traffic services in support of aircraft operating under visual and instrument flight rules (VFR/IFR) in austere environments at forward operating bases in East Africa to ensure safe continuous operations. As the battalion incorporated the ATS systems into airfield operations and transitioned away from LZSO duties at two of the four locations, it became clear that these ATS systems were vital to ensuring safe aircraft operations. The ATNAVICS provided the only airfield radar capability in the entire country of Somalia and the MOTS and TTCS controlled upwards of 60-70 aircraft movements per day. These systems, along with highly-trained air traffic controllers, enabled safe aircraft operations and resulted in zero accidents or incidents. In order to build relationships with the local controllers and aid in the overall safety of two locations, 1-58th AOB controllers worked with their local Somali and Kenyan counterparts to train them on proper phraseology and International Civil Aviation Organization (ICAO) controlling standards.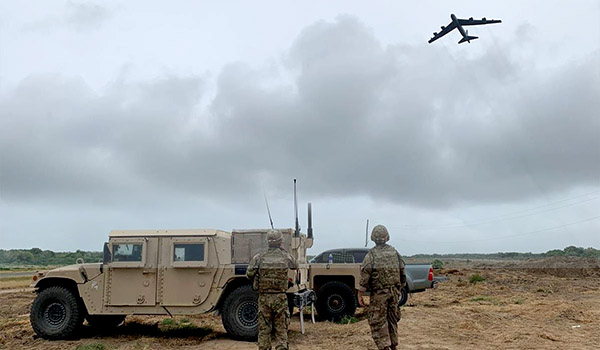 1-58th airport surveillance and precision approach radar system operating in Somalia in March 2020.
As future airfield operations battalions prepare to deploy to both the East Africa theaters, as well as all worldwide locations, there are several areas of potential consideration. First, due to constraints on the number of personnel in theater, every leader needs to be a subject matter expert. Deliberate training and fundamental airfield management skills should be addressed prior to deployment for all senior leaders. This, combined with clear and concise commander's intent, will allow any leader within the organization to competently represent the unit. Additionally, training that spans all aspects of Air Force airfield management is vital as the majority of the air traffic customers in that area of operations belong to the Air Force. The Air Force Advanced Airfield Management Course would be invaluable for all flight operations (15P) personnel and for the senior leadership.
What's Next?
The demand for tactical air traffic controllers will always exist wherever aircraft are flying in support of combat operations. In theaters like East Africa, where air support is essential to all operations, safe and orderly control of the airspace is paramount. East Africa will continue to provide an excellent opportunity for Army Air Traffic Controllers to support combat operations and perfect their craft in an austere and challenging environment.
LTC Keith A. Haskin is the commander of 1-58th Airfield Operations Battalion headquartered at Fort Rucker, AL.