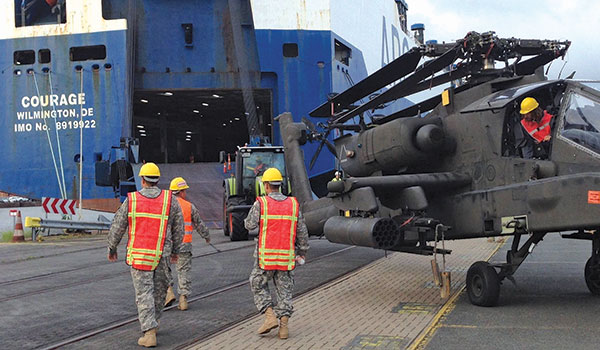 AMCOM Commander Update / By MG Douglas M. Gabram: Your cell phone goes off on a Sunday afternoon. You answer to hear the voice of your battalion commander, "I need all of the company commanders in my office at 1600 today.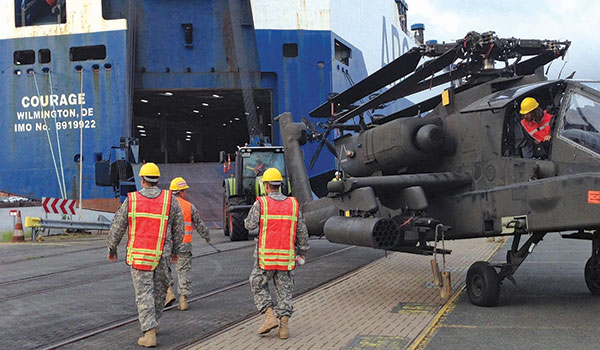 Aviation Soldiers performing sea port of embarkation (SPOE) operations in support of combatant command (COCOM) requirements / U.S. ARMY PHOTO
Bring your deployable personnel status, your updated load plans, vehicle and aircraft maintenance status, the rest of the details we will discuss at HQ." Hours later, you and your fellow company commanders emerge out of the battalion commander's office. Your mind is racing… time, there's just not enough time… where the heck is that APOD… unknown length of mission… minimal external support for 60 days. As the BC sticks his head out of the office, "over the past 6 months, I've often asked; are you ready to go with who you have, and what you've got… we're about to find out." You link up with the First Sergeant and head back to the company area… are we ready?
Know Your People – Building Confidence and Competence
Frequency and repetition are often viewed as key components to build capabilities in our Soldiers and Leaders. Maintenance skills remain at the forefront in an individual's ability to generate combat power. Greater than launch, recover, launch; we must educate individuals on the supply system, troubleshooting and repair processes and field (in actual dirt) maintenance operations.
Know Your Equipment – "Pride in Ownership"
With recurring aircraft transfers, RESET and ARI this concept is challenging. That said, it is still doable, but it takes leadership. Build a "pride of ownership" program, hold Soldiers, aircrews and leaders accountable for their aircraft and equipment. Our ability to know the scars and beauty marks of our equipment allows our Soldiers and Leaders to get the most out of it and enable readiness.
Know Your Unit – Tough Home Station Training Plans
The time is now to reinvigorate your maintenance training and organic maintenance operations. Just as we focus a large amount of effort to train our pilots, we must be equally adamant on training our maintainers. Our ability to operate without perfect lighting, level surfaces and excess external support will be critical in the future. Integration with the support company and the aviation support battalion create exponential learning experiences and test the whole system.
Know What You Need – Evaluate and Assess
Achieving operational understanding with context often eludes junior leaders, but I believe the best way to know your unit and what it needs is through deliberate and near-constant assessment. In the maintenance area, drive task condition standard evaluation of your scheduled and unscheduled procedures. Learn from best practices from across the Brigade; strive to be the model for flying the most while maintaining the best readiness rates.
So, are you ready to fight tonight? Command teams have the ultimate responsibility to answer that question with a resounding, YES. The Branch, the Army and most importantly, the ground force, is counting on you to provide the best aviation force to accomplish the mission. Therefore you must start tonight, to know your people, equipment, unit and what you need to be ready. As you read the remainder of this focused issue, we concentrate on maintenance leadership fundamentals of the Aviation Branch and United States Army. Second, we transition to offer some strategic ideas and perspectives to challenge the reader to consider critical maintenance and sustainment constructs to improve the readiness of the branch.
Tradition of Excellence!
Army Strong!
MG Douglas M. Gabram is the commanding general of the U.S. Army Aviation and Missile Life Cycle Management Command at Redstone Arsenal, AL.
Aviation Soldiers performing sea port of embarkation (SPOE) operations in support of combatant command (COCOM) requirements / U.S. ARMY PHOTO