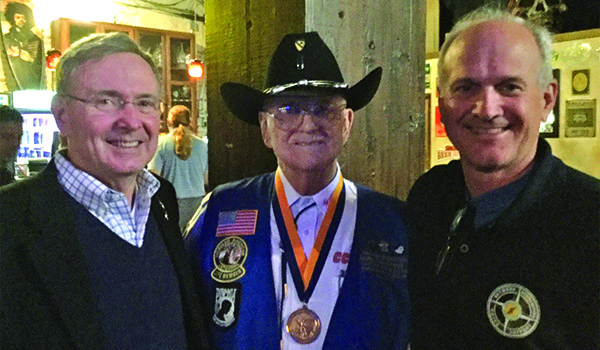 President's Cockpit / BG Steve Mundt, Ret.: Wow! It is hard to believe that we are only a couple of weeks away from the 2019 AAAA Annual Summit in Nashville, TN.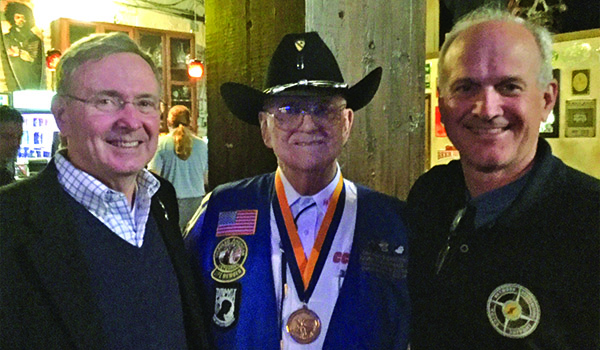 BG (Ret.) Steve Mundt (left), CW4 Jimmy Johnston, and Mr. Tyler Yeathermon, Corpus Christi Chapter President, celebrate Johnston's induction into the Gold Honorable Order of St. Michael.
Everyone is preparing – from your chapters, to the National Executive Board/Group and the National Headquarters – to ensure you have the best possible experience at this year's Summit! We are looking forward to seeing everyone!
The professional program, coupled with the spouses' and social programs, have something for everyone. Our guest speakers represent the best of our Army and our Branch. The Under Secretary is scheduled to kick off our first morning and our Vice Chief of Staff begins day two, together with the Army Aviation Six Pack and notable speakers such as LTG Laura Richardson (Deputy Commanding General, Chief of Staff, U.S. Army Forces Command), LTG Ted Martin (TRADOC Deputy CG/Chief of Staff), and LTG Jim Richardson (DCG, Army Futures Command). The focus supports the theme Army Aviation – Ready Today, More Lethal and Ready Tomorrow, and will address how we can maintain readiness today while preparing for tomorrow while facing the challenges ahead in technology, artificial intelligence, cyber vulnerabilities, Future Vertical Lift, and new weapon systems from our current and emerging near peer competitors. See the app #19Summit for the latest agenda.
Industry support as always has been amazing with an all-time record which translates into greater membership experience and benefits. We continue supporting members and our local chapters (The Life Blood of AAAA) through local and National-led programs, the Scholarship Foundation, our Army Aviation Museum, awards, member benefits program and our new A&P License Scholarship Grant program, etc. The amazing piece is that through our Aviation Enterprise and our all-volunteer leadership AAAA has been doing it all without having increased your dues in over 20 years!
While the world and our force are moving at a historical pace and we are engaged in putting on this monumental annual event, we are also experiencing several changes in our Branch leadership. Specifically, our Branch Chief, MG Bill Gayler will be moving to AFRICOM. The incoming Branch Chief, BG Dave Francis, is certainly no stranger to Fort Rucker having commanded the Combat Readiness Center; and his most recent assignment as Director of Army Aviation in the Pentagon has totally prepared him for this assignment. No actual change of command date yet, but we all join in wishing the Gaylers well in their next assignment and saying thanks for all they have done as a command team. I have to say the way the leadership of the Six-Pack has operated under Bill's stewardship is among the best I have ever seen through some very challenging times in budgets, training, and materiel.
As we mentioned last month, CG AMCOM, MG Doug Gabram has left to take on the missiles portfolio in Huntsville and will be backfilled by BG Todd Royar, currently DCG, 101st. Speaking of the 101st, I had the pleasure of attending the change of command at Ft. Campbell last month between LTG Poppas and MG Winski who will be our host for the Summit. We also welcome the new Director of Army Aviation, BG Mac McCurry coming in from 2ID.
Other Aviation GOs on the move include MG Frank Tate to CG, First Army West; MG Erik Peterson moving to Director, Force Development G8 in the Pentagon; BG Lonnie Hibbard to CG, U.S. Army Center for Initial Military Training; BG John Kline to Deputy Chief of Staff TRADOC; and BG Hank Taylor as senior advisor to the MOD, U.S. Forces Afghanistan.
My point here is that unlike a few decades ago, Army Aviation senior leaders are being assigned to key leadership positions across our Army. No longer is our Branch questioned as to its legitimacy as a multi-talented combat, combat support and combat service support multiplier. Our leaders are sought after to bring the Aviation discipline and mindset to many other venues.
I would be remiss if I did not mention my recent trip to Corpus Christi Army Depot to honor a great American. CW4 (Ret.) Jimmy Johnston is a legend at CCAD and in the larger Corpus community itself. From a sterling military career to decades of support to the artisans and their families at CCAD, Jimmy just gives and gives and gives and gives. He was among the first to establish AAAA scholarships for local chapter members. He is always there to lend a helping hand no matter what the activity, and I swear I have never attended a national or local CCAD Chapter event where Jimmy wasn't front and center, proudly wearing his Stetson and quietly getting the task at hand done, and with a smile. In and out of uniform Jimmy exemplifies what selfless service is all about. It was a pleasure to finally help appropriately recognize him with induction into the Gold Honorable Order of St. Michael for his lifetime impact on Army Aviation. Please see page 45 for more information.
Finally, Recognition is one of the four pillars of AAAA and I need your help in recognizing deserving members of our Enterprise. We need to take the time to write nominations and summit them. It is not good enough to sit in the audience and say, "I know someone who deserves this" and not make the recommendation. A special focus needs to be made on our enlisted force as they make up the preponderance of our Branch but are underrepresented in the Army Aviation Hall of Fame, as are our National Guard and Reserve members. We need to fix this – take the time to submit!
See you in a couple weeks in Nashville. Get ready for a great few days of professional development, camaraderie and finding solutions for our members at the point of the spear.
Above the Best!
BG Steve Mundt, Ret.
33rd President, AAAA
This email address is being protected from spambots. You need JavaScript enabled to view it.