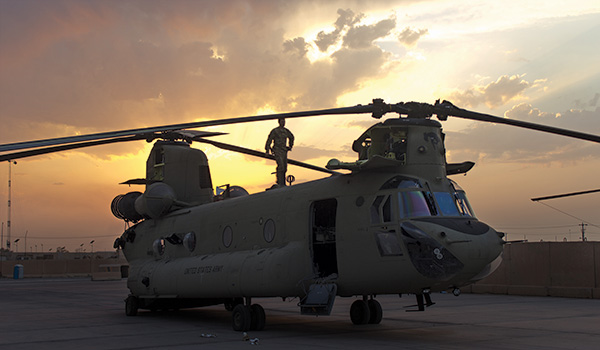 By MAJ Aaron C. Schilleci: Integration of Active and National Guard Components in Support of Operation Inherent Resolve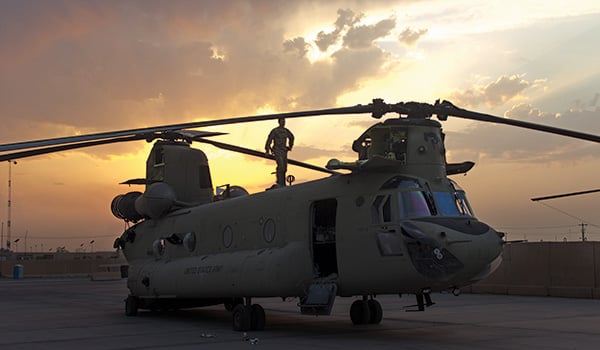 A 15U crewmember preflights a Task Force Heavy CAV CH-47 Chinook prior to a battlefield circulation mission in support of Operation Inherent Resolve./ALL PHOTOS – U.S. ARMY PHOTO BY SPC ALTON PELAYO, 3-6 CAV
"The Active Duty guys…" "The Guard guys…" As aviation professionals, we have all heard or seen these colloquialisms to describe our service component brethren. Some may feel a sense of pride, allegiance or stigma associated with these equally essential elements of our Army Aviation community and Army team at large. Having just returned from their latest deployment, 3rd Squadron, 6th Cavalry Regiment was organized into a multi-component, multifunctional aviation task force – Task Force Heavy CAV (TFHC) in southwest Asia and Iraq. TFHC supports Operation Spartan Shield (OSS) and Operation Inherent Resolve (OIR), combining the talents of aircrews and Soldiers of both Active and Army National Guard components and achieving outstanding results in support of both operations. Many of TFHC's successes in integrating Active and National Guard units into a cohesive formation are largely tied to three major concepts: fighting lean, mastery of the non-standard mission and most importantly – mutual respect and understanding the value and strength of each component.
Fighting Lean
The Task Force commander would often tell his troops "Everyone in this task force has two jobs." In many cases, the commander's statement is literal. While the standard active duty heavy attack reconnaissance squadron has just less than 500 Soldiers assigned to it, on this deployment the unit has only about 325 personnel, spread over six locations in Iraq and southwest Asia. Of these Soldiers, approximately 130 are National Guard personnel from four separate companies in six different states (AR, CA, OR, PA, WA and WV). The remainder of 3-6 CAV Soldiers and aircraft operate in support of OSS from a location in southwest Asia, assigned to the 40th Combat Aviation Brigade (CAARNG).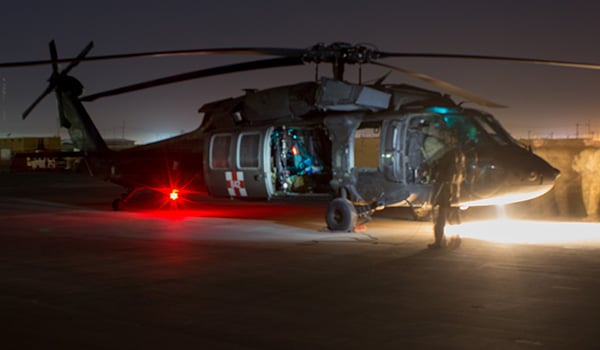 A Task Force Heavy CAV UH-60 Black Hawk from 2-238th Avn., ARARNG, prepares to taxi for a night MEDEVAC mission in support of Operation Inherent Resolve.
The task force included attack helicopter, unmanned aircraft systems (UAS), assault helicopter, heavy lift and aeromedical evacuation assets all within the lower than normal personnel cap. As a result, each Soldier's professional and personal talents are maximized to ensure the success of the mission. Some of the more notable examples of each Soldier working two jobs include a National Guard standardization instructor crewchief who put his civilian construction expertise to use, building office space for the assault helicopter company; a National Guard air mission request officer who put his civilian cargo movement experience to use managing the nightly flow of personnel and cargo through the OIR battlefield, and the Active Duty headquarters troop commander serving as the Task Force Mayor.
Making the Unfamiliar Familiar
From the arrival of TFHC in the OIR theatre of operations, one certainty aviators and crewchiefs grew to expect was non-standard operations. Meaning, for the National Guard UH-60 assault company expecting to conduct four-ship air assault operations to a dusty landing zone at night with little to no illumination, reality was starkly different. The preponderance of UH-60 missions were command and control (CAC)/VIP support missions.
For the attack weapons team expecting to conduct three-hour-long aerial movement to contact operations in order to find, fix, finish and exploit the enemy, the OIR mission sets remain ed atypical. The TFHC AH-64s in fact conducted reconnaissance operations, but largely before, during and after escorting a pair of TFHC utility or cargo aircraft during CAC/VIP missions or air movement operations.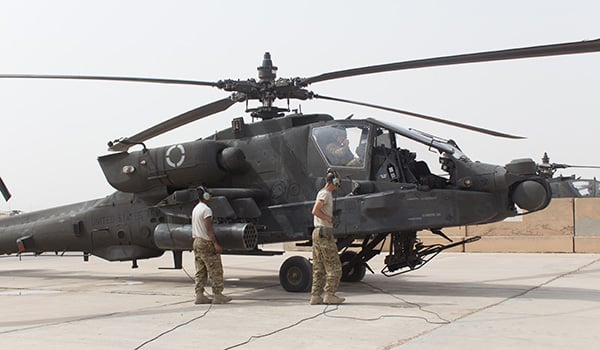 An Armament Specialist performs a maintenance operational check on an AH-64 Apache assigned to Task Force Heavy CAV.
Even the aeromedical evacuation aircrews experienced a relative shift in mission execution. Due to the low demand for MEDEVAC missions, our TFHC MEDEVAC aircrew members became creative and subsequently developed relationships with potential customer patient units. For example, 2-238th MEDEVAC (ARARNG) aircrews planned and executed rescue hoist familiarization and scenario-based training with Naval Special Warfare (NSW) operators to improve both our organic flight medic and NSW operator medical competencies. Other missions included working with Iraqi Army Aviation MEDEVAC units.
Impressively, TFHC routinely executed complex mixed multi-ship operations every day and night. From the required operations and intelligence briefing, to the detailed TFHC multi-ship briefing, to the individual aircrew briefings, no item was briefed "as per SOP." As we have come to learn during this deployment, many contingencies within our mission sets are not outlined in any aviation SOP. Recognizing these inherent mission complexities and associated risks, the TF standardization instructor pilot and his standardization team went to great lengths throughout the task force to significantly increase the crosstalk and understanding of capabilities between attack, assault/MEDEVAC, and cargo aircrews. The results materialized into standardized task force kneeboard packets, briefings and contingency management procedures which apply to all aircrews, no matter the airframe.
Task Force Heavy Cav = One Team
While some TFHC Soldiers may have arrived in Iraq with preconceived judgments of one another based on service component, they were quickly disabused of those notions simply by the equitable tone and inclusive command climate set by unit leaders. From pilot's briefings to officer professional development classes, the team concept is the standard in the Heavy CAV. Nowhere is the one team spirit more evident than in the Stetson break-in ceremony. One of the National Guard companies prepared for the event in the finest traditions of the Cavalry – in turn infusing a positive energy and esprit de corps throughout the rest of the task force.
Conclusion
The achievements of Task Force Heavy Cav have been outstanding – over 5,000 accident- and incident-free combat and imminent danger hours flown; over 5,000 Shadow UAS hours flown, more than 11,000 passengers transported and 2.4 million pounds of cargo moved. While these statistics are impressive, they are not actually the most important accomplishments of our deployment – the aviation lessons learned are. Flying complex, mixed airframe, multi-ship missions while simultaneously developing standardized aircrew products to mitigate combat risk is one of the largest accomplishments of this Task Force and has set the standard for integrating Army aviation service components. The triumvirate of directed lean operations, the willingness to enable the evolution of combat aviation mission sets to meet the ground force commander's intent and the unity achieved by Task Force Heavy Cav by promoting parity regardless of service components will continue to enable the legendary legacy of the United States Cavalry.
HEAVY CAV – Led by Love of Country!
MAJ Aaron C. Schilleci is the executive officer for 3rd Squadron, 6th Cavalry Regiment, Combat Aviation Brigade, 1st Armored Division recently deployed and task organized as Task Force Heavy Cav in support of Operation Inherent Resolve.
A 15U crewmember preflights a Task Force Heavy CAV CH-47 Chinook prior to a battlefield circulation mission in support of Operation Inherent Resolve./ALL PHOTOS – U.S. ARMY PHOTO BY SPC ALTON PELAYO, 3-6 CAV
A Task Force Heavy CAV UH-60 Black Hawk from 2-238th Avn., ARARNG, prepares to taxi for a night MEDEVAC mission in support of Operation Inherent Resolve.
An Armament Specialist performs a maintenance operational check on an AH-64 Apache assigned to Task Force Heavy CAV.