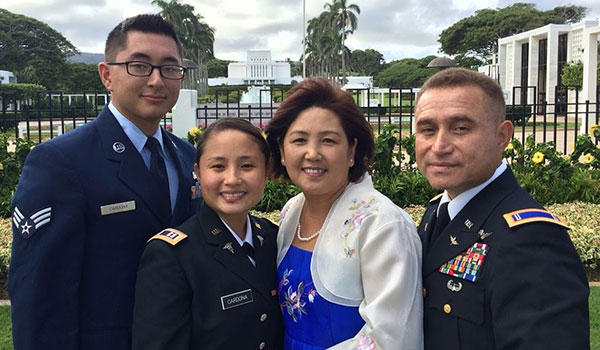 Maintenance / By CW5 Michael D. Cavaco: Sustainment is our focus. To that end, a little over a decade ago the Aviation Enterprise invested in creating the "Aviation Branch Maintenance Officer" (ABMO) position.
In the last ten plus years, the position has grown in both scope and responsibility as three CW5s have held the position and have been the entry point for all BAMOs/units into the aviation enterprise. As the mantle passes from CW5 Cardona to CW5 Cavaco, it is a great time to provide an update on the ABMO office.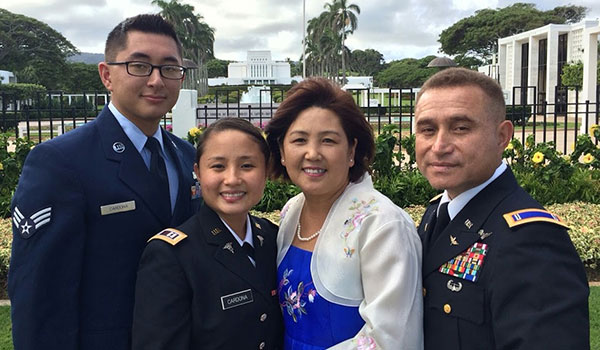 CW5 Leonte Cardona and family. Editor's Note: We at Army Aviation thank CW5 Cardona for his support over the years and wish him and his family all the best in his retirement. / PERSONAL PHOTO BY CW5 CARDONA
The Aviation Branch Maintenance Officer is assigned to the command group of the U.S. Army Aviation and Missile Life Cycle Management Command (AMCOM) and serves to advise the Branch on aviation maintenance, logistics and sustainment operations. The ABMO uses extensive aviation maintenance experience to provide leadership at all levels of the logistics chain and operational support of Army Aviation. There is no other position that mirrors the ABMO's education, experience, and knowledge of integrated logistics. The required skill set includes first hand flight operations and mission risk management; aviation maintenance management and training at a combat aviation brigade (CAB) level; materiel management; world-wide deployment and sustainment planning in order to operationalize and influence emerging aviation system designs to ensure reliability, affordability, maintainability (RAM); and assist in the shaping of aviation maintenance policy and doctrine.
This October, CW5 Leon Cardona will retire as our Branch Maintenance Officer after more than 34 years of service within aviation maintenance. Leon has always kept the operational units at the forefront of every decision. As Soldiers, we always strive to "leave it better than you found it" and Leon has certainly done that and more. I would like to take this opportunity to thank him, both personally and on behalf of all the commanders, aviators, and maintainers whose mission he has affected. As he moves on to the next chapter in his life, he leaves behind big boots to fill – from maintenance automation to Condition Based Maintenance (CBM) to everyday maintenance tasks. I thank him for his service and wish him the best of luck in the future.
I am humbled and honored for the trust and confidence to take on this position and role. The single most important aspect of this job is to ensure that the needs of our tactical units at the tip of the spear take priority. I look forward to the challenge, and look forward to working closer with each unit and member of the Aviation Enterprise.
Readiness is our number one priority as an Army, and while we remain the most formidable fighting force on the planet, there is little doubt that we are now doing more than ever, with less than ever. We must recognize where we are falling short and apply Leadership to regain our edge. As we move, we must focus our attention on five key areas:
Maintenance Leader Development
Standardization of Maintenance Training
Reducing maintenance burden
Increasing maintenance management efficiency
Expeditionary maintenance and sustainment
Each one of these areas is quite a challenge for the Aviation Enterprise, but each is critical as we evolve our Branch and its sustainment concept. Our leadership acknowledge these challenges and are addressing each one. We at AMCOM, in conjunction with the TRADOC Capability Managers, are your maintenance and sustainment voice into each one of these areas. Whether it's bringing current Condition Based Maintenance (CBM) to the field, standardizing pass-back support to the CABs through the Logistics Readiness Center-Aviation (LRC-A), or optimizing aircraft Scheduled Maintenance Programs (SMP) to maximize component Time-On-Wing., we must adapt. Regardless of the specific task at hand, be assured that the ABMO will ensure that maintenance and sustainment remain at the forefront of each decision. With leadeship, focus, and dedication, we can all make our branch smarter, more efficient, and more lethal in order to support our Soldiers on the ground. Anything less is unacceptable.
Tradition of Excellence. Army Strong!
CW5 Michael D. Cavaco is the Aviation Branch Maintenance Officer, U.S. Army Aviation and Missile Life Cycle Management Command at Redstone Arsenal, AL.