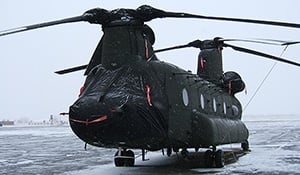 AMCOM Command Sergeant Major Update: 
In almost 30 years of fixing helicopters and working with the best Soldiers in the Army, I have learned a lot about our branch, our capabilities, and our challenges. Throughout my career, I have been trained and mentored by many great leaders and peers, and I have welcomed assistance from anywhere I could find it.
For the past ten years my focus has been on the many challenges our units face, which boil down to getting ready for war, fighting the war, and then recovering my Soldiers and equipment and getting ready for the next deployment. We achieved success by working hard, training hard, building winning teams, and always trying to improve.
In my new assignment as the AMCOM Command Sergeant Major I can see assets and programs at AMCOM that assist units in achieving their readiness goals. As I reflect on the tough missions and battle tasks my brigades and battalions faced, I know we tapped into AMCOM for support, but I'm not sure I knew then how much AMCOM really does. More importantly, I wonder if I could have done better at exploiting the full capabilities of AMCOM to ease the load on my Soldiers. Becoming the AMCOM Command Sergeant Major has opened an entirely new world of knowledge about Army Aviation and Missiles and what it takes to keep them all airborne. Here are brief discussions of a few AMCOM programs that I know will assist our combat aviation brigades (CABs) in meeting mission.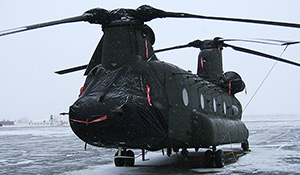 AMCOM's Corrosion Office developed and fabricated the covers shown here on a CH-4. AMCOM CORROSION OFFICE PHOTOUSATA
The U.S. Army Test, Measurement and Diagnostic Equipment (TMDE) Activity (USATA) supports Army readiness by providing TMDE calibration and repair support while ensuring that the measurements made with calibrated equipment are traceable to national, international or intrinsic standards of measurement. Simply put, equipment aviation maintainers use every day, such as torque wrenches, digital scales, and multimeters must be accurate, and USATA ensures that they are. USATA oversees the Army's TMDE Calibration and Repair Support (C&RS) Program which improves readiness through the reduction of C&RS costs and customer wait time.
USATA has 52 Support Activities at forward locations, including most Army posts and overseas in eight countries; these activities provide support to over 842,000 items. Every military occupational skill (MOS) in Army Aviation utilizes equipment calibrated and maintained through one of AMCOM's regional TMDE service centers.
Logistics Assistance Representatives (LARs)
You know them; AMCOM provides them. AMCOM LARs are the technical experts who have the skills and experience to provide technical assistance for on-site repairs to increase readiness and reduce cost. They are a combat multiplier, and help keep our aircraft in the fight. The LARs work closely with the unit to support repairs, especially those outside the scope of the technical manual. Utilizing the expertise of engineers from the U.S. Army Aviation and Missile Research, Development and Engineering Center (AMRDEC) Aviation Engineering Directorate (AED), they provide unit mechanics with the technical guidance and authority they need to make required depot-level repairs, on-site. LARs are highly trained through the LAR University (LAR U) program. The LAR U provides training in a wide range of applications and areas of aircraft maintenance including, but not limited to, troubleshooting, repairs, electronics/avionics, structures, power-train and precision tools. The LAR U training program also supports on-site training for uniformed maintainers to expand their knowledge and experience in their current field and beyond. LARs also work with Item Managers to locate, track, and expedite the delivery of needed repair parts. LARs are the integrated field-level acquisition and logistics assistance to fill the unit's demand to adapt, invent, and implement sound supply and equipment solutions as their missions move forward.
Corrosion Control
The AMCOM Corrosion Control Program is a DoD-approved initiative that focuses on developing new procedures and techniques to combat corrosion on aircraft and missile platforms, ground support equipment, and parts and components in storage facilities. The Corrosion Office has performed site visits to over 40 locations and conducted training to over 4,500 Soldiers to demonstrate different techniques and materials to prevent and treat corrosion. The Corrosion office has set a goal to visit each CAB every two years to complete hands-on training, conduct status audits, and assist in Aviation Resource Management Survey (ARMS) preparation.
Condition Based Maintenance (CBM)
The AMCOM CBM program has two primary goals, reduction of the maintenance burden on Soldiers and increasing aircraft readiness and availability, while reducing operations and support cost and enhancing safety. These goals are achieved by monitoring the performance of selected dynamic components in our aircraft, collecting the results of this monitoring effort in large databases, and then analyzing the data to identify performance norms, trends, and anomalies that lead to maintenance based on evidence, rather than time intervals.
The program utilizes a complex metric of Non-Mission Capable for Maintenance (NMCM) rates sampled from 2004 to 2008. Metrics from the sample period compare aircraft with and without Health Usage and Monitoring Systems (HUMS) installed. Utilizing CBM practices, units can forecast repairs, keep the maintenance "scheduled" to increase availability, negate the need for recovery due to precautionary landings, and reduce the cost of repair by replacing the component before failure rather than after (which reduces additional component damage and troubleshooting time). CBM also reduces the No Evidence of Failure (NEOF) rate by confirming the condition before replacement and provides a safer aircraft through increased maintenance visibility.
Depots
Corpus Christie Army Depot (CCAD) and Letterkenny Army Depot (LEAD) are a national treasure to Army aviation providing nearly unlimited capabilities for major aircraft inspection, overhaul and repair.CCAD supports all rotary wing aircraft in the Army's inventory. Since 2003 it has completed overhaul, rebuild, or maintenance on more than 544 aircraft, 2,986 engines, and 111,785 helicopter components for the UH-60 Blackhawk, AH-64 Apache, CH-47 Chinook, OH-58 Kiowa Warrior, and also the Air Force HH-60 Pave Hawk. CCAD provides field teams to perform depot-level repairs to reduce aircraft down-time, as well as reduce the overall cost of repair. CCAD also offers maintainer training at their repair facility with the only cost to the unit being travel and meals.
LEAD provides maintenance, manufacturing, logistics, life cycle support and service worldwide to select missile and ground systems. The depot overhauls, rebuilds and refurbishes multiple systems: the Patriot Missile System; Avenger; route clearance vehicles; the M997 Ambulance; aviation ground power units (AGPU); Biological Integrated Detection System (BIDS); all tactical quiet generators; TOW ground; TOW Bradley; HIMARS components; Force-Provider Soldier Support Equipment; and material handling equipment. LEAD returns equipment to Condition Code A standard thereby extending the system's life 10 to 15 years.
I have discussed these important programs briefly. Our role at AMCOM will be to reach out to you, inform you of our capabilities, and then make it as easy as possible for you to get the support you need. Our goal is to put AMCOM's resources at "arm's length" so that leaders at all levels can benefit from what we have to offer.
I will personally be reaching out to Solders and leaders to learn your issues, pass on information that you might need, and work with the AMCOM team to deliver readiness solutions to you, wherever you may be stationed. I look forward to the challenge.
Above the Best!
CSM Glen Vela has served as the command sergeant major of the Aviation and Missile Life Cycle Management Command at Redstone Arsenal, AL since October 2014 after serving more than 5 years as an aviation brigade command sergeant major for 166th Aviation Brigade and 1st Air Cavalry Brigade, Fort Hood, Texas.