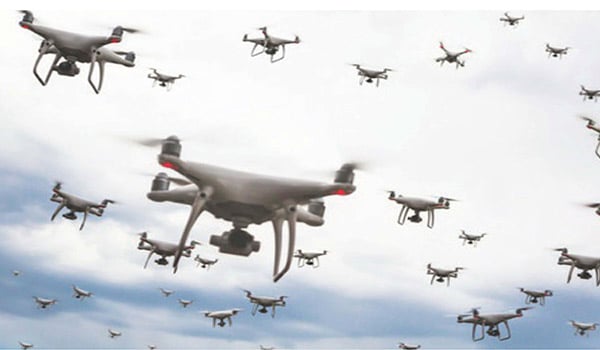 Tech Talk / By Jeremy Rimmer and Robert Helton: Imagine walking through your neighborhood, looking into the distant sky, and seeing hundreds of small specks coming your way as a sharp buzz sound gradually grows louder and louder.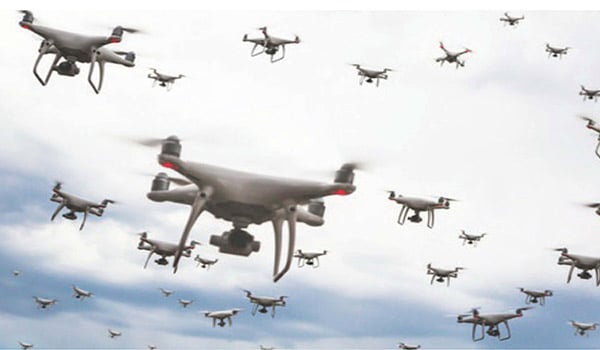 Drone Swarm/SHUTTERSTOCK PHOTO BY ANDY DEAN PHOTOGRAPHY
You keep staring, mesmerized, until they are almost on top of you. That is when you realize that they are a swarm of drones. By this time, it is too late for you to react if this is an adversary force. As it has been so often in the past with the evolution of Unmanned Aircraft Systems (UAS), or drones, as they are often referred to, this is no longer only in the realm of a Hollywood blockbuster. With near-peer adversaries boasting swarms greater than 100 aircraft, this could be a reality for current U.S. Army Soldiers in the field.
Recent advances in sensors coupled with the low cost of UAS has led to an increased use of UAS across the globe. One of the many recent applications is the swarming of UAS. Drone swarming has several civilian and military applications: search and rescue, surveillance, resource delivery, disaster relief, overwhelming enemy forces, chemical, biological, radiological, and nuclear (CBRN) defense, and countless others. Drone swarms are categorized in various manners: semi/fully autonomous, leader/follower relationship, clusters, superclusters, independent, representative swarming, etc. In addition, the swarm may be utilized to complete single or multiple independent tasks depending on mission needs. With such a broad range of applications, categorizations, and UAS capabilities, the means to evaluate and provide airworthiness qualification has become increasingly challenging.
The U.S. Army Combat Capabilities Development Command (CCDC), Aviation and Missile Center (AvMC), Systems Readiness Directorate (SRD) UAS Airworthiness Division is responsible for establishing criteria for airworthiness certification of U.S. Army unmanned aircraft systems. Army Regulation 70-62 prescribes the foundation for airworthiness qualification of an Army aircraft; however, for swarming applications of UAS, no standard criteria for airworthiness qualification exists. SRD is collaborating with internal and external Army organizations and industry partners to establish and evaluate the airworthiness of UAS used in swarming applications. The need to develop, assess, and certify the airworthiness of a UAS in a swarming application must be done in a responsible way that is safe, yet not prohibitive to the timely material development of new technology.
SRD continues to mature and enhance airworthiness requirements and standards to qualify UAS, including swarming applications. All current Army UAS have been issued Airworthiness Qualification Level (AQL) 3 AWRs. These aircraft have not met full airworthiness qualification or provided traditional airworthiness substantiation documentation. Flight demonstrations along with physical aircraft evaluations have been used in conjunction with thorough risk assessments to substantiate the feasibility to safely and effectively complete the mission within the prescribed limits. For swarming applications command and control failsafes, software failsafes, and safe separation are a few additional considerations taken into account when assessing the airworthiness. All of this helps to ensure development can progress while still being attentive to deliberately managing risks.
SRD is working with industry partners, Army laboratories, and test centers to advance swarming technology and ensure that airworthiness criteria is considered and implemented early on in development. Over the past year, SRD has evaluated Commercial and Government off the Shelf (COTS and GOTS) Vertical Takeoff and Landing (VTOL) Group 1 UAS used in representative swarming operations. Several successful flights have been conducted with less than 100 small VTOL UAS within a 5 km range. Multiple different configurable parameters within the aircraft flight controllers keep the aircraft separated from one another while still being able to perform representative swarming operations. In addition, SRD is currently evaluating the airworthiness qualification of a GOTS UAS that uses common hardware and open source software which will allow for the integration of various sensors and payloads depending on mission needs. These are some of the first steps in achieving a qualified UAS for swarming applications.
The airworthiness qualification and fielding of swarming systems serves as a monumental step in the further integration of UAS in the modern battlefield.
Mr. Jeremy Rimmer is the Special Projects UAS SME and Mr. Robert Helton is the Special Projects UAS Engineer; both are assigned to the UAS division of SRD at Redstone Arsenal, Al.