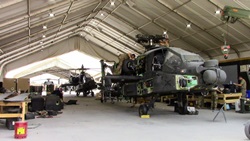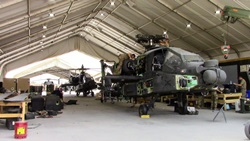 Camp Taji, Iraq
July 6, 2017
Photo by Staff Sgt. Isolda Reyes
29th Combat Aviation Brigade
CAMP TAJI MILITARY COMPLEX, Iraq – Army National Guard Soldiers of the 449th Aviation Support Battalion, organized under the 29th Combat Aviation Brigade, and the 1107th Theater Aviation Sustainment Maintenance Group work together on the 500-hour Phase Maintenance cycle of the AH-64E Apache "Guardian" at Camp Taji Military Complex, Iraq, July 6, 2017. Proper maintenance ensures that the AH-64E Apache continues to provide reconnaissance and attack capability in the fight against ISIS for Combined Joint Task Force – Operation Inherent Resolve. CJTF-OIR is the global Coalition to defeat ISIS in Syria and Iraq.
This photo was originally found here.